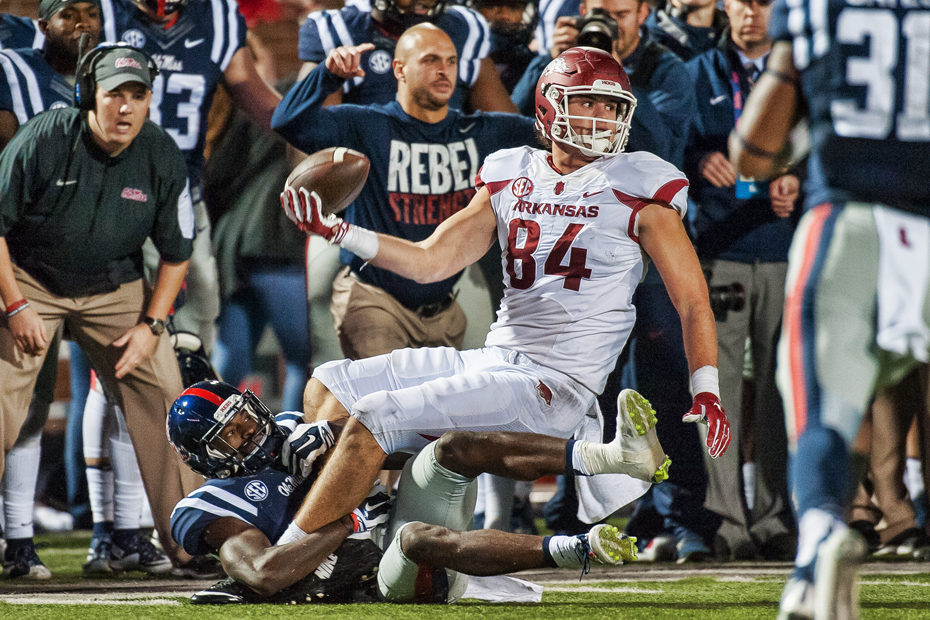 4th & 25: Before & After
Every Razorback fan remembers the miraculous 4th & 25 play in overtime against Ole Miss that extended the game. "The Hunter Heave", "Swine Intervention". Whatever your nickname of choice is, that's the play we remember. But for many, what happened before and after is a bit foggy. Let's revisit everything that led up to lateral and all that came after.
Back and Forth
It was a back and forth game for 60 minutes plus the additional overtime period. The Hogs and Rebels matched each other's point total in every period until the deciding 2-point conversion.
For now, let's jump to the fourth quarter with 12 minutes to go in the game. On 2nd-and-9 from the Ole Miss 10-yard line with the game tied, Brandon Allen faked a handoff to Alex Collins and found Drew Morgan, who leaped over a defender and into the end zone. Hogs up a score.
Allen to Reed
After two Ole Miss touchdown drives, the Razorbacks trailed by seven with under a minute to play. For the second time in the drive, Allen and Dominique Reed connected for a 15+ yard gain — the second one being a 17-yard touchdown in the back of the end zone. PAT good, tie game.

One Last Shot
After a Deatrich Wise sack on third down and a DJ Dean pass breakup on fourth down, the Hogs got the ball back in a tie game with just enough time to potentially get in field goal range. After a 21-yard pass to Reed, that's exactly where the Hogs were with just three seconds left on the clock. Blocked.

Overtime
Now we're back to the part of the game you probably remember. The Hogs won the toss and elected to play defense first but the Rebels scored to take a 7-point lead in just three plays. Arkansas ball and in need of a touchdown:
1st & 10: Allen to Cornelius, incomplete
[Delay of game]
2nd & 15: Allen sacked, loss of 10
3rd & 25: Allen pass to Hunter Henry, incomplete
4th & 25: Allen pass to Henry is completed but he's short of the first down, game ov―
Hold up.
2nd & 8 from the 9-yard line: Allen finds go-to man Morgan. Touchdown. Down 52-51.
Going for the Win
With the momentum on our side, head coach Bret Bielema decided to go for the win.
Allen takes the snap, fakes the jet sweep to Morgan, rolls out to his right with no where to go. He's sacked, game ov―
Hold up.
Going For The Win: Round 2
After the face mask penalty gave the Hogs new life: Similar formation, similar motion, similar play. But this time after faking the sweep to Morgan, Allen kept it and scampered 6 yards, lowered his shoulder and toppled into the end zone.
ARKANSAS WINS!