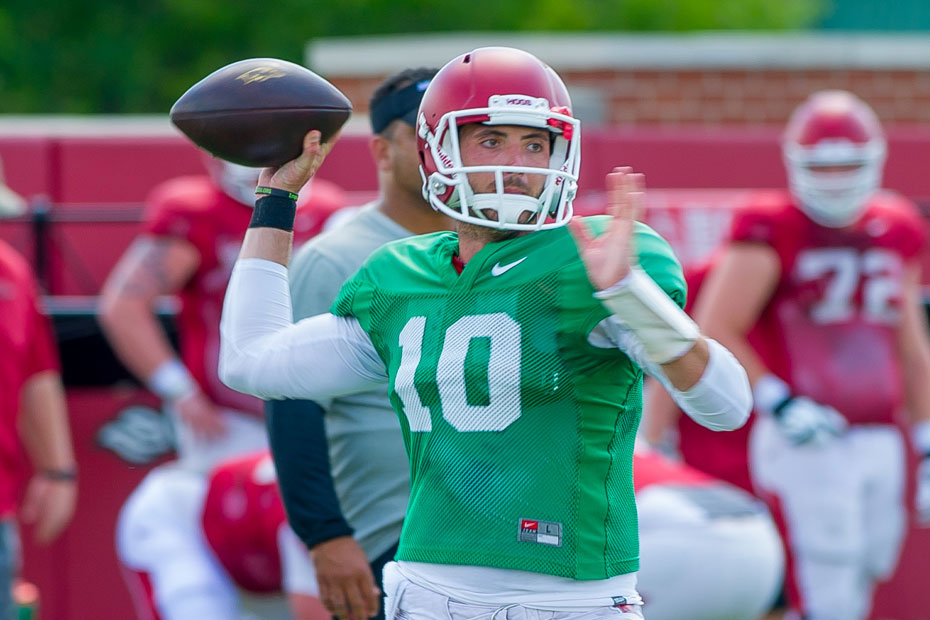 #HogsCamp Practice 7: Move The Ball

Tickets | Coach Pittman Mic'd Up
Arkansas returned to its afternoon practice schedule today with a 26-period practice on grass. The team will practice again on Friday afternoon before an intra-squad scrimmage on Saturday.
Three Things You Need To Know
1. Moving The Ball
The Razorbacks moved the ball today for two periods of practice, simulating game-like situations for the first time this camp. Coaches called in plays from the sideline and the team used normal substitution patterns. The first team offense took on the first team defense for a period before the second teams squared off against each other.
The period ended before the ones completed a drive, but senior quarterback Brandon Allen was impressive leading the offense. He completed three of four passes as the unit earned three first downs before the 5-minute period (running clock) expired and the twos came in.
The second team defense was very impressive, stopping the second team offense with a sack on third down and pass breakup on fourth down.
2. Spectacular Reception
Junior wide receiver Drew Morgan made arguably the most impressive catch thus far in fall camp. In team drills, Morgan got a step behind the defense on deep ball down the middle of the field. Despite some contact that tripped him up, Morgan made a full extension, diving grab. The total yardage gained is up for debate, but the pass traveled at least 40 yards down field.
3. Pulley Continues To Impress
True freshman Ryan Pulley made several impressive plays this afternoon as he continues to impress in fall camp. The defensive back from Fort Myers, Fla. jumped a sideline route for an interception in one drill. In a "move the ball" period, Pulley made an excellent pass breakup on a crossing route on fourth down to end the series.
"He's a guy that's jumped out from day one. He's got those long arms, is very aggressive and has great feel for the ball," said Coach Bielema during a media session last week.
#HogsCamp Social Media
@DreGreenlaw is the first freshman to appear in our countdown – 23 days until Game Day! #WPS 🐗 pic.twitter.com/s5Mj1oLSVN

— Razorback FB Recruit (@RazorbackFBRec) August 13, 2015
Nice catch, 81. BIG third-down conversion by @C_hollister81. #UncommonMentality pic.twitter.com/i2982dZEKq

— Razorback Football (@RazorbackFB) August 13, 2015