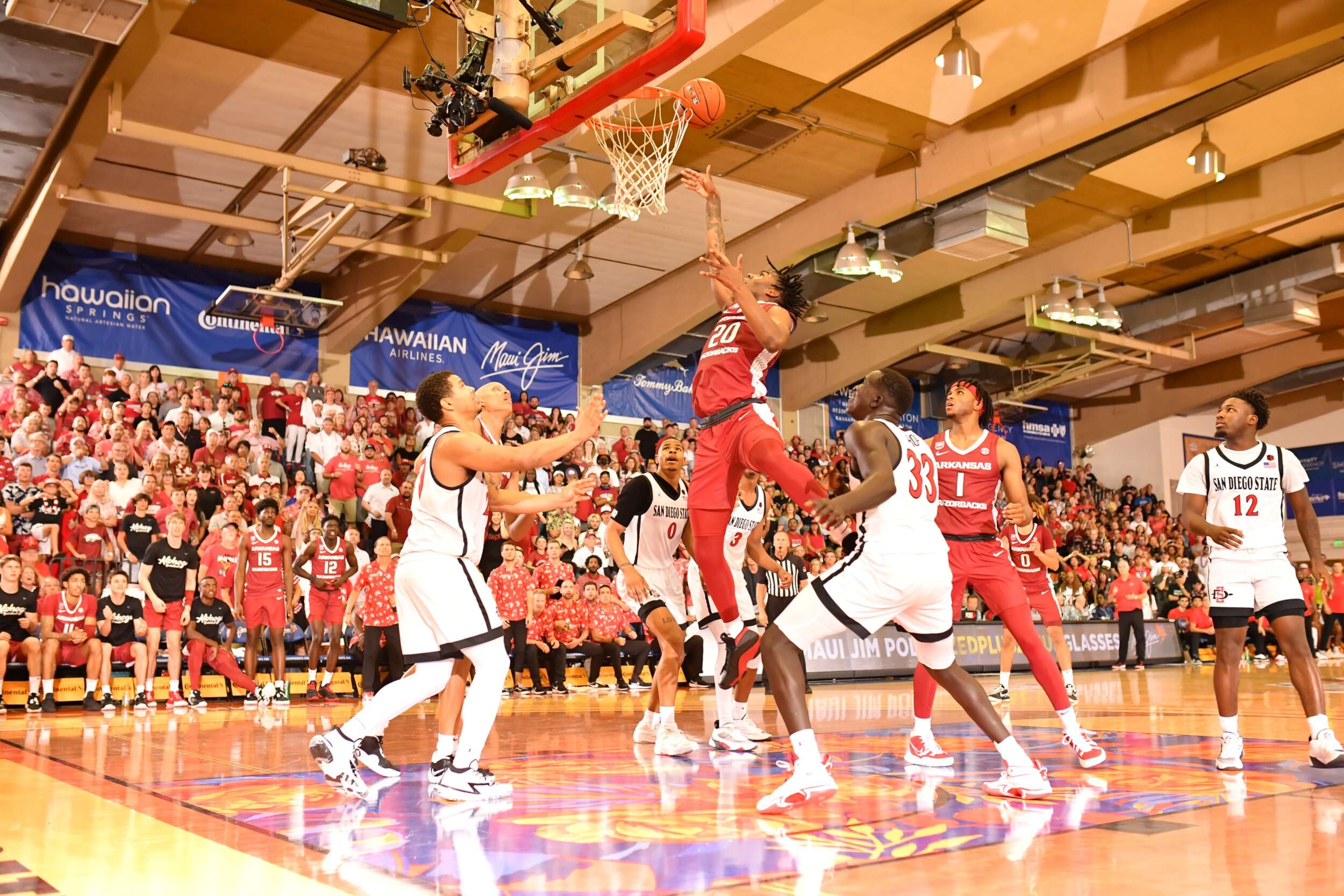 #9 Arkansas Takes Down #17 SDSU in Overtime at Maui Invitational
LAHAINA, Hawaii – Trevon Brazile, who led ninth-ranked Arkansas (5-1) with 20 points, had a steal with seven seconds left in regulation and Kamani Johnson tipped in a shot at the buzzer to force overtime against #17/19 San Diego State (4-2). The Razorbacks outscored the Aztecs 11-7 in overtime to take a 78-74 third-place victory on the final day of the Maui Jim Maui Invitational.
Brazile boasted nine additional rebounds and teammates Ricky Council IV and Anthony Black added 19 and 15 points, respectfully. The Razorbacks trailed for most of the contest, but a late surge closed the gap and Kamani Johnson forced overtime at the buzzer with a second-chance layup.
Both teams started strong defensively with fast play and 15 combined turnovers but struggled offensively. Between both teams, they went zero for 16 beyond the arc in the first half. Arkansas shot 40%, touted 33 points from the bench and led for only 8:52, but it was enough to secure the victory.
Black was named to the event's All-Tournament Team and led all scorers with 22.33 PPG.
Arkansas returns home to face Troy on Monday (Nov. 28). Tipoff at Bud Walton Arena is set for 7 pm and the game will be televised on SEC Network.
FIRST HALF: Arkansas: 26 – San Diego State: 35
Arkansas scored first but the Aztecs controlled much of the first half.
Arkansas committed 10 first half turnovers compared to just five by SDSU.
Both teams were 0-of-8 from 3-point range in the first half.
Anthony Black led Arkansas with 11 points and four rebounds.
SDSU led by as many as 13 before a 6-0 Razorback run.
SECOND HALF: Arkansas: 41 – San Diego State: 32
Arkansas was down 11 (45-34) with 14:27 left in regulation and down 10 (47-37) with 13:42 left.
Arkansas' first time to tie the game was 61-61 after two free throws from Ricky Council IV at 3:37.
Arkansas tied it again at 63 with 1:26 left.
Arkansas trailed by four (67-63) with 17 seconds left. Anthony Black cut the deficit to two with two free throws with 13 seconds left. On the ensuing inbounds pass by the Aztecs, Trevon Brazile and Black trapped Lamont Butler and Brazile came away with a steal and called timeout with seven seconds left. Black attempted the game-tying shot in the lane but missed and Kamani Johnson came through with the rebound and tip-in as the buzzer sounded to force overtime.
Brazile scored 16 second-half points with five rebounds. Council had 13 second half points with four assists.
OVERTIME: Arkansas: 11 – San Diego State: 7
Arkansas scored first but SDSU took a one-point lead with 3:37 left on a Bradley 3-pointer. Council answered with a jumper and Arkansas never surrendered the lead.
SDSU got to within one (75-74) with 39 ticks left.
Council went 1-of-2 at the line to put the Hogs up two with 13 seconds left.
SDSU missed on the ensuing possession and Johnson got the rebound. He was fouled and drained two free throws with three seconds left for the four-point lead. Johnson then stole in the inbounds pass to seal the win.
GAME NOTES
Arkansas' starting lineup was Anthony Black – Davonte Davis – Ricky Council IV – Jordan Walsh – Makhi Mitchell for the fifth game in a row.
Arkansas won the tip.
Anthony Black scored the first points of the game on two free throws at 19:55.
Trevon Brazile was the first Razorback sub for the sixth straight game.
Arkansas is 47-50 when ranked in the top 25 and facing a top 25 opponent.
For more information on Arkansas Men's Basketball, follow @RazorbackMBB on Twitter.