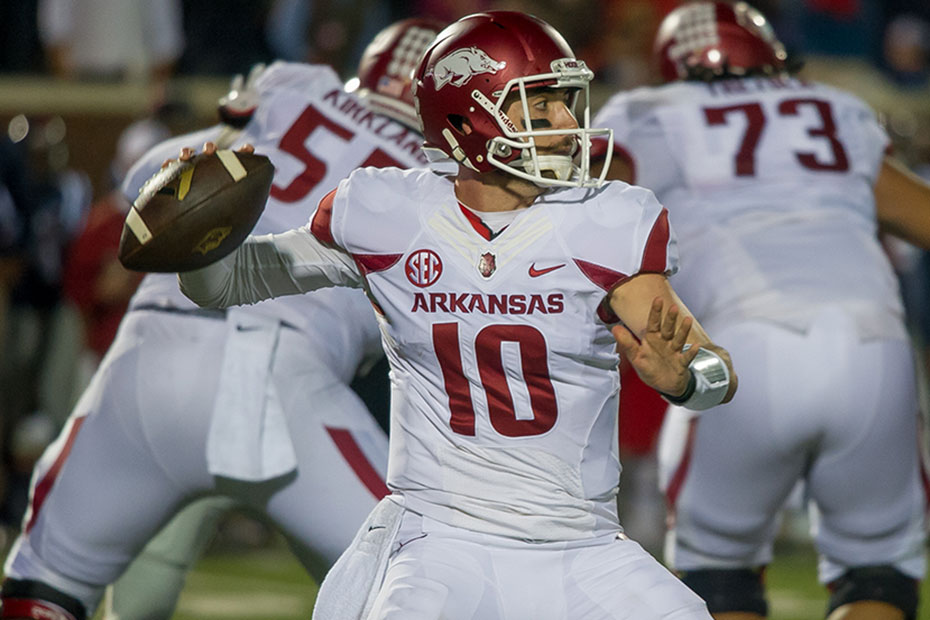 Allen Earns Another National Award; Fan Vote Continues
DALLAS – Coming off one of the most memorable and statistically-impressive games by a quarterback in Arkansas history that included 442 yards passing and a program record six touchdowns in an overtime win at No. 19 Ole Miss, senior Brandon Allen has been named the AutoNation National Offensive Player of the Week, as selected by the Football Writers Association of America (FWAA) on Tuesday.
The national props from the FWAA follow's Allen's SEC Player of the Week distinction on Monday and Sunday's National Performer of the Week honor from the College Football Performance Awards.
Allen is also one of eight players up for the Manning Award Quarterback of the Week, which is decided by a fan vote that ends on Thursday at 11 a.m. CT. Fans can vote for Allen here.
Entering the game just one touchdown pass away from becoming the fifth player in program history with 50 in his career, Allen joined the club in emphatic fashion, highlighted by two in the fourth quarter and another in overtime. His record-setting sixth touchdown pass of the game came in overtime before running in for the game-winning two-point conversion just seconds later.
The Fayetteville product's record-setting stats didn't stop there, as he finished the game 33-for-45 for 442 yards, setting another single-game record for completions while his yardage is the second-most in a single game.
Allen's six touchdown passes are tied for the most by an FBS quarterback this season and tied for the second-most in SEC single-game history in a conference contest. The Fayetteville product is one of six FBS quarterbacks with 20-plus touchdown passes (21) and five or less interceptions on the year. The 400-yard game was the second of the season by Allen, both of which are the top passing games by an SEC quarterback this season.
Top 10 BA Notes You Need To Know
1. Ranks ninth in the nation and leads the SEC in quarterback efficiency at 164.7.
2. One of six FBS quarterbacks with 20-plus touchdowns and five or less interceptions … also accomplished the feat in 2014 to bring his two-year total (2014, 15) to 41 touchdowns and 10 interceptions.
3. In Arkansas' last 10 quarters and five overtime periods, Allen is 59-of-81 for 825 yards, 10 touchdowns and no interceptions.
4. Owns the top two passing performances (yards) in the SEC this season and is just the second player in Arkansas history with two 400-yard passing games in the same season.
5. Ranks in the top three in the SEC in yards per attempt (9.24/1st), passing yards (2,476/2nd), passing touchdowns (21/2nd) and completion percentage (.649/3rd).
6. One of three FBS quarterbacks to throw six touchdowns and no interceptions in a game this season.
7. Led Arkansas to points in 15 of his last 20 possessions under center, including 14 touchdowns, and no three-and-outs in his last 23 possessions.
8. Leads the nation with three touchdown passes in overtime this season, all of which have been thrown to Drew Morgan.
9. In the fourth quarter and overtime of the last two SEC wins against Auburn and at Ole Miss, Allen is 20-of-30 for 238 yards, five touchdowns and no interceptions.
10. Sits just eight touchdown passes away from breaking Ryan Mallett's program record for career touchdowns of 62.
Riding a three-game win streak, Arkansas and No. 9 LSU's Battle for the Golden Boot on Saturday, Nov. 14, will kick-off at 6:15 p.m. CT. The game will be nationally televised on ESPN.