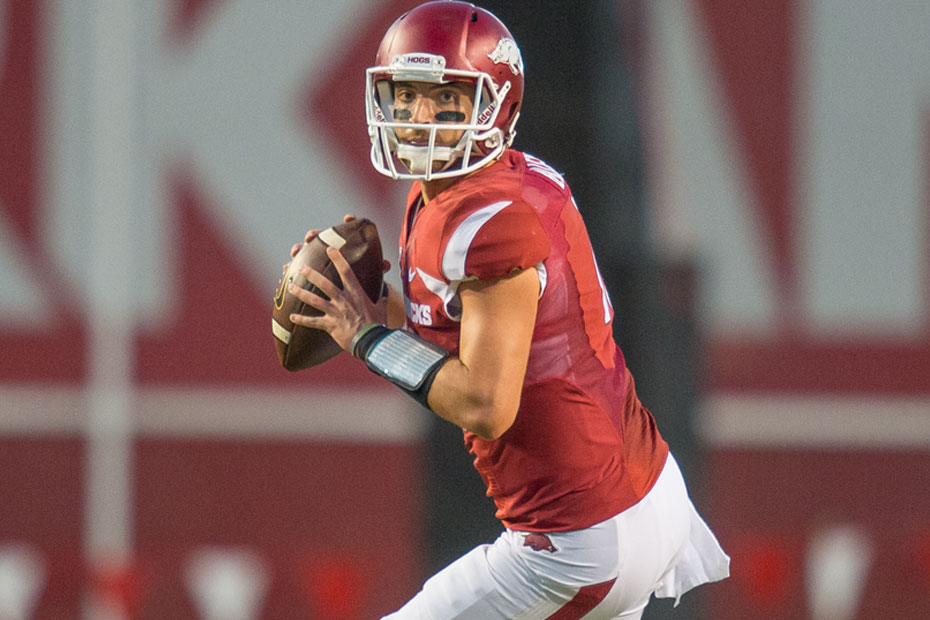 Allen Named Semifinalist for 2015 Campbell Trophy
Fifth-year senior quarterback Brandon Allen has been named a semifinalist for the 2015 William V. Campbell Trophy, presented by Fidelity Investments, the National Football Foundation & College Hall of Fame (NFF) announced Thursday. The Campbell Trophy is awarded annually to the nation's absolute best football scholar-athlete. Allen is one of 135 semifinalists, including 56 from the Football Bowl Subdivision (FBS).
Allen embodies everything it means to be a scholar-athlete. The Fayetteville native graduated with a 3.4 GPA in just three and a half years in December 2014 with a bachelor's degree in recreation and sport management. He has been pursuing his master's degree since January and was named to the SEC Fall Academic Honor Roll in 2012, 2013 and 2014.
"Brandon has been an incredible example of the uncommon man we are looking for here at Arkansas. He has graduated in three and a half years and has achieved athletic success in rebuilding a national program that had hit a tough spot. He defines what is right with college athletics," said head coach Bret Bielema.
He has also been very active in the Northwest Arkansas community. Allen has regularly volunteered for events and organizations such as the Brandon Burlsworth Foundation, the Boys and Girls Club, Big Brothers and Big Sisters and the Susan G. Komen Foundation. He has read books to children at the Fayetteville Public Library, visited a children's hospital and also visited with inmates at a local prison.
Allen has also been a leader on the football field. He has been elected team captain as both a junior and senior by his teammates. He enters Saturday's contest as the Southeastern Conference's leading passer with 916 yards on 62 of 92 passing (67.4 percent) and six touchdowns. He's the SEC's active career leader with 28 starts at quarterback and ranks sixth in school history with 40 career touchdown passes. His career totals in passing yards (4,939), completions (401) and attempts (738) all rank seventh in Razorback history.
Prior to the season, Allen served as a counselor at the Manning Passing Academy and was recognized on the Johnny Unites Golden Arm Award Watch List and the Manning Award Watch List. He was named the Manning Award Quarterback of the Week for his Week 1 performance against UTEP this season, when he passed for 308 yards and four touchdowns in the 48-13 win.
The NFF will announce 15 finalists on Oct. 29, and each of them will receive an $18,000 postgraduate scholarship as a member of the NFF National Scholar-Athlete Class, presented by Fidelity Investments. The finalists will travel to New York City for the 58th NFF Annual Awards dinner on Dec. 8, where their accomplishments will be highlighted in front of the most powerful audiences in all of sports. At the event, one member of the class will be declared the winner of the 26th William V. Campbell Trophy and have his postgraduate scholarship increased to $25,000.
For more information on Arkansas football, follow @RazorbackFB on Twitter.