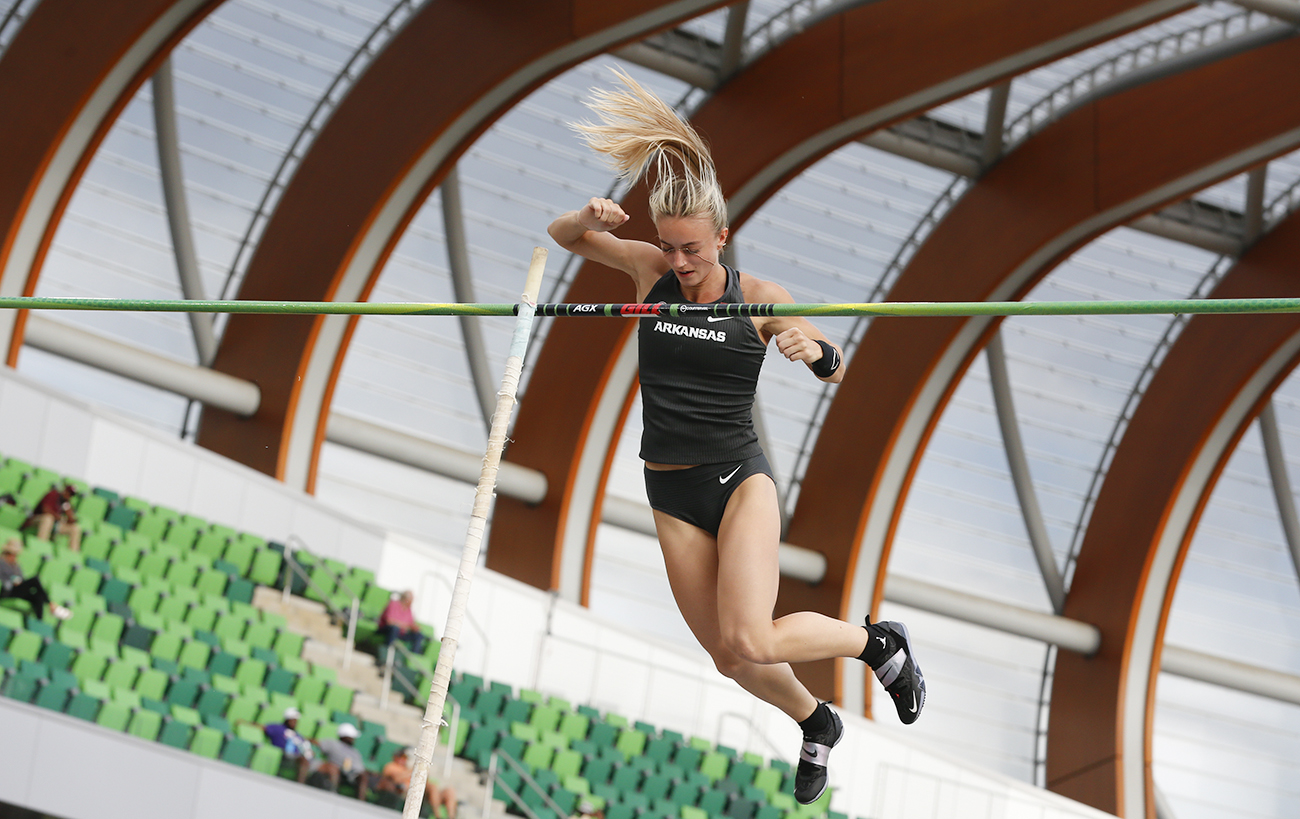 Amanda Fassold sets career best as NCAA silver medalist
EUGENE, Oregon – Clearing a career best height of 14 feet, 11 inches, in front of family and friends at Hayward Field, Amanda Fassold claimed runner-up honors in the NCAA pole vault on Thursday.
In semifinal races, the Razorbacks advanced four individuals and a relay to Saturday finals. Leading the way with a school record was Logan Jolly, who led the field with a 9:38.13 that bettered the Arkansas record of 9:38.62 set by teammate Krissy Gear in 2021.
Advancing to finals were Gear in the 1,500m, Rosey Effiong in the 400m, Britton Wilson in the 400m hurdles, and the Razorback 4 x 400 relay.
Fassold, an Oregon native from Hillsboro, challenged for the victory in the late stages of the competition, passing after a pair of misses at 15-1 (4.60) to take an attempt at 15-3 (4.65).
"It was so fun, I was just jumping to get a high bar and hit the auto for US Champs," said Fassold. "It was so much fun, and it's the biggest crowd I've had supporting me all year. It was just fun to be back home with everybody here.
"This is the first time I've jumped in rain, surprisingly, since I wasn't a pole vaulter when I was in high school in Oregon," noted Fassold.
Louisville's Gabriela Leon won the event with a 15-1 clearance on her first attempt. NCAA defending champion Lisa Gunnarsson of LSU placed third with a second attempt clearance at 14-11.
After clearing three early bars on first attempts, Fassold needed a pair of attemts at 14-5.25 (4.40) and a third attempt at 14-7.25 (4.45). Then a pair of first attempt makes at 14-9 (4.50) and 14-11 (4.55) moved her ahead of Gunnarsson.
Having cleared a previous PR of 14-9 to win the SEC title, Fassold matched that height and then improved her career best to 14-11. It moves Fassold to No. 5 on the UA all-time list and also equaled the qualifying standard for the USATF Championships.
"I've learned that with coach this year, the strategy behind it," added Fassold. "Coach Compton knows what he's doing, so I trust him and try to do my best.
"I'm happy with my performance. Obviously, I wish I could have made that last bar in the rain, that would have been so cool in Hayward Field."
Bailee McCorkle also established an outdoor best of 13-9.25 (4.20) to place 10th among the field of 24. Her previous best was 13-9. A third Razorback in the competition, Mackenzie Hayward, did not clear the opening bar of 12-9.5 (3.90).
Gear started off with a season best of 4:13.48 to place third in the second heat of the 1,500m to earn an automatic qualification to the final as she finished behind Sintayehu Vissa of Ole Miss (4:13.13) and Stanford's Julia Heymach (4:13.45).
Jolly pulled away from the field on the final lap to post the top time of 9:38.13 over Notre Dame's Olivia Markezich (9:40.81), West Virginia's Ceili McCabe (9:41.10), and BYU's Courtney Wayment (9:41.21).
In improving her previous best of 9:45.47 set as runner-up in the Byran Clay Invitational, Jolly moved from No. 3 on the UA all-time list to the No. 1 position.
The 400m semifinal had a pair of career best times for Rosey Effiong (51.06) and Morgan Burks-Magee (52.02). Effiong advanced to the final and moved to No. 6 on the UA all-time list as she bettered a 51.66 from this season. Burks-Magee improved her 52.06, but placed seventh in her heat and 21st overall.
Wilson cruised through to the final of the 400m hurdles with a time of 54.72 in her semifinal, which was second best overall to a 54.48 by Florida's Anna Hall. Runner-up to Wilson was a 57.35.
The Arkansas 4 x 400 relay won the opening heat of the semifinal in 3:27.52, which ranked third best overall. Runner-up to the Razorbacks was a 3:31.80 by South Carolina.
Texas A&M posted a 3:25.63 ahead of Kentucky's 3:25.67 in the third semifinal heat. Texas won the second heat in 3:27.88 over Florida's 3:28.40.
The line-up for Arkansas included Burks-Magee (52.5), Effiong (51.5), Jada Baylark (52.74), and Wilson (50.77).
Baylark ran 11.21 in the 100m, placing sixth in her semifinal heat and 14th overall. Yoveinny Mota fell in the 100m hurdles and did not finish. Lauren Gregory did not finish the 10,000m after racing through 8,000m.