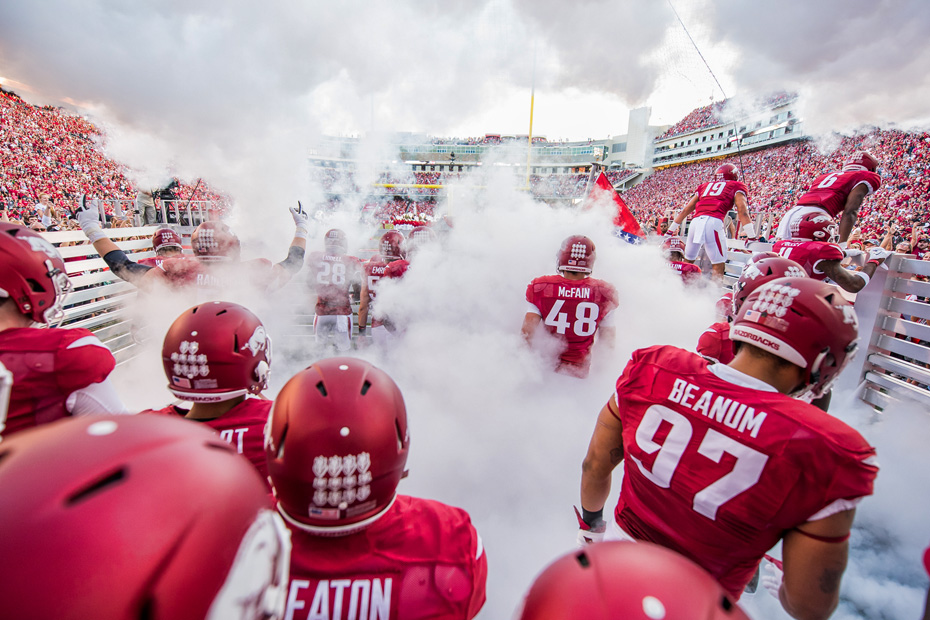 Arkansas Accepts Belk Bowl Invitation
CHARLOTTE, N.C. – The University of Arkansas has accepted an invitation to play in the 2016 Belk Bowl held at Bank of America Stadium in Charlotte, North Carolina, the school and the SEC announced Sunday afternoon. Arkansas (7-5) will take on ACC Coastal Division champion Virginia Tech (9-4) on Thursday, Dec. 29 at 4:30 p.m. CT on ESPN.
The Belk Bowl appearance will be the first for both Arkansas and Virginia Tech, and is the first-ever meeting between the two programs. Arkansas has now earned a bowl bid three straight years under head coach Bret Bielema, a feat that has been accomplished six times in program history.
The only SEC West program to win a bowl game each of the last two years, Arkansas will be looking to make it three straight seasons with a postseason win for the first time in program history. The Razorbacks have won their last three bowl appearances dating back to the 2012 Cotton Bowl, which is the longest bowl win streak in Arkansas history. It will also be Arkansas' first game against an ACC opponent since 1995 when it played North Carolina in the CarQuest Bowl.
Tickets to see the Razorbacks make their first appearance in the Belk Bowl will go on sale this evening. Fans can reach the Razorback Ticket Center by phone at 1-800-982-HOGS (4647) from 5-8 p.m. on Sunday evening. Due to the likelihood of a high volume of calls, fans are strongly encouraged to order tickets online. The order deadline for priority seating is Wednesday, Dec. 7, at 5 p.m. Fans will be notified via email the status of their order no later than Dec.10th. Priority seating is based on Razorback Foundation guidelines.
Arkansas earned its third straight bowl appearance by putting together a 7-5 record in the regular season that included seven games against ranked teams. The Razorbacks picked up ranked wins at TCU, against Ole Miss and against SEC East champion Florida behind SEC leading rusher Rawleigh Williams III, who averaged 155 yards on the ground over those three contests.
Virginia Tech is less than 24 hours removed from playing in the ACC Championship for the sixth time in program history. The Hokies dropped a tough 42-35 decision Saturday night in Orlando against Clemson, who is one of four teams in the College Football Playoff. Virginia Tech will play in a bowl game for the 24th consecutive season, which is the longest active streak recognized by the NCAA.
Started in 2002 as the Continental Tire Bowl, Arkansas and Virginia Tech will play in the 15th game in the bowl's history. Charlotte-based Belk Department Store became the title sponsor in 2011 and the Belk Bowl became one of the SEC's bowl games in 2014. The SEC is 2-0 since it started playing in the Belk Bowl.