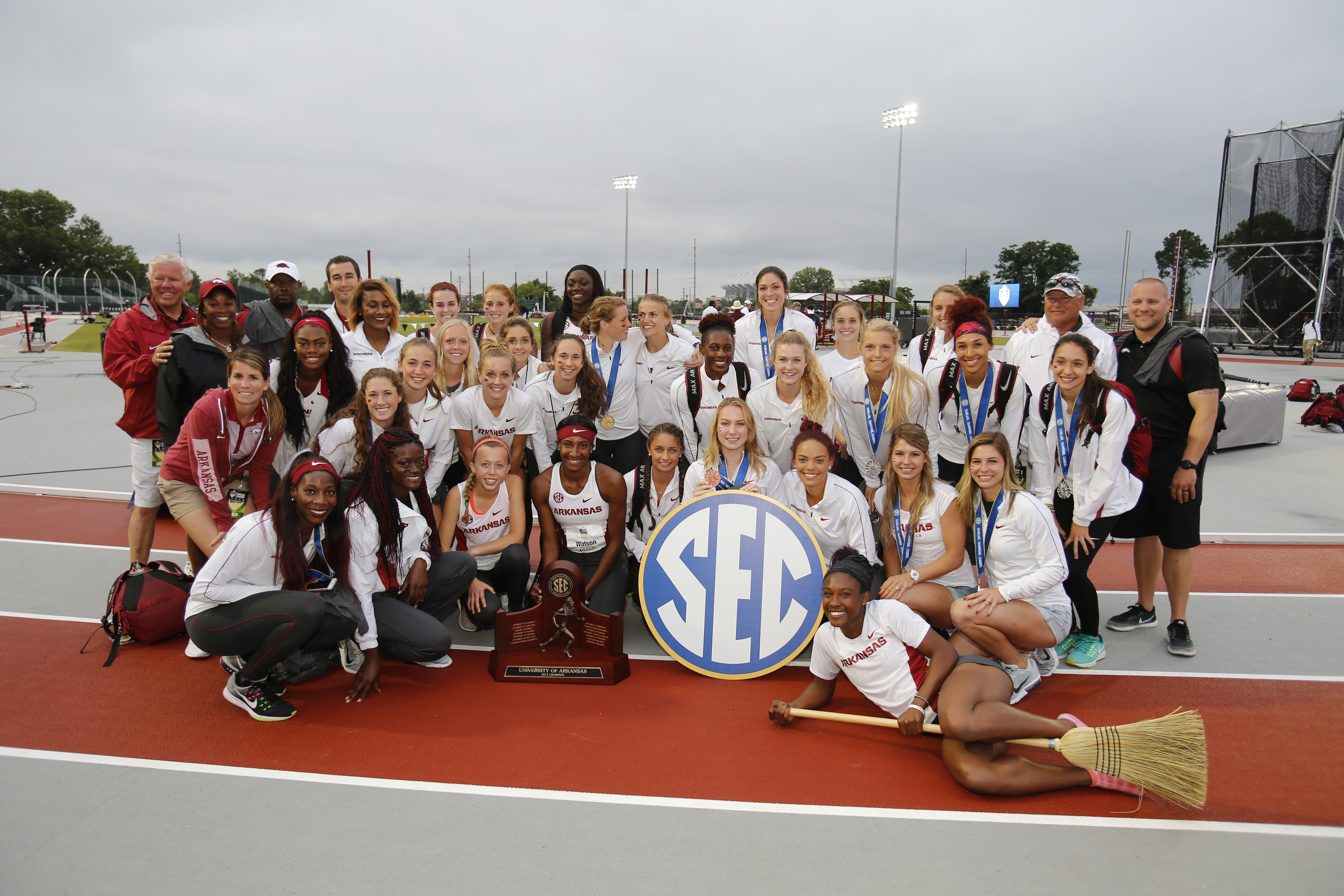 Arkansas Captures 10th Straight SEC Crown
COLUMBIA, S.C. – Only one SEC program has won a conference title since the 2014 SEC Outdoor Championship. Entering Saturday with a 43-point lead, the No. 5 Arkansas women's track and field team made sure it remained that one program, as it cruised to its 10th consecutive league title and third straight SEC Triple Crown at the 2017 SEC Outdoor Championships held at Cregger Track Saturday.
On the heels of a 65-point performance on Friday that included two first place finishers, the Razorbacks backed that up with 55 points and two more gold medalists for their fourth straight SEC outdoor title. Arkansas' total of 128 points was good for a 28-point victory over second-place LSU.
"To win an SEC title – and I think any program in any sport would agree – you better cherish the moment," said head coach Lance Harter following his 31st SEC title at Arkansas. "We have been on a roll thanks to great leadership from upperclassmen and youngsters that are willing to learn and follow the example. Our comradery has become a culture and I hope it continues."
With the win, Arkansas became the first SEC program to four-peat at the outdoor championships since LSU did so from 1987-91.
"Anytime you can compare that type of history with what you just accomplished it's special," Harter said. "Those are things I used to read about in track and field magazines and think to myself 'if we can ever be that good.' Now we are living it. It makes me appreciate the kids we have in our program."
Junior Nikki Hiltz was the first of two Razorbacks to take the top spot on the podium Saturday, as she posted a time of 4:17.94 in the 1500 meters to become the eighth Razorback in program history to win the event. An eighth-place finisher in the event a year ago, Hiltz's win added 10 points to the 19-point effort put forth by the 1500-meter crew. Senior Therese Haiss joined Hiltz during the medal presentation thanks to her third place finish in 4:19.29. Competing in her first SEC Outdoor Championship, freshman Carina Viljoen add the final three points in sixth.
Entering the weekend as the favorite in the 400 meters, senior Daina Harper proved in the preliminaries on Friday night that she was indeed the favorite by posting the top qualifying spot. Harper didn't disappoint in her return to the 400 Saturday afternoon, continuing Arkansas' dominance in the event by taking the gold and the SEC indoor and outdoor season sweep in the event. Harpers' win marked the fifth time in the last six years a Razorback has won the SEC outdoor 400 meters. Harper's 400 win was part of a 15-point day, which also included points in the 4×100-meter relay and 4×400-meter relay.
Already with eight points in the heptathlon and two more as a member of the 4×100-meter relay team, junior Payton Stumbaugh brought her total to 14 with a fifth place showing in the 100-meter hurdles. One of just a few to compete all three days, Stumbaugh posted a 13.30 in the 100 hurdles to close out her weekend.
Just over an hour after winning the 1500 meters, Hiltz returned to score five more points for her team with fourth place in the 800 meters (2:06.09). The near double all-conference performance capped her 15-point day.
"One of the things we ask and challenge the kids with is how they can help the team," said Harter. "How can they contribute to the team effort? Whether is a great performance or your bouncing back from a disappointing one to cheer on your teammate, how can you help? All of it matters when you want to win a championship and over the last three days everyone helped the team."
Team Standings
1. Arkansas – 128
2. LSU – 100
3. Kentucky – 81
4. Georgia – 77
5. Florida – 76
6. Texas A&M – 72
7. Alabama – 57
8. Ole Miss – 47.5
9. Missouri – 47
10. Auburn – 42
11. South Carolina – 27
11. Tennessee – 27
13. Mississippi State – 24
All-SEC First Team Performers
Taliyah Brooks – Heptathlon
Daina Harper – 400 Meters
Nikki Hiltz – 1500 Meters
Lexi Weeks – Pole Vault
All-SEC Second Team Performers
Leigha Brown – Heptathlon
Desiree Freier – Pole Vault
Therese Haiss – 1500 Meters
Payton Stumbaugh – Heptathlon
Regan Ward – Steeplechase
Tori Weeks – Pole Vault
Taylor Werner – 10,000 Meters
Top Five Point Scorers
Daina Harper – 15
Nikki Hiltz – 15
Payton Stumbaugh – 14
Taliyah Brooks – 10
Lexi Weeks – 10
Saturday Results
110-Meter Hurdles
5. Payton Stumbaugh – 13.30
400 Meters
1. Daina Harper – 52.16
400-Meter Hurdles
6. Damajahnee Birch – 59.30
800 Meters
4. Nikki Hiltz – 2:06.09
6. Ceara Watson – 2:07.10
1500 Meters
1. Nikki Hiltz – 4:17.94
3. Therese Haiss – 4:19.29
6. Carina Viljoen – 4:23.64
5000 Meters
5. Valerie Reina – 16:18.06
7. Abby Gray – 16:19.19
17. Logan Bishop – 16:52.24 – PR
21. Sydney Brown – 16:57.67
22. Maddy Reed – 17:00.20
4×100-Meter Relay
7. Arkansas (Kiara Parker, Payton Stumbaugh, Daina Harper, Jada Baylark) – 44.31
4×400-Meter Relays
6. Arkansas (Kiara Parker, Daina Harper, Sunkietra McCallister, Ceara Watson) – 3:36.13
High Jump
11. Taliyah Brooks – 5-7
Triple Jump
19. Jada Baylark – 38-9