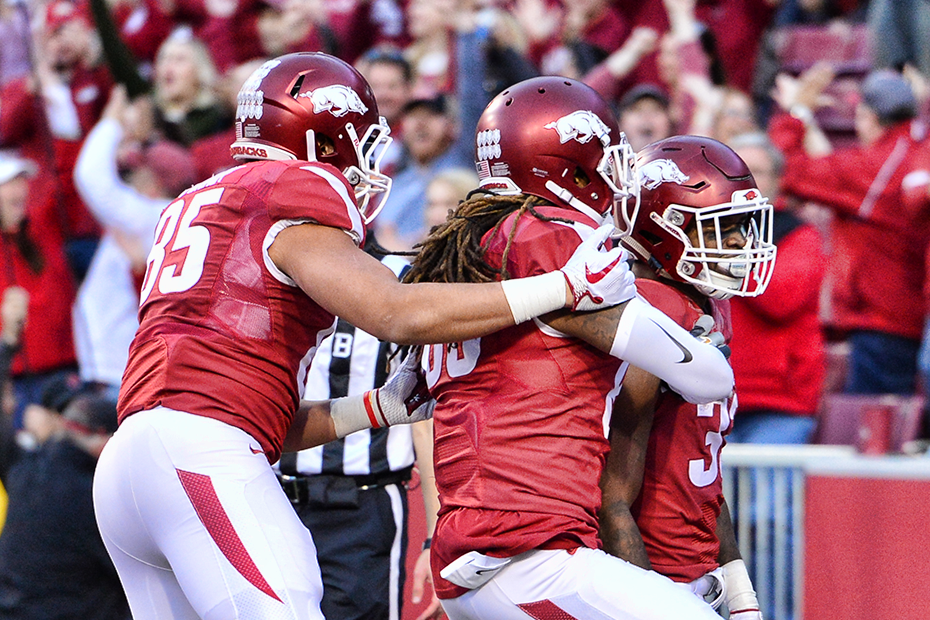 Arkansas Drops Shootout To Missouri
A late field goal with five seconds left in the fourth quarter gave Missouri a 48-45 victory over Arkansas inside Razorback Stadium.
Final Score: Missouri 48 – Arkansas 45 
Big Plays
Q1: 13:44
2nd & 1
Arkansas 0 – Missouri 0
On the fourth play of the game, senior defensive back Henre' Toliver intercepted a second-down pass by Missouri Drew Lock and returned it 28 yards to give the Razorbacks possession. The takeaway was Toliver's second interception of the season, and seventh of his career.
Q1: 12:19
3rd & Goal
Arkansas 7 – Missouri 0
Senior quarterback Austin Allen faked the hand off to Devwah Whaley and rolled left for a one-yard touchdown run, giving the Razorbacks an early 7-0 lead over Missouri. The score was Allen's third-career rushing touchdown and first this season.
Q1: 2:44
1st & 10
Arkansas 14 – Missouri 7
Allen registered his second touchdown of the game with a 57-yard strike to redshirt freshman Jordan Jones who hauled in the third touchdown of his career. The score was the 35th-career passing touchdown for Allen. In addition to his rushing touchdown in the first quarter, the Fayetteville, Arkansas native finished 14-of-29 with 313 yards with two touchdowns through the air.
Q1: 1:07
1st & 10
Arkansas 21 – Missouri 7
Arkansas padded its lead with a 16-yard run by senior running back David Williams, his first touchdown of the day. Williams tallied 75 yards on 11 attempts with two touchdowns on the ground.
Q2: 7:47
1st & 10
Arkansas 28 – Missouri 14
Williams went 22 yards on his second touchdown of the day to give Arkansas a two-touchdown lead midway through the second quarter. It's his third game of the season with multiple rushing touchdowns.
Q3: 10:18
3rd & 10
Missouri 31 – Arkansas 28
Toliver intercepted his second pass of day deep to end Missouri's drive deep in Arkansas territory. The interception was returned 35 yards to give Toliver 63 yards off interception returns on the day. It marked the first game with multiple interceptions of the Marrero, La., native's career.
Q3: 2:02
2nd & 6
Arkansas 35 – Missouri 31
The Razorbacks retook the lead late in the third quarter as sophomore Devwah Whaley capped off a nine-play, 77-yard drive with a 28-yard touchdown. Whaley has scored a touchdown in six-straight games. He finished with 55 yards on 11 attempts.
Q4: 10:32
3rd & 10
Arkansas 42 – Missouri 38
On his third overall touchdown on the afternoon, David Williams took a screen pass 24 yards to give Arkansas the lead once again. It marked the second time this season Williams had three touchdowns in a single game.
Q4: 5:00
4th & 10
Arkansas 45 – Missouri 45
Sophomore Connor Limpert evened the score late in the fourth quarter off of a 42-yard field goal to improve to 8-of-9 on the season.