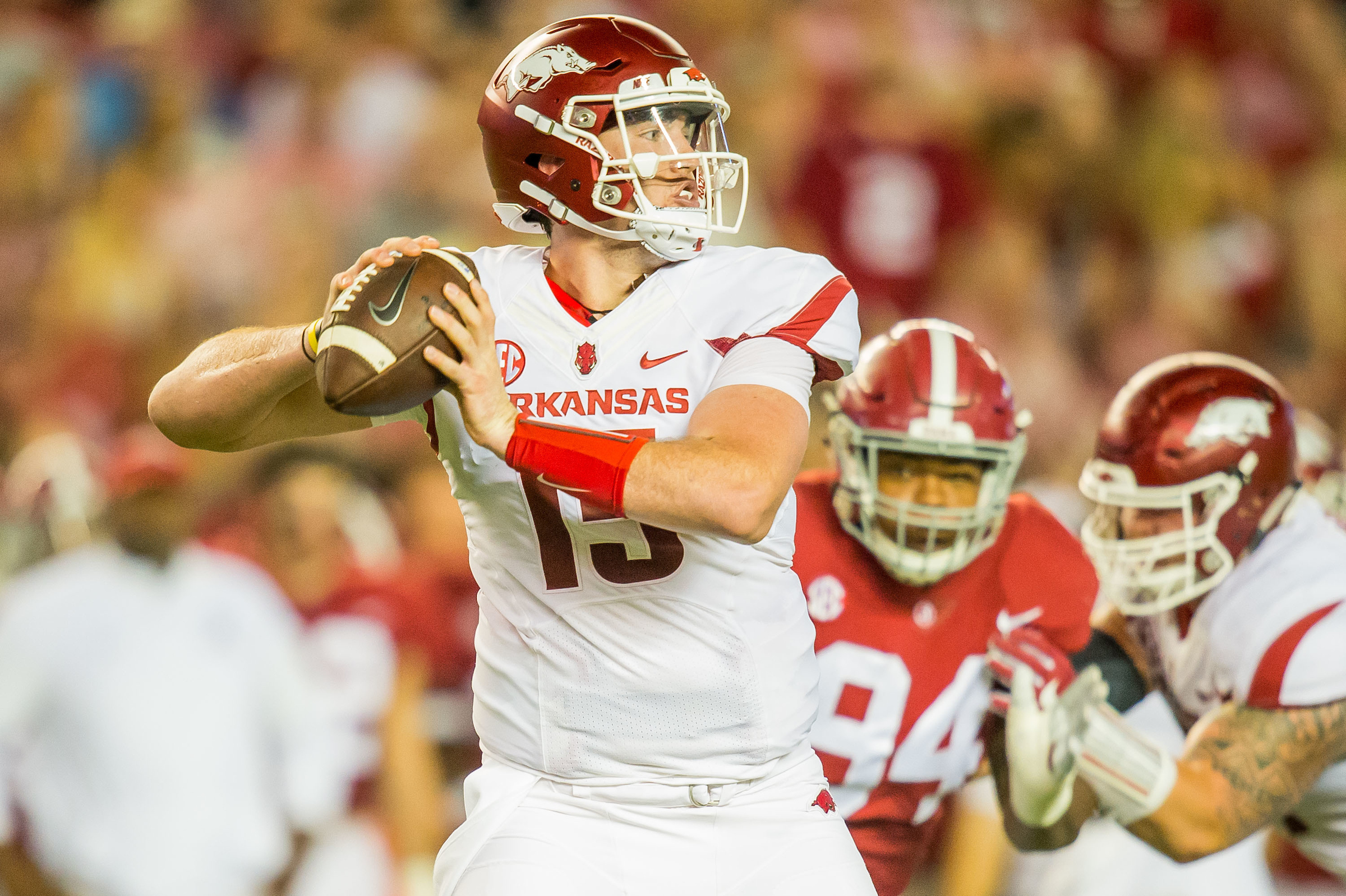 Arkansas Falls At Top-Ranked Alabama
The Arkansas offense was unable to find a rhythm against No. 1 Alabama Saturday night, managing just 227 yards and nine points as it fell, 41-9, to the Crimson Tide.
Big Plays
Q1: 00:06
4th & 3
Alabama 17 – Arkansas 0 
A muffed punt late in the first quarter was recovered by junior Ryder Lucas and gave Arkansas a fresh set of downs at the Alabama 32-yard line.
Q3: 9:34
1st & 10
Alabama 24 – Arkansas 0
Senior Kevin Richardson II intercepted his second pass of the season early in the fourth quarter to give Arkansas possession at its own 43 yard line. It was the first interception of the season for Alabama's Jalen Hurts and ended a streak of 206-straight passes without an interception for the Crimson Tide quarterback.
Q3: 4:16
4th & 10
Alabama 24 – Arkansas 3
Sophomore Connor Limpert gave Arkansas its first points of the night with a 30-yard field goal late in the third quarter. It was the second field goal of the season for Limpert as he improves to 2-for-2 on the year.
Q4: 3:03
4th & Goal
Alabama 41 – Arkansas 9
Redshirt freshman Jordan Jones hauled in a 3-yard pass from Cole Kelley late in the fourth quarter for Arkansas' only touchdown. It was Jones' second touchdown of the season as he finished with 72-yards on four receptions. Kelley went 23-of-42 for 200 yards and one touchdown in his first career start.
Up Next
Arkansas returns home to Razorback Stadium for its Southeastern Conference home opener against Auburn, with kickoff time to be determined.