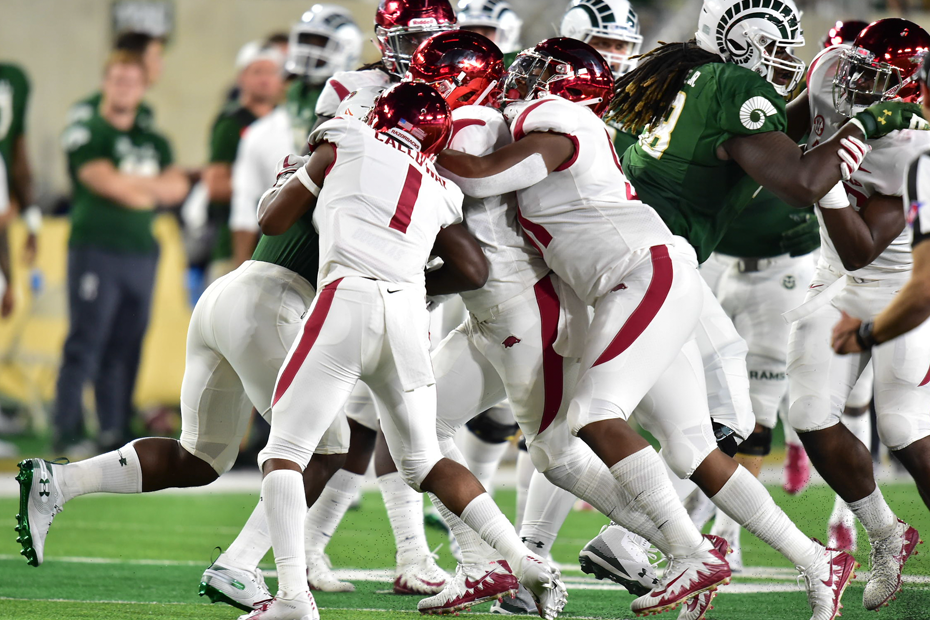 Arkansas Falls On The Road At Colorado State
FORT COLLINS, Co. – Arkansas (1-1) fell to Colorado State (1-2) on the road 34-27 after a late score gave the Rams a seven-point advantage with eight seconds left in the fourth quarter.
Big Plays
 Arkansas 7 – Colorado State 3
A 14 play 73 yard drive was capped by a Devwah Whaley touchdown from three yards out that gave Arkansas a 7-3 lead late in the first quarter. Whaley, who recorded his second touchdown of the season, has scored a touchdown in eight-straight games dating back to the Auburn game last season.
Arkansas 7 – Colorado State 3
Recording his first interception since the 2015 season, junior Ryan Pulley picked off an overthrown ball to give Arkansas the ball at its 27 yard line.
Arkansas 20 – Colorado State 9
After a pair of field goals from Connor Limpert gave the Razorbacks a 13-9 lead, La'Michael Pettway hauled in a 25-yard pass from Cole Kelley to give the Hogs a 20-9 lead early in the third quarter. The reception give Pettway three touchdowns on the season through two games, as he reeled in 31 yards on two passes on the night.
Arkansas 27 – Colorado State 9
Junior T.J. Hammonds struck on another long touchdown with 7:28 left in the third quarter. Hammonds, who was responsible for two of the longest touchdowns of the 2017 season, finished the night with eight yards rushing and with his only reception bringing in 64 yards on the touchdown.
For more information on Arkansas football, including in-game updates, follow @Razorbackfb on Twitter.