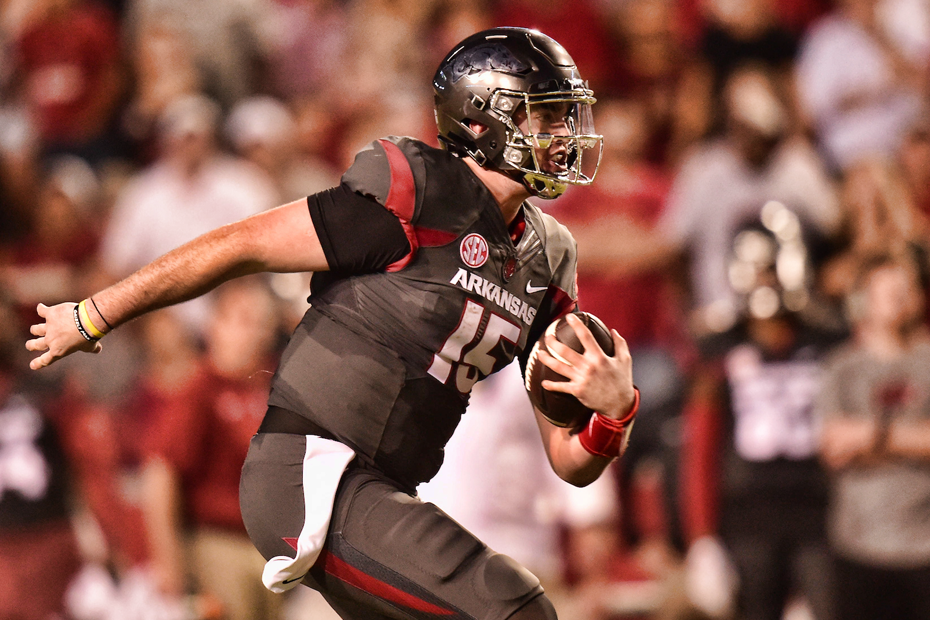 Arkansas Falls To No. 21 Auburn At Home
Final Score: No. 21 Auburn 52, Arkansas 20
The Razorbacks struggled to contain Auburn's offense Saturday night, falling 52-20 to the Tigers inside Razorback Stadium.
Big Plays
Q1: 7:57
4th & 3
Auburn 7 – Arkansas 3
Sophomore Connor Limpert gave Arkansas its first points of the night with a 34-yard field goal late in the third quarter. It was the first of two field goals on the night for Limpert.
Q2: 10:00
4th & 1
Auburn 10 – Arkansas 3
Jonathan Marshall and De'Jon Harris stuffed Auburn running back Kerryon Johnson on fourth down to end the Auburn drive short of the goal line and give the Razorbacks possession at the 2-yard line.
Q2: 7:29
3rd & 8
Auburn 10 – Arkansas 3
On Auburn's next drive, senior Kevin Richardson II intercepted a pass from Auburn quarterback Jarrett Stidham to give Arkansas the ball on its own 38-yard line. The pick marked the third interception in four games for the Jacksonville, Arkansas native.
Q2: 00:40
4th & 5
Auburn 17 – Arkansas 6
Limpert gave Arkansas three more points on a 38-yard field goal before halftime to cut the Tiger lead to 11. It was the second field goal of the night for the Allen, Texas native as he improved to 4-of-4 on the year.
Q3: 3:57
Kickoff
Auburn 38 – Arkansas 13
Freshman De'Vion Warren returned a kickoff 100-yards for Arkansas' first touchdown of the night late in the third quarter. It marked the first kickoff returned for a touchdown by a Razorback since Korliss Marshall took one back against Northern Illinois on Sept. 20, 2014.
Q4: 3:07
3rd & Goal
Auburn 52 – Arkansas 20
Sophomore Devwah Whaley scored from 2-yards out for Arkansas' final score of the night. It was his third touchdown of the season as Whaley finished with 31-yards on nine carries.
Up Next
Arkansas travels to Oxford, Mississippi next Saturday for a road matchup against Ole Miss with kickoff scheduled for 11 a.m. on the SEC Network.