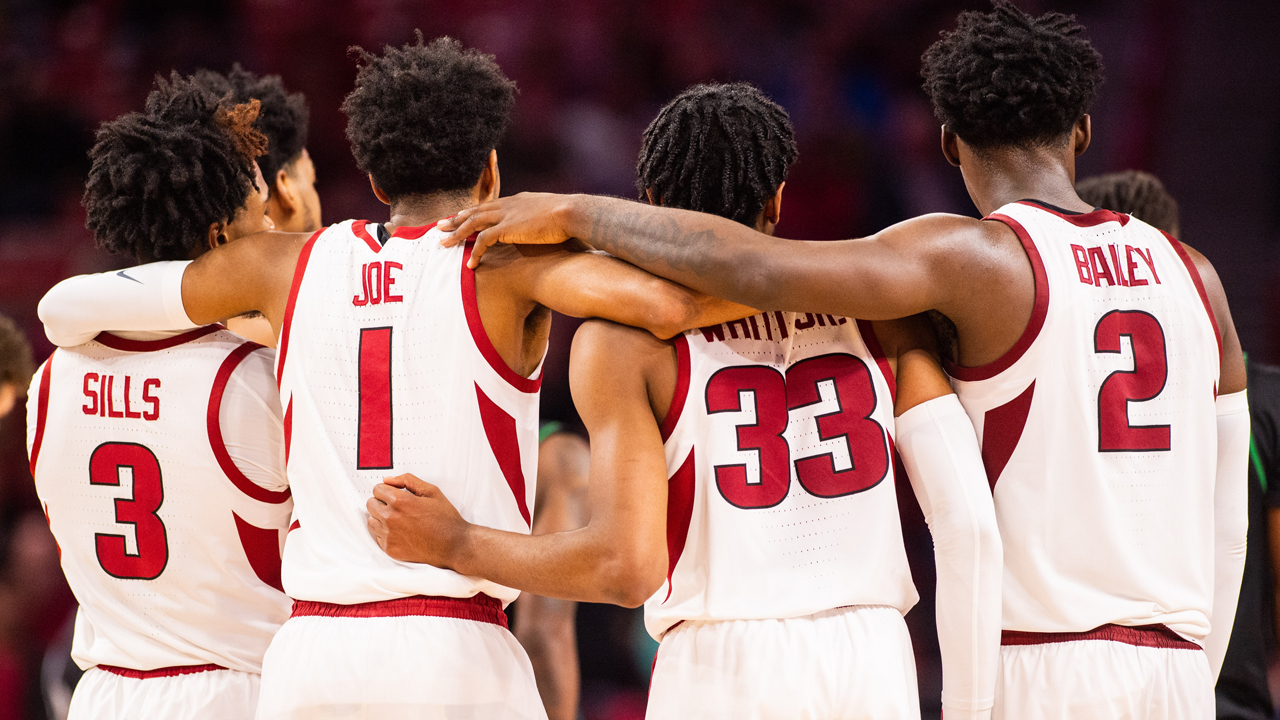 Arkansas Hosts Northern Kentucky Saturday
Who: Northern Kentucky Norse
What: Final game of the Collegiate Hoops Roadshow – Razorback Regional
When: Saturday – Nov. 30, 2019 – 4:00 pm
Where: Fayetteville, Ark. – Nolan Richardson Court at Bud Walton Arena
How (to follow):
– TV: SEC Network Plus (Benjamin Kelly and Kikko Haydar)
– CLICK HERE to Watch ESPN/SEC Network Plus Online
– Radio: Learfield IMG College Razorback Sports Network (Chuck Barrett and Matt Zimmerman)
– LISTEN TO RAZORBACK NETWORK ONLINE
– Sirius/XM: Streaming Online 993
– Live Stats: CLICK HERE
– In Person: PURCHASE TICKETS
 – Arkansas Game Notes: CLICK HERE
– Northern Kentucky Game Notes: CLICK HERE
FAYETTEVIILE – Arkansas returns home to host Northern Kentucky on Saturday (Nov. 30) in the teams' final game of the Collegiate Hoops Roadshow – Razorback Regional. Tipoff at Bud Walton Arena is set for 4 pm and the game will be broadcast on the SEC Network Plus.
The Razorbacks led the NCAA in 3-point field goal percentage, holding opponents to just 14 percent shooting beyond the arc. Arkansas is also third in the NCAA in scoring defense (50.0 ppg), fourth in forced turnovers (21.50 avg.), fourth in steals (12.0 avg.) and eighth in field goal percentage defense (35.0 percent).
Stepping Back In
After a thrilling 62-61 overtime win at Georgia Tech Monday, Arkansas returns to the Collegiate Hoops Roadshow for the final game of the Razorback Regional. The Razorbacks are 3-0 in the exempt tournament with wins over Montana, Texas Southern and South Dakota. The Norse are 2-1.
Versus Northern Kentucky
This will be the first meeting between Arkansas and Northern Kentucky.
However, this will not be the first time Arkansas has gone against Norse head coach Darrin Horn. Horn was associate head coach with the Texas Longhorns last season and head coach at South Carolina from 2008-2012.
series and are 5-1 all-time.
Jimmy Uses Wit
Jimmy Whitt Jr., is not your typical point guard. Namely, he is second on the team with 5.5 rebounds per game and second on the team with five blocked shots while he only dishes out 2.17 assists per game.
However, he possesses the best quality any coach can ask of a point guard … he rarely turns the ball over. In fact, he only has seven in 203:41 minutes … 1 every 29 minutes.
Ironically, he had a season-high four turnovers in one game — Montana. The fourth of his four turnovers came at 17:44 of the second half.
Since that last turnover versus Montana, Whitt has played 130 minutes and 45 seconds without a turnover. (The final 17:44 vs Montana, 33:46 minutes versus Texas Southern, 35:28 minutes versus South Dakota and 43:47 minutes versus Georgia Tech.
Front Runners
It is true, Arkansas did not score the final 2:35 of the second half and not again until 0.1 seconds left in the first overtime period. However, Arkansas only trailed once — for 20 seconds — over that final 7:34.9, when James Banks III made a jumper with 20 seconds left in overtime.
Overall, Arkansas led for 32:33 and Tech just 2:29 as Arkansas took a 20-19 lead at the 8:14 mark of the first half and did not surrender it until Tech's James Banks made a jumper with 21 seconds left in overtime.
This season, Arkansas has not trailed by more than three points this season.
Arkansas has only trailed for 4:18 … Including 0-0 ties (and 4:48 over overtime at Georgia Tech, Razorback games have been tied for 15:52.
Arkansas has led for at least 32 minutes in all six games.
Isaiah Joe on Jerry West Shooting Guard of the Year Watch List
Arkansas sophomore Isaiah Joe was named to the 2020 Jerry West Shooting Guard of the Year Award watch list, the Naismith Memorial Basketball Hall of Fame announced today.
FANS CAN VOTE FOR THEIR FAVORITE PLAYER AT: http://www.hoophallawards.com/men/vote.php
For more information on Arkansas Men's Basketball, follow @RazorbackMBB on Twitter.