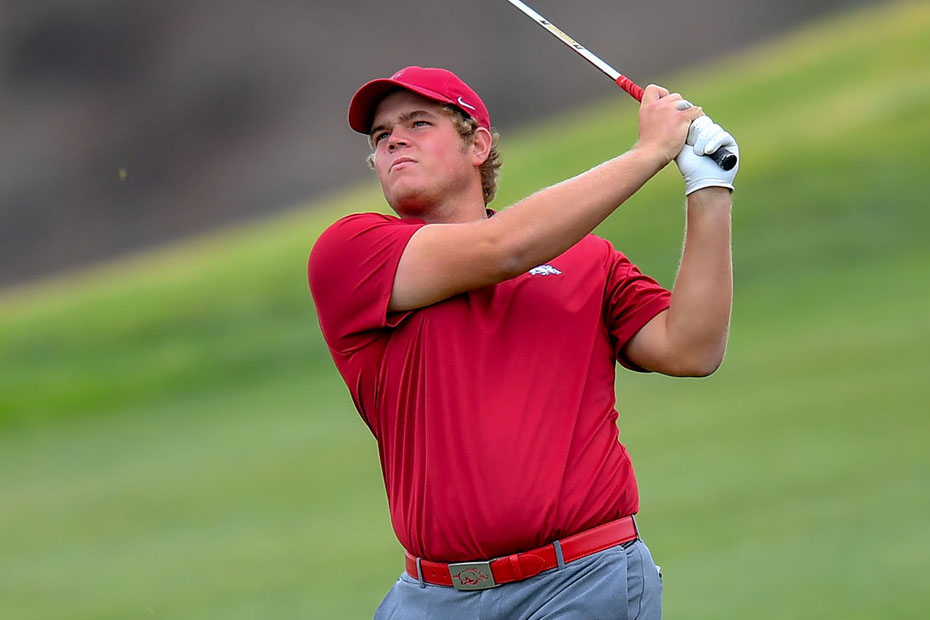 Arkansas Men's Golf Finishes 4th in Final Fall Event
Royal Oaks Intercollegiate Final Results (HTML): https://bit.ly/2ytectl
Royal Oaks Intercollegiate Final Results (PDF): https://bit.ly/2yxHvv0
CARROLLTON, Texas – For the fifth time in five fall events, the University of Arkansas men's golf team finished among the top four, placing fourth vin the Royal Oaks Intercollegiate versus a 14-team field that featured eight of the nation's top 41 teams. All five Razorbacks were among the top 30 individually as Arkansas placed fourth with a score of 867 at the tournament, played at the par-70, 7,008-yard Maridoe Golf Club.
The 54-hole event was scheduled for 36 holes Monday and 18 Tuesday. However, round two Monday was suspended with approximately four holes to play due to darkness. Round two was completed Tuesday morning, followed by 18 final holes.
Mason Overstreet led the way for Arkansas, tying for ninth with a 5-over-par total of 215.
Top-ranked Oklahoma State won the team title with a three-round score of 827, followed by #34 North Carolina State (859), #6 SMU (863), #16 Arkansas (867), #4 Pepperdine (873), #33 North Carolina (875), #41 Baylor (876) and #39 Iowa (884).
"Today was a disappointing day after we played some of our best golf for 33 holes Monday," said head coach Brad McMakin. "We were too aggressive today . The conditions were not set up to our style of play but wee needed to do a better just of adjusting.
"Overall, I am very happy with our fall season. We will learn from this week and hopefully it will pay off in the postseason."
Overstreet recorded his fourth top 20 finish in four events this season and posted his second top 10 finish of the fall. He was fifth in the field in par-4 scoring with a 4.08 average. That average was bolstered in the final round as he had 13 pars with five bogeys for his 5-over 75. Overstreet finished tied for ninth with scores of 67-73-75 for a total of 215.
William Buhl and Julian Perico each tied for 21st with a 54-hole total of 219. Buhl shot a final-round 80, after rounds of 69-70. Perico had 12 pars in the final round and shot 76, shooting 73-70 in the first two rounds.
Luis Garza and Tyson Reeder each tied for 28th with a three-round score of 221. Garza was the only Razorback to card a birdie in the final round as he posted a 76. Reeder had the best final round by a Razorback, shooting a 74, thanks to 16 pars Tuesday afternoon. Reeder led the team and had the third-best number of pars in the field with 36.
Wil Gibson played as an individual and played 78th (82-80-82=244).
Arkansas will resume its 2018-19 schedule Feb. 4-5 at the Sea Best Invitational, played in Ponte Vedra Beach, Fla., at TPC Sawgrass.
NOTES:
Arkansas was second in the field in pars with 167, one behind leader Oklahoma State.
Arkansas was second in the field in par-4 scoring (4.22 average).
Arkansas was third in the field in par-5 scoring (4.93 average).
2018 Royal Oaks Intercollegiate
Hosted by Baylor
Oct. 22-23, 2018 • Carrollton, Texas
Maridoe Golf Club • Par 70 – 7,008 yards
Arkansas Scores
Team Results