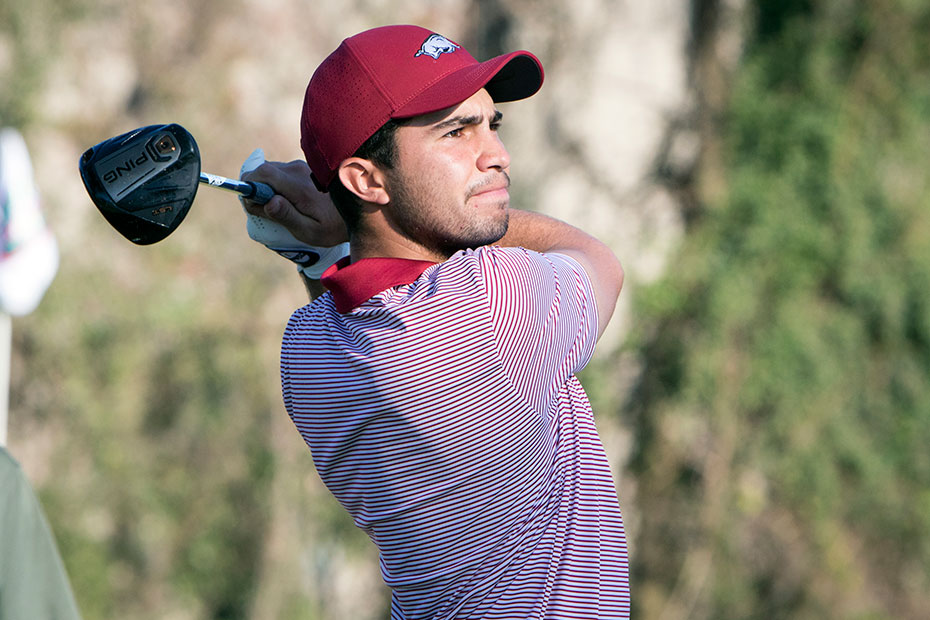 Arkansas Moves Up Two Spots At Gator Invitational
GAINESVILLE, Fla. – The Arkansas men's golf team saved its best round for last at the SunTrust Gator Invitational, firing a 2-under 278 on Sunday to move up two spots and finish T-8th at Mark Bostick Golf Course.
The Razorbacks ended the weekend with rounds of 286-283-278 – 847 (+7) to finish deadlocked with Georgia Southern in eighth place and one stroke back of No. 27 Missouri (+6). No. 5 Vanderbilt captured the team championship at 19-under, while No. 6 Florida finished runner-up on its home course at 9-under.
Senior Alvaro Ortiz continued to pace the Razorbacks, posting a final round 2-under 68 to finish T-12th overall at 3-under for the championship. He rolled in three birdies in each round for his fourth top 15 finish of the year, while his 39 pars were tied for the third-most in the field.
Sophomore Mason Overstreet carded a final round even-par 70 to finish 3-over for the tournament and T-30th overall. He recorded four birdies and four bogeys on Sunday and finished the event T-7th in total birdies with 12.
Tyson Reeder finished third on the team and T-40th overall at 6-over in his second tournament as a Razorback, while Luis Garza was one shot back of his new teammate at 7-over to secure a T-46th.
William Buhl (+13) finished T-68th overall, while Landon Ernst was T-75th in the field at 15-over.
The Razorbacks return to the course March 4-6, traveling to Cabo San Lucas, Mexico, to compete in one of the toughest fields in college golf at the Querencia Cabo Collegiate.
For more information on Arkansas men's golf, follow @RazorbackMGolf on Twitter.
Razorback Lineup Final Results

| Place | Player | Score |
| --- | --- | --- |
| T12. | Alvaro Ortiz | 69-70-68 – 207 (-3) |
| T30. | Mason Overstreet | 71-72-70 – 213 (+3) |
| T40. | Tyson Reeder | 72-75-69 – 216 (+6) |
| T46. | Luis Garza | 74-72-71 – 217 (+7) |
| T68. | William Buhl | 79-69-75 – 223 (+13) |
| T75. (IND) | Landon Ernst | 81-72-72 – 225 (+15) |
SunTrust Gator Invitational Final Team Results

| Place | Team | Score |
| --- | --- | --- |
| 1. | No. 5 Vanderbilt | 274-278-270 – 822 (-18) |
| 2. | No. 6 Florida | 275-278-278 – 831 (-9) |
| 3. | No. 25 South Florida | 277-281-276 – 835 (-5) |
| 4. | No. 32 North Florida | 278-282-277 – 837 (-3) |
| 5. | UCF | 274-284-280 – 838 (-2) |
| 6. | Liberty | 282-285-275 – 842 (+2) |
| 7. | No. 27 Missouri | 279-281-286 – 846 (+6) |
| T8. | No. 20 Arkansas | 286-283-278 – 847 (+7) |
| T8. | Georgia Southern | 282-279-286 – 847 (+7) |
| 10. | Jacksonville | 275-284-291 – 850 (+10) |
| 11. | UAB | 285-285-289 – 859 (+19) |
| 12. | Coastal Carolina | 286-288-287 – 861 (+21) |
| 13. | Lipscomb | 290-289-289 – 868 (+28) |
| 14. | College of Charleston | 285-288-298 – 871 (+31) |
| 15. | Mississippi State | 288-295-289 – 872 (+32) |
| 16. | Troy | 296-309-297 – 902 (+62) |