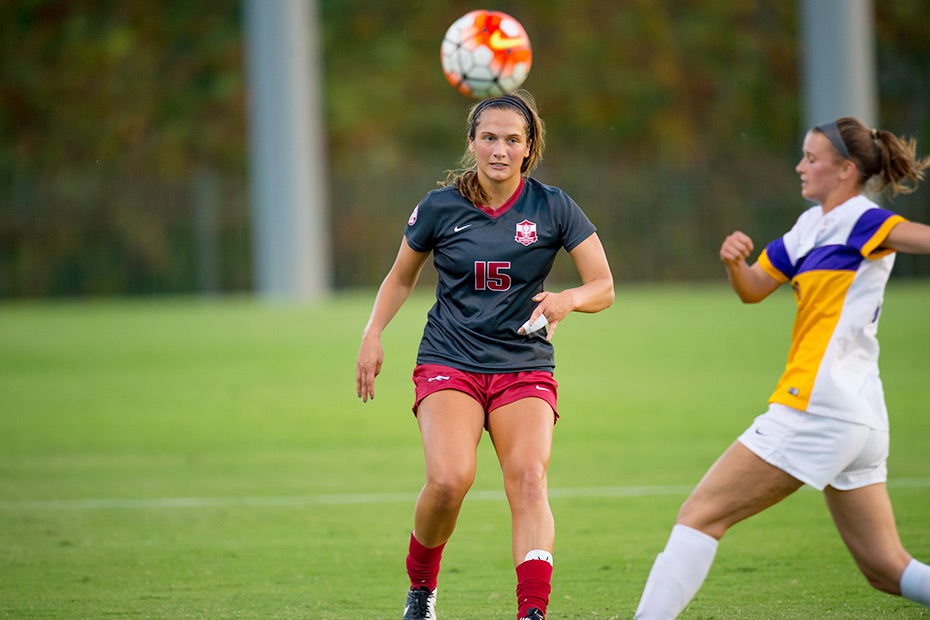 Razorbacks Open 30th Season On The Road
FAYETTEVILLE, Ark. – Razorback Soccer will kick off its 30th season this weekend as the team travels to the East Coast to play a pair of matches in Harrisonburg, Virginia.
Arkansas will play James Madison on Friday, Aug. 19 at 6 p.m. CST and VCU two days later on Sunday, Aug. 21 at 10:30 a.m. CST. Both matches will be broadcast live on Cox Sports TV.
This will be the first time Arkansas has played either James Madison or VCU in program history.
The Razorbacks return to Fayetteville for their home opener against 2015 NCAA Tournament runner up and No. 3-ranked Duke on Friday, Aug. 26 at 7 p.m. CST.
SEC Preseason Watch List
Three Razorbacks were included in the conference's preseason watch list on Wednesday: Sophomore defender Carly Hoke, senior forward Claire Kelley and senior defender Lindsey Mayo.
Hoke is coming off a solid freshman season that resulted in the Lake Forest, Illinois, native being named to the SEC All-Freshman Team.
Kelley will start her fourth season as Arkansas' career leader in points (57), goals (23), game-winning goals (8), shot attempts (159) and shots on goal (70). She's also currently second in points per game (1.02), goals per game (0.41) and assists (11).
Mayo will use her final year of eligibility to play in her fifth season as a Razorback. The Gallatin, Tennessee, native is currently ninth in career points (13), eighth in points per game (0.32), fifth in goals (6), seventh in game-winning goals (1), 10th in shot attempts (43) and ninth in shots on goal (19).
Season Tickets Still Available
Season tickets are available for purchase through the Razorback Ticket Center at 800-982-HOGS (4647) or online at ArkansasRazorbacks.com. Each season ticket package will include a new 2016 Razorback Soccer scarf.
For more information about Razorback Soccer, follow @RazorbackSoccer on Twitter, Instagram and Facebook.