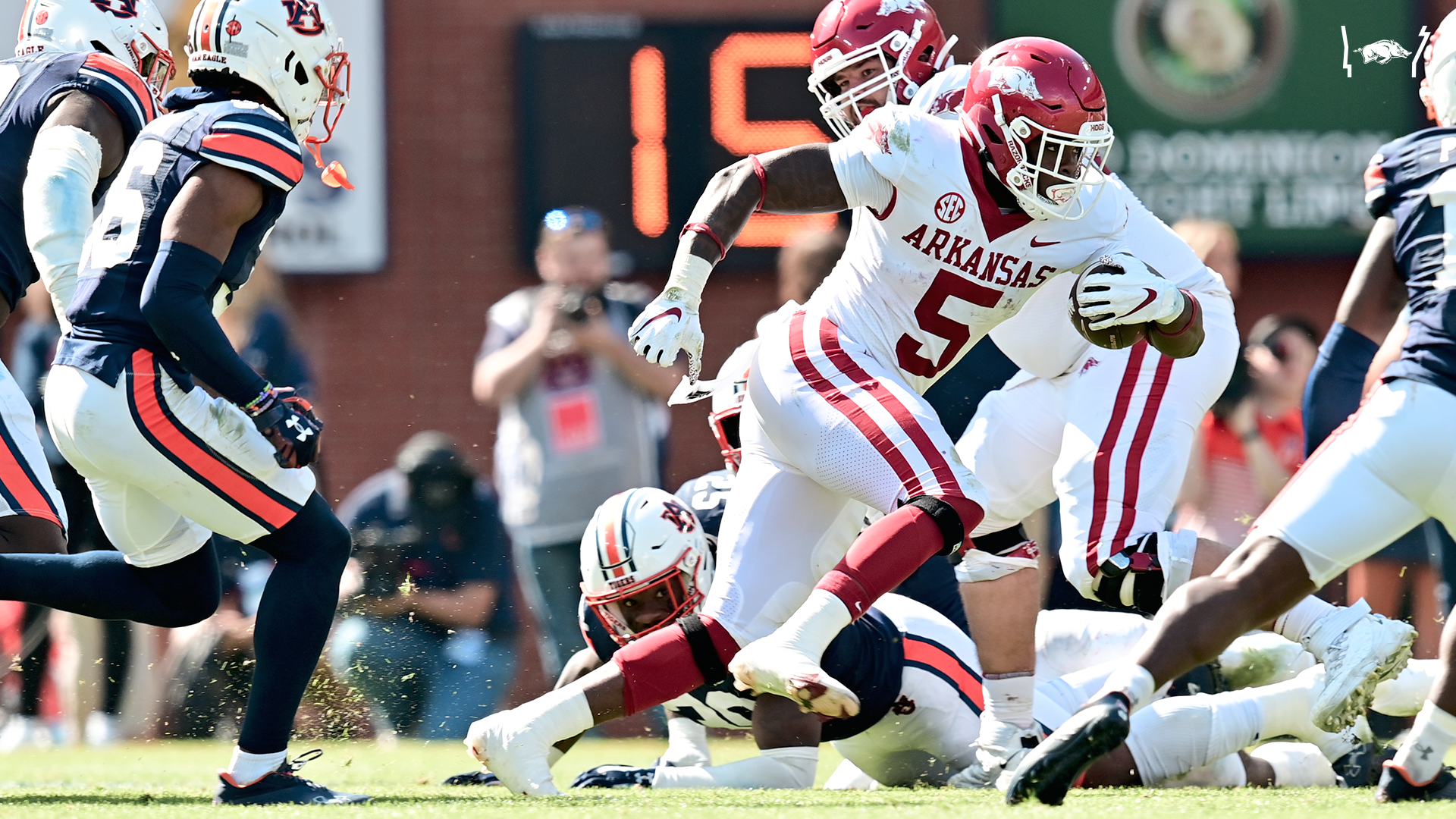 Arkansas Powers to 41-27 Road Win at Auburn
AUBURN, Ala. – The Arkansas Razorbacks (5-3) claimed their first win over Auburn since 2015 after defeating the Tigers 41-27 Saturday afternoon at Jordan-Hare Stadium.
1Q, 10:41 – Chris Paul Jr. Sack
R-Fr. LB Chris Paul Jr.'s sack in the first quarter forced an Auburn FG attempt that was missed, keeping the score knotted up at 0-0.
1Q, 3:10 – KJ Jefferson Puts Arkansas In Front
QB KJ Jefferson scored his first touchdown of the day on a 1-yard run to give Arkansas a permanent lead.
2Q, 10:27 – KJ Jefferson Stiff Arm, Touchdown
QB KJ Jefferson breaks tackles and scores his second rushing touchdown of the ballgame on a 13-yard effort, putting the Hogs in front 14-3.
2Q, 2:25 – Little Converts First FG
K Cam Little's 27-yard field goal extended the Razorbacks' lead to 17-10.
3Q, 8:27 – Landon Jackson Blocked FG
DL Landon Jackson became the first Razorback since Dan Skipper in 2016 to block a field goal.
3Q, 6:02 – Jefferson to Haselwood
QB KJ Jefferson links with WR Jadon Haselwood for an 11-yard touchdown.
3Q, 0:44 – Dubinion Touchdown
RB Rashod Dubinion scored his first touchdown of the day on a 2-yard rush to close the third quarter.
4Q, 7:35 – Touchdown Arkansas
Dubinion finds the endzone again for another 2-yard score.
4Q, 1:55 – Little FG
The Hogs get their final points on Cam Little's 37-yard FG.