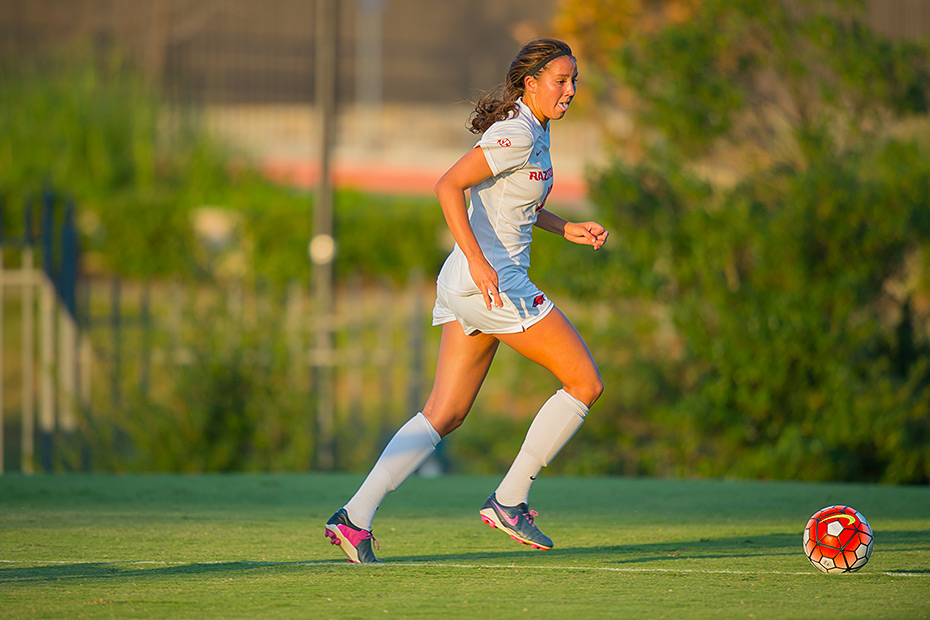 Arkansas Puts On Offensive Display
LITTLE ROCK, Ark. – Arkansas Soccer put up an offensive show Saturday topping Northwestern State 6-0 to improve to 3-0-1 in spring exhibition play at Little Rock's Burns Park.
Five different Razorbacks scored goals in the game, led by senior midfielder Rachel Riggs, whose shots found the back of the net twice. Senior forward Katie Moore notched the team's first score five minutes in, followed by Riggs scoring before the half assisted by senior midfielder Claire Kelley. Less than a minute after the start of the second half, Riggs would score again to put Arkansas ahead 3-0.
Kelley, junior midfielder Katie Kienstra and junior forward Sarah Price each tallied a goal in the second half in Arkansas' best offensive performance thus far in its five-game spring slate.
"I thought we were good on some things we've been working on," Arkansas head soccer coach Colby Hale said. "We combined and moved well in the final third. They had a couple of dangerous moments in the first 10 minutes, but I thought we adjusted to what they were doing, settled in and took over from there. Overall, a good team 90 minutes."
Arkansas closes out its spring exhibition season next weekend when the team travels to Lawrence, Kansas to face off against the Kansas Jayhawks at Rock Chalk Park. Kickoff is set for 3 p.m. CDT.
2016 Razorback Soccer Spring Schedule
Date
Opponent
Location
Time
Result
April 2
Illinois
St. Louis (Lou Fusz Soccer Complex)
1:30 p.m.
W, 1-0
April 9
Oklahoma
Tulsa, Okla. (Case Soccer Complex at Oral Roberts University)
4:00 p.m.
D, 0-0
April 16
Oral Roberts
Fayetteville, Ark. (Razorback Field)
5:00 p.m.
W, 2-1
April 23
Northwestern State
Little Rock, Ark. (Burns Park)
3:00 p.m.
W, 6-0
April 30
Kansas
Lawrence, Kan. (Rock Chalk Park)
3:00 p.m.
L, 2-0
For more information about Razorback Soccer, follow @RazorbackSoccer on Twitter, Instagram and Facebook.