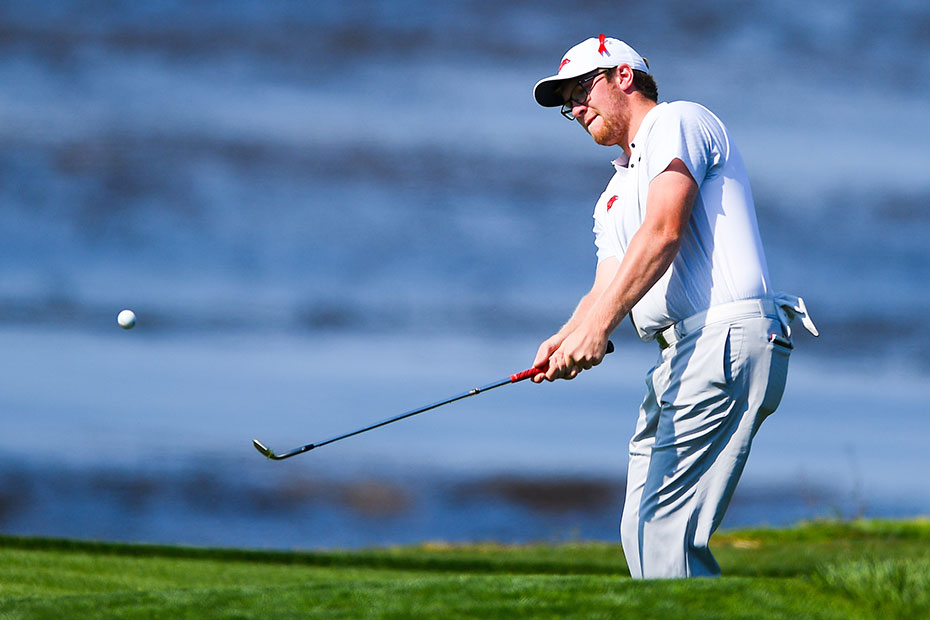 Arkansas Takes Second In Spring Opener
PONTE VEDRA BEACH, Fla. – The No. 20 Arkansas men's golf team came up just short of its second victory of the year, finishing runner-up and one shot back at the 10th annual Sea Best Invitational at TPC Sawgrass.
The Razorbacks record their second straight runner-up finish and third this season, improving their overall head-to-head record to 57-12 (.826) on the year.
Arkansas opened the day with a four-stroke lead, but South Florida made a run on the back nine and led by as many of five shots before the Razorbacks came roaring back down the stretch with six birdies on the final four holes to close the gap at 5-under. USF's final player made a quadruple bogey on the 18th hole to give the Bulls (-6) a slim one-stroke victory.
Liberty (-1) finished third overall, while No. 11 LSU (+2) and No. 28 Tennessee (+3) rounded out the top five.
Sophomore Luis Garza posted his best finish of the year at T-5th overall, signing for rounds of 67-69-70 – 206 (-4) to lead the team. Sophomore Mason Overstreet continued his strong play with back-to-back rounds under par to finish T-8th at 3-under. He has finished under par in five of his six tournaments this year and has four top-10 performances on the season.
William Buhl finished in the top 15 for the fourth time in his sophomore campaign at even par, while Alvaro Ortiz tied for 27th overall at 4-over for the championship. Tyson Reeder and Landon Ernst both finished T-53rd at 11 over.
The Razorbacks return to action in two weeks, looking to defend their title at the SunTrust Gator Invitational Feb. 17-18 at Mark Bostick Golf Club.
For more information on Arkansas men's golf, follow @RazorbackMGolf on Twitter.
Razorback Lineup Final Results

| Place | Player | Score |
| --- | --- | --- |
| T5. | Luis Garza | 67-69-70 – 206 (-4) |
| T8. | Mason Overstreet | 73-65-69 – 207 (-3) |
| 15. | William Buhl | 70-68-72 – 210 (E) |
| T27. | Alvaro Ortiz | 73-65-76 – 214 (+4) |
| T53. | Tyson Reeder | 72-74-75 – 221 (+11) |
| T53. (IND) | Landon Ernst | 71-75-75 – 221 (+11) |
Sea Best Invitational Final Team Results

| Place | Team | Score |
| --- | --- | --- |
| 1. | No. 43 South Florida | 274-279-281 – 834 (-6) |
| 2. | No. 20 Arkansas | 282-267-286 – 835 (-5) |
| 3. | Liberty | 277-277-285 – 839 (-1) |
| 4. | No. 11 LSU | 283-279-280 – 842 (+2) |
| 5. | No. 28 Tennessee | 278-280-285 – 843 (+3) |
| T6. | No. 24 North Carolina | 281-280-290 – 850 (+10) |
| T6. | No. 27 North Florida | 280-286-283 – 850 (+10) |
| 8. | Jacksonville | 281-281-289 – 851 (+11) |
| 9. | Lipscomb | 280-285-292 – 857 (+17) |
| 10. | Campbell | 290-285-283 – 858 (+18) |
| 11. | East Carolina | 288-281-290 – 859 (+19) |
| 12. | No. 23 Duke | 287-297-296 – 880 (+40) |
| 13. | USC Upstate | 299-308-307 – 914 (+74) |
| 14. | Winthrop | 312-299-313 – 924 (+84) |