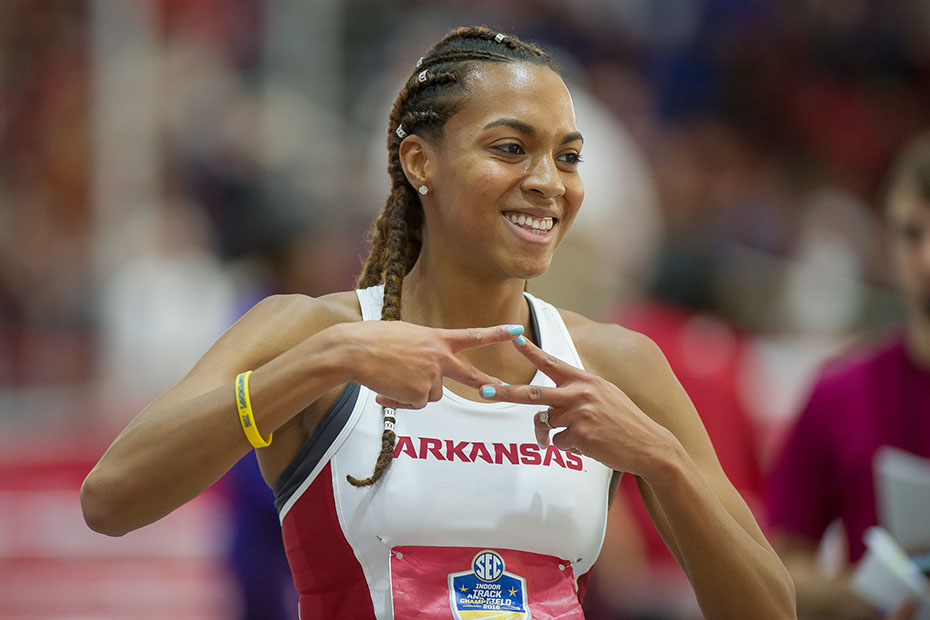 Awards Continue for No. 4 Arkansas
BIRMINGHAM, Ala. – Selected late last week as the NCAA South Central Region Coach of the Year, Lance Harter picked up more recognition Monday, this time from the Southeastern Conference. Harter, along with Taylor Ellis-Watson and Lexi Weeks, were selected as the conference's Coach, Scholar-Athlete and Freshman Field-Athlete of the Year.
Arkansas also had 15 Razorbacks who earned All-SEC and SEC All-Freshman honors for top finishes at the 2016 SEC Indoor Championship.
The award marks the 26th time Harter has been recognized by the SEC for his outstanding performance as a coach. A four-time National Coach of the Year, Harter guided the Razorbacks to their sixth-consecutive SEC title on Feb. 27. extending a win streak dating back to the 2014 SEC Indoor Championship. Arkansas racked up 110 points at the 2016 SEC Indoor Championship from 10 events to win by a 43-point margin over LSU.
A major advocate for his students to succeed in more than just track and field, Harter and his coaching staff work to ensure their athletes gain a comprehensive experience at Arkansas, from academics and career development to athletics.
One of the leaders of the young Razorback team, Ellis-Watson has been a big contributor to the program on-and-off the track. Only the second from the team to be selected as the conference's indoor scholar-athlete (Sandi Morris, '15) Ellis-Watson continues to set the standard how the University of Arkansas should be represented in sport and in life. The Philadelphia native, who earned her bachelor's degree in counseling, currently holds a 4.0 grade point average in the master's program of the same focus. An SEC champion at 400 meters, Ellis-Watson will compete in the event along with the 4×400-meter relay team at the NCAA Indoor Championship this weekend.
From veterans to newcomers, Arkansas has proven it has talent across the board.
An NCAA co-leader this season in the pole vault, freshman Weeks has transitioned seamlessly from high school to college. She is one of only two vaulters this season to clear 15 feet and is the only freshman in NCAA history to get over that height. Weeks' personal best of 4.60m/15-1 earned the Cabot, Arkansas native the American Junior Record and placed her second on Arkansas's all-time best list behind 2015 NCAA Indoor Champion Morris.
Ellis-Watson and Weeks collected All-SEC First Team honors as well from gold-medal performances in the 400-meter dash and pole vault, respectively. Weeks was also named to the SEC All-Freshman team.
Additional All-SEC First Team honorees included DMR relay team members Leigha Brown, Devin Clark, Therese Haiss and Nikki Hiltz. Clark also picked up SEC All-Freshman team recognition for her efforts in the 3K.
Multiple event groups were represented on the All-SEC Second Team list including distance, sprints/hurdles and field event athletes. Distance duo Jessica Kamilos and Regan Ward picked up honors for performances in the mile and 5K, respectively. Daina Harper (4x400m), Payton Stumbaugh (60mH/4x400m) and Brianna Swinton (4x400m) were recognized for successes in the sprints and hurdles while Taliyah Brooks (pentathlon) and Tori Weeks (pole vault) collected awards for strong showings in the field.
The Razorbacks next compete at the 2016 NCAA Indoor Track and Field Championship in Birmingham, Alabama on March 11-12.
2016 SEC Indoor Track and Field Awards
Women's Coach of the Year: Lance Harter, Arkansas
Women's Runner of the Year: Mikiah Brisco, LSU
Women's Field Athlete of the Year: Keturah Orji, Georgia
Women's Freshman Runner of the Year: Diamond Spaulding, Texas A&M
Women's Freshman Field Athlete of the Year: Lexi Weeks, Arkansas
Women's Co-Scholar-Athletes of the Year: Taylor Ellis-Watson, Arkansas/Cornelia Griesche, Mississippi State
2016 SEC Indoor Track and Field All-SEC Teams
Women's All-SEC First Team
Chelsea Blaase, Tennessee
Mikiah Brisco, LSU
Felicia Brown, Tennessee
Leigha Brown, Arkansas
Quanesha Burks, Alabama
Devin Clark, Arkansas
Lenysse Dyer, Tennessee
Taylor Ellis-Watson, Arkansas
Beckie Famurewa, Kentucky
Marta Freitas, Mississippi State
Nakita Gray, South Carolina
Therese Haiss, Arkansas
Nikki Hiltz, Arkansas
Felicia Majors, Tennessee
Keturah Orji, Georgia
Raven Saunders, Ole Miss
Morgan Schuetz, LSU
Alexis Weeks, Arkansas
Layla White, Tennessee
Kendell Williams, Georgia
Women's All-SEC Second Team
Shelby Ashe, Georgia
Logan Boss, Mississippi State
Taliyah Brooks, Arkansas
Carmen Carlos, Vanderbilt
Destiny Carter, Kentucky
Chanice Chase, LSU
Asianna Covington, Georgia
Yanis David, Florida
Hannah Deworth, LSU
Rachel Dincoff, Auburn
Madeline Fagan, Georgia
Daeshon Gordon, LSU
Ariah Graham, Kentucky
Cornelia Griesche, Mississippi State
Briana Haith, South Carolina
Daina Harper, Arkansas
Kyra Jefferson, Florida
Jessie Johnson, Auburn
Jessica Kamilos, Arkansas
Annie Kunz, Texas A&M
Shamier Little, Texas A&M
Jada Martin, LSU
Kimari Martin, Mississippi State
Darrielle McQueen, Florida
Madison Milhoan, Mississippi State
Jasmine Mitchell, Kentucky
Javianne Oliver, Kentucky
Hollie Parker, LSU
Chanice Porter, Georgia
Ffion Price, Mississippi State
Shayla Sanders, Florida
Sha'Keela Saunders, Kentucky
Kiah Seymour, Kentucky
Payton Stumbaugh, Arkansas
Brianna Swinton, Arkansas
Regan Ward, Arkansas
Victoria Weeks, Arkansas
Cassie Wertman, Tennessee
Katie Willard, Texas A&M
Women's All-Freshman Team
60m: Kortnei Johnson, LSU
60mH: Jasmine Quinn, Kentucky
200m: Diamond Spaulding, Texas A&M
400m: Aliyah Abrams, South Carolina
800m: Jazmine Fray, Texas A&M
Mile: Elisabeth Bergh, Florida
3000m: Devin Clark, Arkansas
5,000m: Rachael Reddy, Alabama
High Jump: Claire Orcel, Alabama
Pole Vault: Alexis Weeks, Arkansas
Long Jump: Yanis David, Florida
Triple Jump: Yanis David, Florida
Shot Put: Celine Markert, Texas A&M
Weight Throw: Jontavia Dykes, Florida
Pentathlon: Michelle Atherley, Auburn
For more information on Arkansas track and field including in-meet updates, follow @RazorbackTF on Twitter.