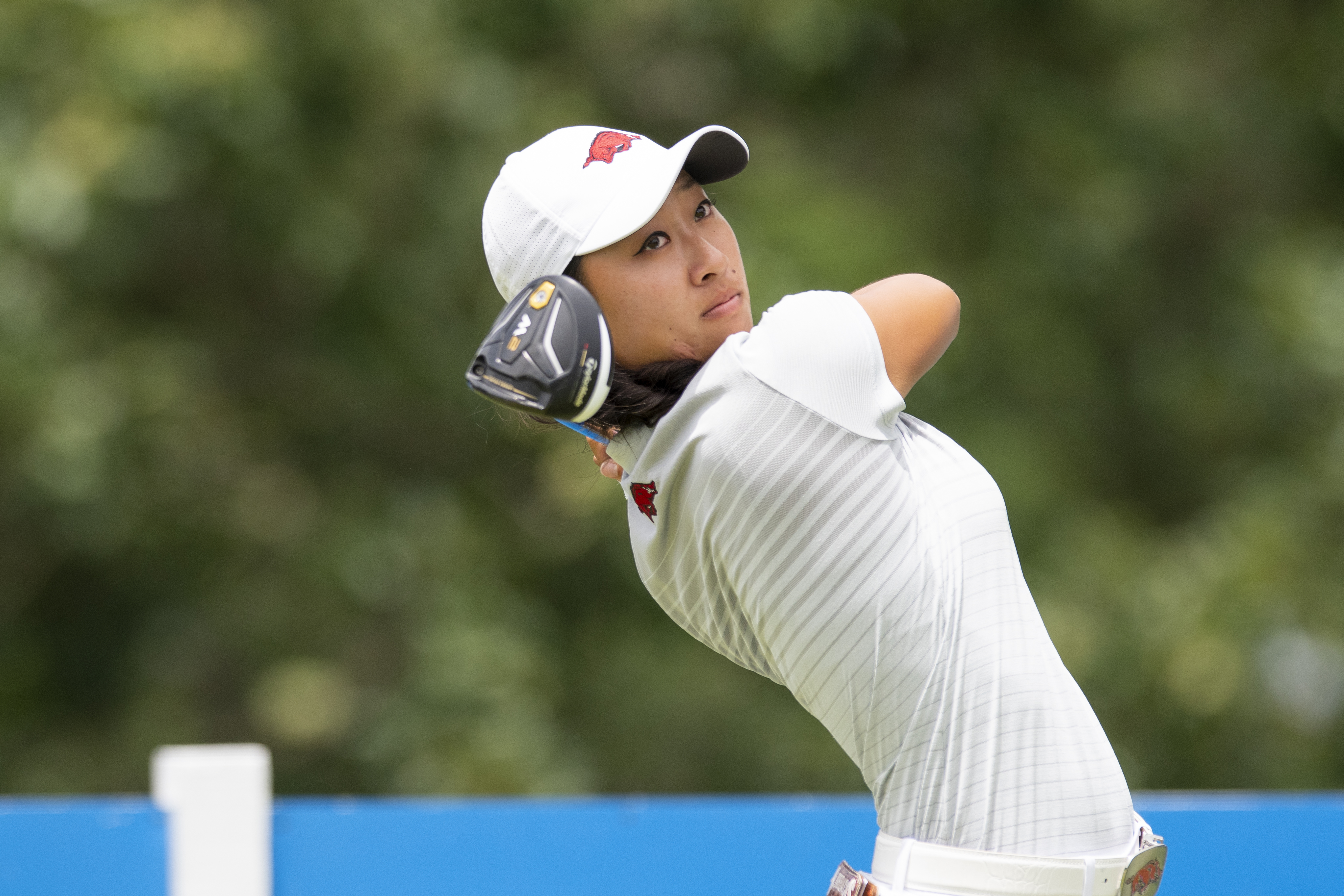 Back To The Links
FAYETTEVILLE, Ark. – The ninth-ranked University of Arkansas women's golf team returns to the links for the 43rd Annual Ruth's Chris Tar Heel Invitational in Chapel Hill, North Carolina this week.
Details
Dates: Oct. 12-14
Site: Chapel Hill, N.C.
Course: UNC Finley Golf Course (Par 72, 6,379 Yards)
Live Scoring: www.Golfstat.com
Arkansas is making its 11th appearance at the event and has six consecutive top-5 finishes. They face another tough test that includes second-ranked Vanderbilt, No. 7 Virginia and No. 10 Duke in the 18-team field.
Senior Dylan Kim leads the Razorbacks through the first two events this year. Kim, ranked No. 13 by Golfweek, has played 16-under par in September with a 68.80 stroke average. She finished third at the ANNIKA Intercollegiate presented by 3M and has three of the top-five individual scores this fall.
Senior Maria Fassi checks in with a 70.60 stroke average this season and is responsible for two of the top-5 scores this season. Fassi and Kim have played all five of the fall rounds at par or better.
Junior transfer Grace St-Germain is making her second start while senior Cara Gorlei and freshman Ximena Gonzalez tee it up for the first time this season.
The Lineup
Maria Fassi | Senior | 70.60
Dylan Kim | Senior | 68.80
Grace St-Germain | Junior | 73.33
Cara Gorlei | Senior | TBD
Ximena Gonzalez | Freshman | TBD
The Field (18 teams/#=Golfstat.com ranking)
9 Arkansas, 53 Charlotte, 30 Clemson, 10 Duke, 13 Furman, 37 Louisville, 66 Michigan, 25 Michigan State, 62 NC State, 41 North Carolina, 38 Ohio State, Rollins, 34 South Carolina, 113 Tulane, 145 UNCW, 2 Vanderbilt, 7 Virginia and 11 Wake Forest.
Tee Times
Friday, Oct. 12 – First Round – 11 a.m. shotgun start (rain expected)
Saturday, Oct. 13 – Second Round – 8:51 a.m. ET individuals off #10 // 9:09 a.m. ET teams off #1 and #10
Sunday, Oct. 14 – Final Round – 9:15 a.m. ET shotgun start
More Information
Keep up with all of the latest news and information and get behind the scenes looks into our program on our social media accounts. Follow us on Twitter at @RazorbackWGolf and check out our Facebook page "Razorback Women's Golf." Stats, news and player information can be found at ArkansasRazorbacks.com.