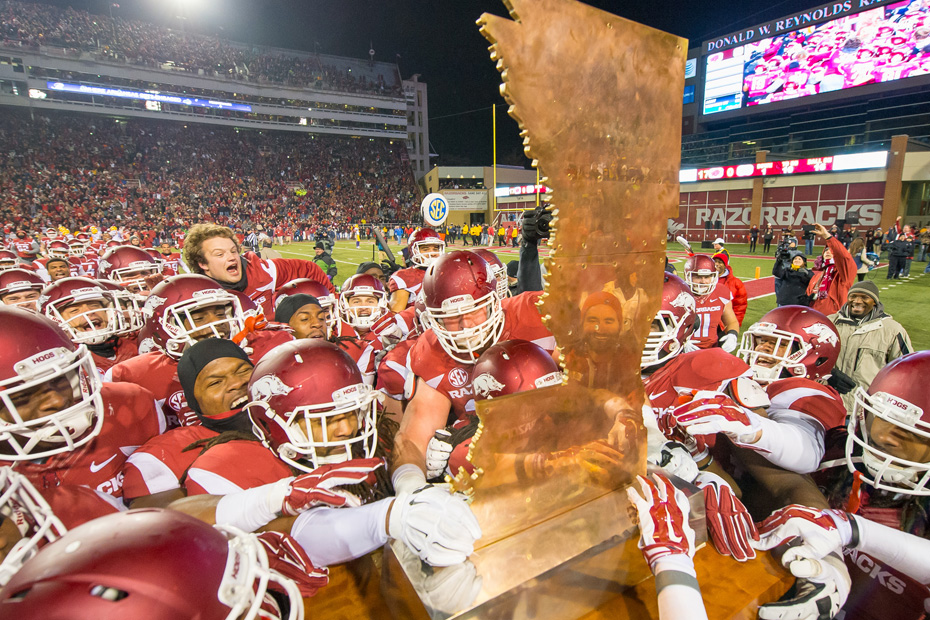 Battle For The Boot: Gameday Reminders
The Razorbacks return to Donald W. Reynolds Razorback Stadium to take on the LSU Tigers in the Battle for the Golden Boot at 11 a.m. Saturday.
For fans coming to the game, below are some gameday reminders:
Face Coverings
All guests are required to wear face coverings at all times beginning with arrival, during and departure from the game. Masks may be removed temporarily while actively eating or drinking, but must be re-applied when consumption is completed.
Sit in Your Assigned Seat!
Social distancing is required and seat blocks have been spaced out accordingly. Fans are required to sit in assigned seats to maintain required social distancing.
Mobile-Only Ticketing
Ticketing will be mobile-only. Make sure you download your ticket in advance. Download the Razorback gameday app for easy access. Click here to download.
Parking
Parking lots open at 8:30 a.m. on Saturday.
ADA parking is available in Lot 56.
Free Public Parking: Free public parking is available in Lot 56. Fans need to enter this lot through Stadium Drive. Fans without a parking pass WILL NOT be able to enter Lot 56 from MLK or Razorback Rd.
Tailgating
Tailgating is not permitted this season.
Traffic Flow
Pregame traffic flow is allowed in both directions (traffic patterns begin 3 hours prior to kickoff)
Postgame traffic will be limited to one-way traffic in designated locations.
Shuttle Service
Shuttles will run only from Lot 56 (no longer from Baum-Walker) to Gates 1, 10 and 16.
Pregame shuttles begin operation at 8:30 a.m.
Postgame shuttles will depart from Gate 16 to return to Lot 56.
Entry to the Stadium
Gates will open at 9:30 a.m. Gates for premium ticket holders open at 9 a.m.
Please enter and exit through the gate designated on your mobile ticket
Elevators
Elevator usage will be *extremely* limited (1-2 people per ride). Except for health reasons, we strongly encourage all other fans to use the ramps and stairways.
New: Mobile Concessions Ordering
You can order concessions from your phone by downloading the Razorback app. Click here to download.
Steak & Shake & Shake's Custard have been added to the concessions lineup
Click Here to see a map/list of all of the concessions options
Hog Heaven Team Store
Hog Heaven will have 3 locations: The Bud Walton Arena store and permanent stores in the north end zone and south concourse.
Bowl Alley & Hall of Honor
There's a new & improved Bowl Alley in the north concourse to check out!
The Hall of Honor will be open to the public with a limited capacity. Entry to the Hall of Honor is only available from the north end zone concourse.