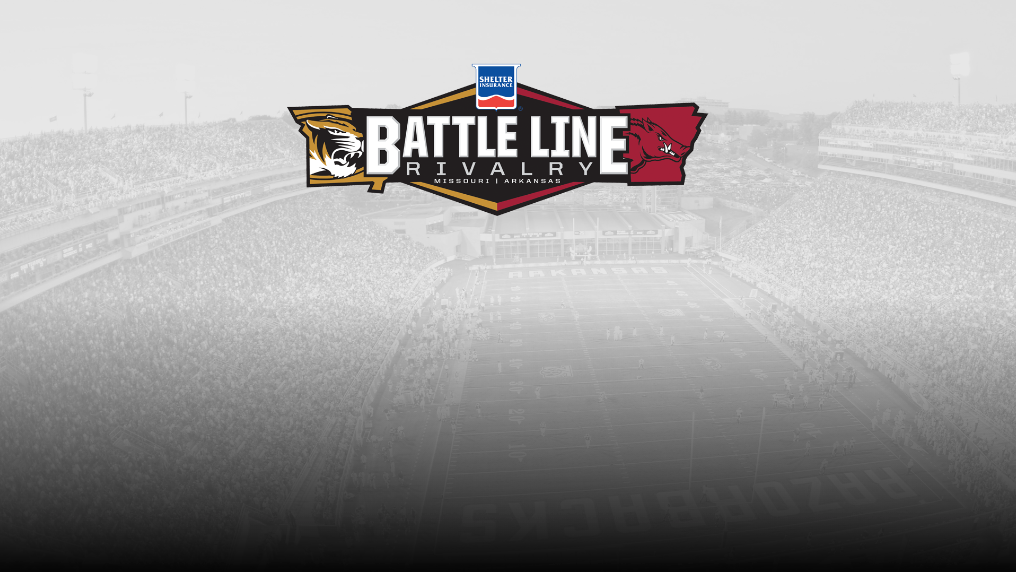 Battle Line Rivalry Quick Facts
OFFICIAL NAME:
Battle Line Rivalry presented by Shelter Insurance

PARTICIPATING INSTITUTIONS:
University of Arkansas (SEC Western Division)
University of Missouri (SEC Eastern Division)

DISTANCE BETWEEN CAMPUSES:
308 miles

TROPHY:
The two institutions are working cooperatively to commission a permanent trophy for the Battle Line Rivalry. The permanent trophy will be presented to the inaugural winner of the Battle Line Rivalry at an event to be announced in 2015. In the interim, a temporary award will be presented to the winning team following the game on Friday.

BACKGROUND:
The rivalry clashes against both geographic and historical boundaries – from disputed demarcations of the border separating the two states to notable alumni and former personnel with ties to both storied athletic programs. The historic rivalry between the two states will take on even more meaning now as the Battle Line will be drawn on the gridiron. The Razorbacks or Tigers will ultimately stake claim to the "Line" – until the next meeting.
PREVIOUS FOOTBALL SERIES HISTORY:
Missouri leads series 3-2
Date                              Site                               Result
Nov. 10, 1906               Columbia, Mo.              MU 11-0
Sept. 23, 1944             Columbia, Mo.              UA 7-6
Sept. 28, 1963             Little Rock, Ark.            MU 7-6
Dec. 31, 2003              Shreveport, La.*           UA 27-14
Jan. 1, 2008                 Dallas, Texas**            MU 38-7
* Independence Bowl
** Cotton Bowl

INAUGURAL BATTLE LINE RIVALRY MEETING:
Friday, November 28 at Memorial Stadium/Faurot Field in Columbia, Mo.

TELEVISION COVERAGE:
CBS (National), 1:30 p.m. CT