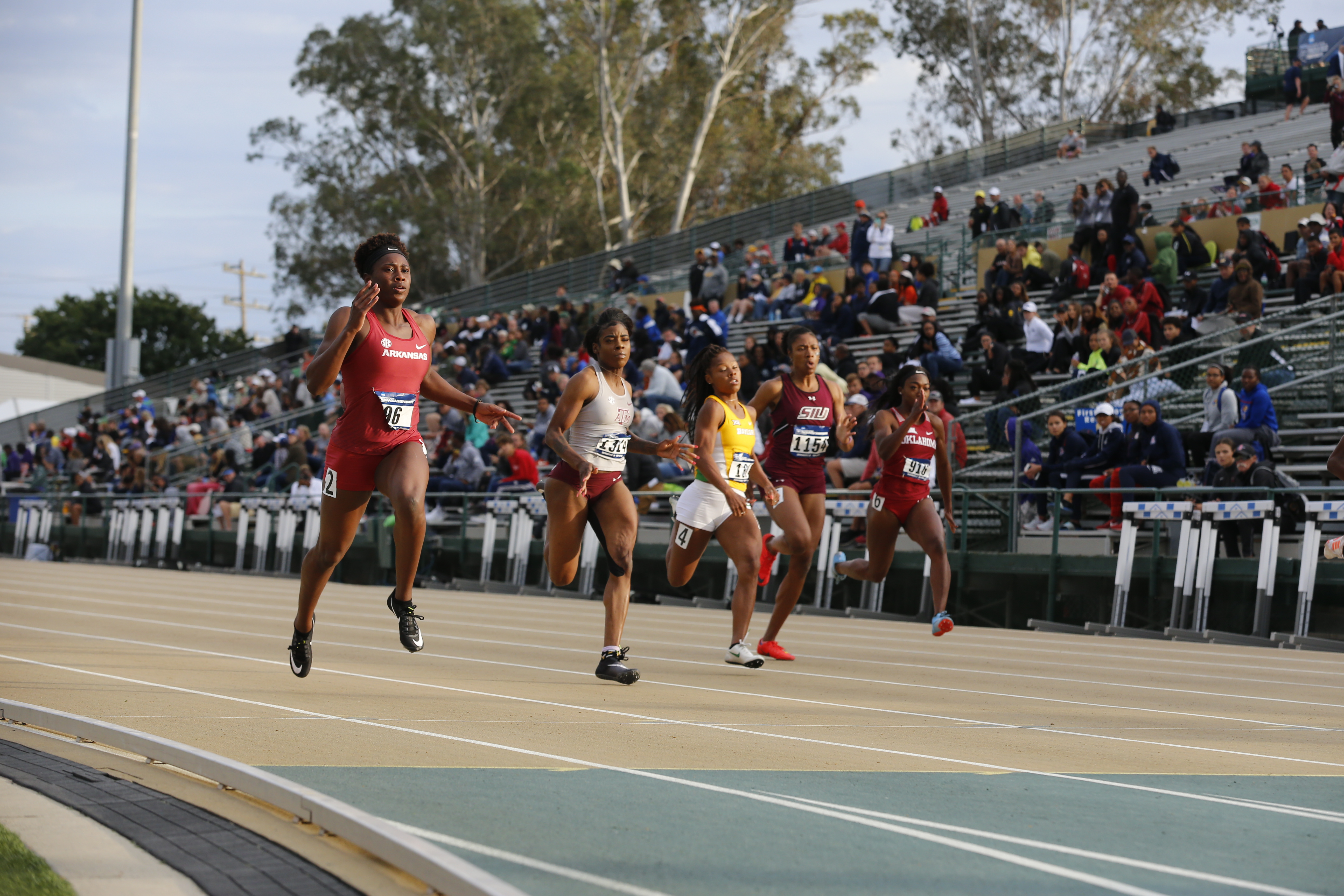 Baylark Sprints To Quarterfinals
SACRAMENTO, Calif. – It was a quick day one for Arkansas who had only seven athletes competing on the opening day of the NCAA West Preliminary Thursday afternoon at Hornet Stadium. Five of the seven athletes competing on day one advanced to the quarterfinals of their respective events.
"Jada [Baylark] and Kiara [Parker] did a good job to get through the round," said head coach Lance Harter. "Our freshman Morgan [Burks-Magee] did a great job to advance in the quarter as an automatic qualifier. Nikki ran a great race and obviously finished really really strong, we had to wait for the prelims to conclude to make sure that Carina [Viljoen] advanced and she did. Unfortunately, Taliyah [Brooks] isn't going to advance in the long jump. She had two fouls and had to take a safe jump to make sure she got a mark, but it just wasn't enough to advance to Eugene," Harter finished.
The aforementioned Hiltz self-noted on social media earlier in the day that this week's meet falls only six weeks after the senior had a procedure on her knee to improve an injury that kept her off the track for most of the outdoor season.
I'm missing my week 6 post-op exam on my knee for this race

I'll just tell my doctor to get a @FloTrack subscription

Hopefully that will suffice… #week6baybee #NCAATFwest #StemCellsfortheWin

— Nikki Hiltz (@Nikki_Hiltz) May 24, 2018
Hiltz did not disappoint in the prelims of the 1,500-meters. The senior ran strong up front from the sound of the gun and carried that momentum into the final 100-meters where Hiltz stormed past the field to lock up an auto-Q spot into the quarterfinal of the 1,500-meters with her time of 4:20.88. Hiltz's time was the third-fastest of the prelims and is a season-best time. Joining Hiltz in the quarterfinal will be Carina Viljoen who qualified on time running 4:21.64q, the 11th-fastest time of the day.
The 100-meter prelims were led by Arkansas' Jada Baylark who posted the No. 1 time in the event running 11.22 seconds to earn an auto-Q spot in the quarterfinals. Kiara Parker punched her ticket to the quarterfinal advancing on time after running 11.39q.
Morgan Burks-Magee will continue her season as the freshman advanced to the quarterfinal of the 400-meters running 53.77 and finishing in the top-three of her heat to lock up the auto-Q spot.
The Razorbacks will return to action tomorrow afternoon with athletes slated to compete in six of the eight events scheduled for tomorrow afternoon.
NCAA West Preliminary
Thursday Results
Women's 100-Meters
1. Jada Baylark – 11.22Q
14. Kiara Parker – 11.39q
Women's 1,500-Meters
3. Nikki Hiltz – 4:20.88Q
11. Carina Viljoen – 4:21.64q
46. Maddy Reed – 4:38.65
Women's 400-Meters
21. Morgan Burks-Magee – 53.77Q
Women's Long Jump
38. Taliyah Brooks – 5.72m (18′-9.25″)
For more information on Arkansas track and field including in-meet updates, follow @RazorbackTF on Twitter.