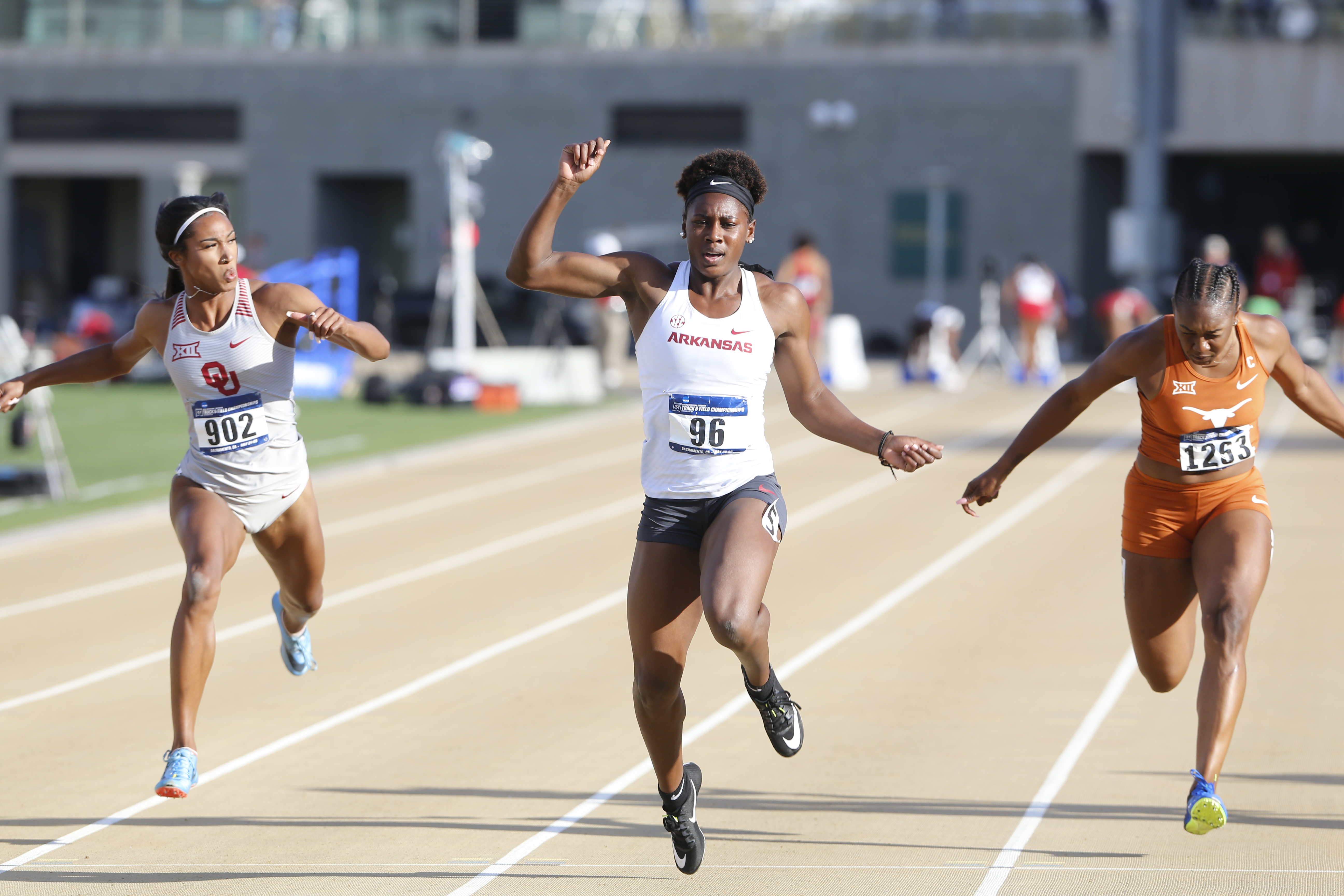 Baylark Tops Campbell-Brown's 100-Meter Record
SACRAMENTO, Calif. – Veronica Campbell-Brown's record stood for 12-years before Jada Baylark tied it this season and Friday night that record was no more as the sophomore blazed the track during the quarterfinal of the 100-meters at the NCAA West Prelim in Hornet Stadium.
"Jada's race was absolutely fantastic," said head coach Lance Harter.
"Anytime you can rewrite the record book, especially at the University of Arkansas, because of the legacy that we have established there aren't any weak marks anymore. The school record she broke was at the time the fastest women in the world. Anytime you can rewrite Veronica Campbell-Brown you're in pretty special and elite company, it was a remarkable run. [Baylark] has put herself as a major player at the national championships," Harter continued.
"We squeezed a PR out of Rylee Robinson in the pole vault and got three of the five we brought to prelims through to Eugene with her and Lexi and Tori. Collectively, we're having a fantastic meet, we're super excited!"
In what was the most outstanding performance for Arkansas on Friday night was the run by Jada Baylark in the quarterfinals of the 100-meters. Baylark finished with a wind-legal time of 11.04Q (+1.1) seconds that broke the tie she held with Veronica Campbell-Brown's time of 11.10 from 2004. Baylark's time was the fastest in the west region and would've been tied for the sixth-fastest time in the nation heading into this weekend. Baylark will look to shave more time in the event when she takes the track in Eugene for semifinal action in the 100-meters.
#PoleVaultU was on display for Arkansas as the Razorbacks advanced an NCAA-best three vaulters through to the national championships as Lexi Jacobus, Tori Hoggard, and Rylee Robinson all cleared 4.18m (13′-8.50″) to secure spots in Eugene.
The final NCAA qualifier on Friday was Devin Clark in the women's 3,000-meter steeplechase. Clark held strong from start to finish as the sophomore recorded a time of 9:53.06Q grabbing an auto-Q spot to Eugene by finishing in the top-three of her section.
True-freshman Janeek Brown will get another shot at the 100-meter hurdles as she easily advanced in the event with her time of 13.09Q.
Baylark, who had success in the 100-meters, also advanced to the quarterfinals of the 200-meters running 23.23Q and will be accompanied by teammate Kiara Parker who clocked 23.41Q grabbing an auto-Q to the next round.
Arkansas will return to Hornet Stadium Saturday afternoon where the Razorbacks will compete in every event on the track including both relay events.
For more information on Arkansas track and field including in-meet updates, follow @RazorbackTF on Twitter.
NCAA West Preliminary
Friday Results
Women's 100-Meter Hurdles
8. Janeek Brown – 13.09Q
Women's 400-Meters
20. Morgan Burks-Magee – 53.58
Women's 100-Meters
1. Jada Baylark – 11.04Q – Advanced to NCAA's (school record)
13. Kiara Parker – 11.32
Women's 200-Meters
12. Jada Baylark – 23.23Q
15. Kiara Parker – 23.41Q
Women's 3,000-Meter Steeplechase
6. Devin Clark – 9:53.06Q – Advanced to NCAA's
17. Rachel Nichwitz – 10:09.65
19. Regan Hime – 10:11.41
Women's Pole Vault
1. Tori Hoggard – 4.18m (13′-8.50″) – Advanced to NCAA's
1. Lexi Jacobus -4.18m (13′-8.50″) – Advanced to NCAA's
8. Rylee Robinson -4.18m (13′-8.50″) – Advanced to NCAA's
22. Elizabeth Ramos-Mata – 3.93m (12′-10.75″)
32. Morgan Hartsell – 3.78m (12′-4.75″)