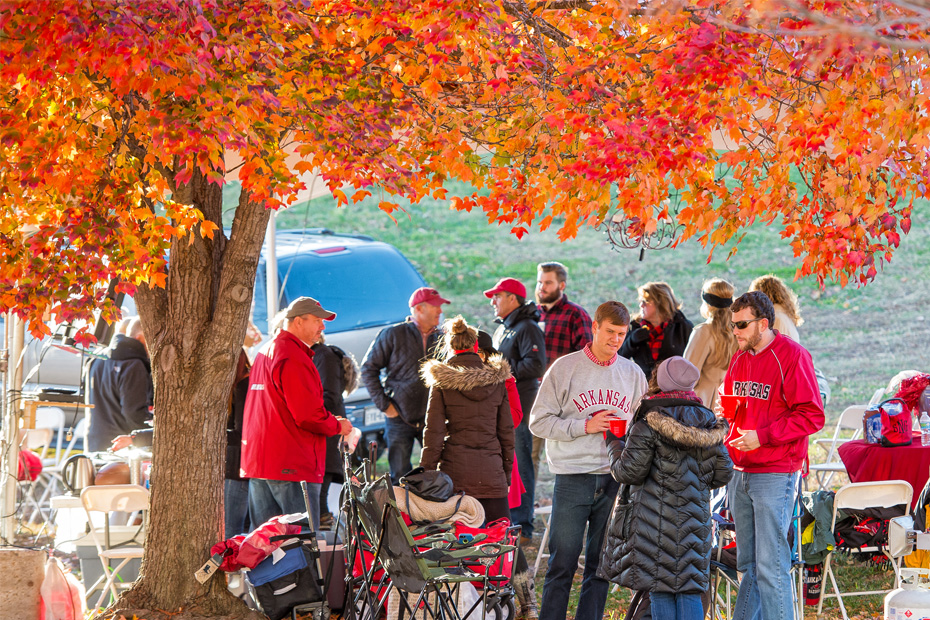 #BeatMizzou Game Day Schedule
Donald W. Reynolds Razorback Stadium
Kickoff: 1:30 p.m. CT
TV: CBS
Radio: 92.1 FM, 99.5 FM, 105.3 FM/1290 AM, 93.3 FM
Friday, Nov. 27
9 a.m.: Hog Heaven in Bud Walton Arena opens
9 a.m.: Broyles Center Museum open until 11 a.m.
10 a.m.: Hog Heaven Trailers open. Locations include the Bud Walton Arena lawn and the Northeast corner of DWRRS.
9 a.m.: Pregame traffic flow patterns begin & public shuttles begin operating from Road Hog Park and Baum Stadium East (Silver Route). Shuttles also begin from Lot 56 (Gold Route).
10:30 a.m.: The AT&T Fan Zone, which is free to the public and located in The Gardens just south of Bud Walton Arena, opens. As part of the AT&T Fan Zone, fans have access to the large "Holding Pen" pavilion in the Gardens on game day. The pavilion will provide seating and several large televisions for fans to watch other college games before the Razorbacks take the field.
10:30 a.m.: Guest service centers (Gates 1, 13 & 16) and public Will Call (Gate 1) open
10:15 a.m.: A pep rally featuring the Razorback Marching Band and Spirit Squads will take place in the AT&T Fan Zone, and a DJ will be on site to provide music following the pep rally. Arkansas Football Buses will be moving down Razorback Road in preparation for the Hog Walk
11:15 a.m.: Hog Walk in Lot 44
11:30 a.m.: Gates to DWRRS open (Please note specific bag and conduct policies below)
11:30 p.m.: Pep Rally at Alumni House
Pep Rally begins in Victory Village
1:09 p.m.: Tusk IV enter Donald W. Reynolds Razorback Stadium.
1:25 p.m.: Senior Ceremony
1:39 p.m.: Kickoff vs. Missouri