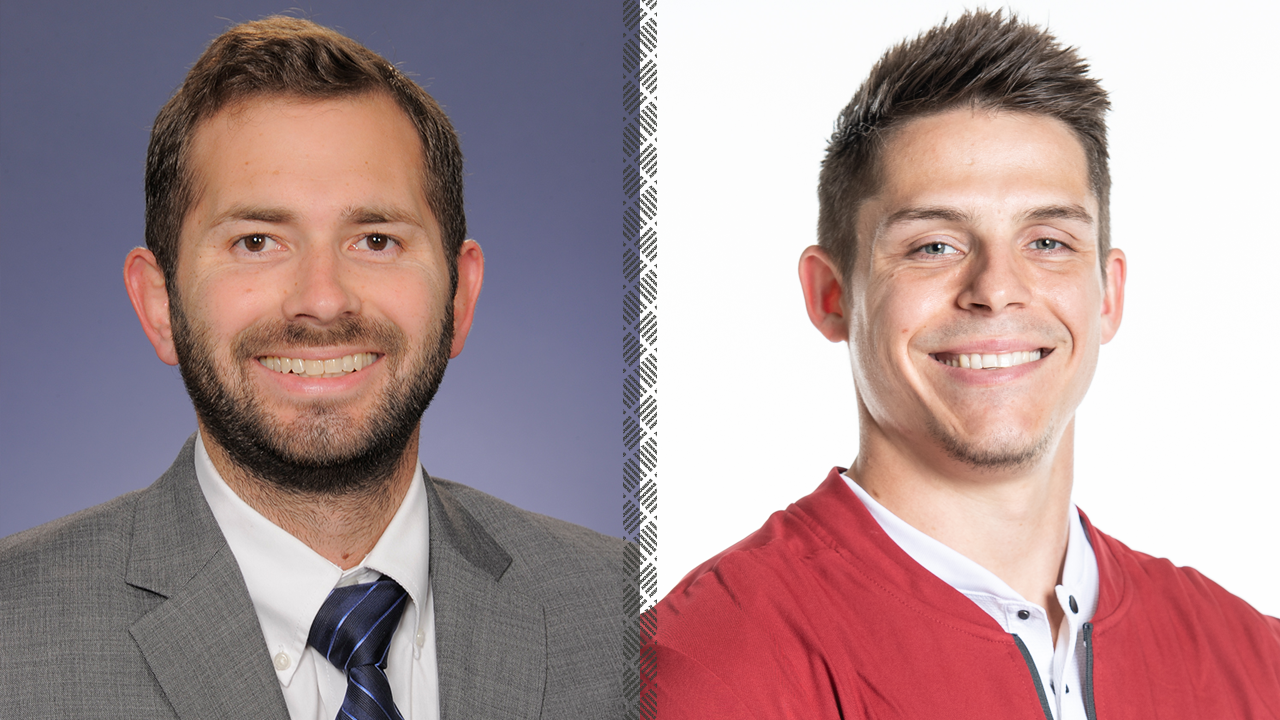 Bogantes, Brooks Join Gymnastics Staff
FAYETTEVILLE, Ark. – Arkansas gymnastics head coach Jordyn Wieber announced the addition of Chris Bogantes and Chris Brooks to her inaugural staff as assistant coaches on Friday.
Bogantes (BO-gan-tays) joins the Razorbacks after serving as an assistant coach at Illinois for the women's program, while Brooks was  an assistant coach for the men's team at his alma mater, Oklahoma, last year.
"Chris Bogantes has the experience and coaching ability that we need to take this program to the next level," Wieber said. "His recruiting experience, knowledge of technique and passion for the future of Arkansas Gymnastics really stood out to me. We are excited he will be joining us from Illinois and bringing with him a strong belief that this program will succeed."
In his two years in Champaign, Bogantes helped the Illini to a pair of top three finishes at the Big Ten Championship, including a second-place team mark in 2019, led by a conference title on the uneven bars by Mary Jane Otto. The year before, Bridget Hodan captured the beam crown to help the squad to a third-place finish.
Under the new regional format, Illinois advanced to the second round of the NCAA Ann Arbor Regional and finished third among the four squads on day two. In 2018, the Illini placed third in the NCAA Tuscaloosa Regional, while qualifying Rae Balthazor individually for the all-around competition at the NCAA Championships, where she would finish eighth to earn second team All-America honors on the floor.
Prior to Illinois, Bogantes was an assistant coach at Utah State, propelling the Aggies to an NCAA Regional appearance and a second-place finish at the 2017 MRGC Championships. He has also made stops at Southeast Missouri State, Texas Women's University, Ball State and LSU. Bogantes brings experience in club gymnastics as well, coaching at Elite Gymnastics in Baton Rouge, Louisiana from 2006-08, and Legacy Elite Gymnastics in Carol Stream, Illinois, from 2011-12.
"I am excited to join Jordyn's staff and be a part of the new era of Arkansas Gymnastics," Bogantes said. "I really believe in her vision for this program and look forward to partnering with her to make it all possible. I can't wait to move to Fayetteville and get started coaching and recruiting."
Brooks and the Oklahoma men's program put together a phenomenal year in 2019, winning 19-straight meets, including the MPSF Championship for the eighth consecutive season. OU saw their streak of 121-straight victories come to an end at the NCAA Championships, earning a runner-up spot to conclude the year, leaving the meet with 11 All-America honors.
"Chris Brooks will be an incredible addition to this coaching staff," Wieber said. "He has the knowledge, passion and energy that this program needs to continue growing. He truly cares about the development of the athletes he coaches, both as athletes and people."
Before his return to Norman, Brooks spent a year as an assistant coach at Nebraska, leading the women's vault and floor squads. The Huskers picked up the outright Big Ten All-Around title from Megan Schweihofer on a career-best score of 39.525, while also sharing the floor (Schweihofer), vault (Taylor Houchin) and beam (Grace Williams) crowns en route to a second-place team finish. Nebraska wrapped the season with its best finish since 2014, placing sixth at the NCAA Super Six with eight All-America accolades and the team's highest overall score in five years at 197.525.
"I'm honored to be joining the Razorback family and Jordyn's staff," Brooks said. "I'm really excited about where Jordyn wants to take this program and can't wait to assist her in building on the great foundation that is Arkansas Gymnastics."
Brooks has an elite background as a competitor, earning seven NCAA All-America honors, two national championships as a student-athlete at OU in 2006 & 2008 and was a four-time U.S. individual event national champion. He made his Olympic debut in Rio de Janeiro in 2016 after serving as an alternate on the 2012 U.S. team in London and was named team captain of the U.S. Men's Olympic gymnastics team for the Rio squad.
For more information on Arkansas gymnastics, follow @RazorbackGym on Twitter.