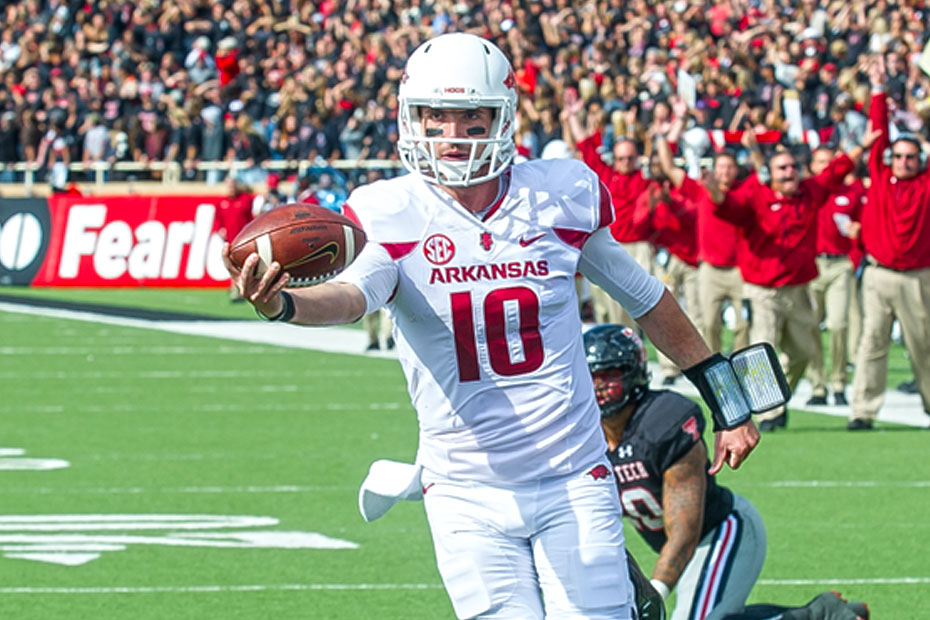 Allen To Attend Prestigious Quarterback Camp
FAYETTEVILLE, Ark. – Arkansas senior quarterback Brandon Allen will serve as a counselor at the 20th annual Manning Passing Academy this week. The camp runs from Thursday through Sunday and will be held on the campus of Nicholls in Thibodaux, La.
The Manning Passing Academy is run by College Football Hall of Famer Archie Manning and his three sons – Cooper, Peyton and Eli.
The academy is one of the most prestigious high school quarterback camps in the nation. This year attendance has been capped at 1,200 high school campers, who will come from 47 states and Canada. Allen will be one of 38-40 college counselors who are all starters with major college football programs.
Allen enters the 2015 season as a fifth-year senior who has started more games at quarterback (25) than any active player in the Southeastern Conference. He ranks sixth in school history in career touchdown passes (34) and second among active SEC quarterbacks in career passing yards (4,023).
Allen passed for 2,285 yards, 20 touchdowns and just five interceptions last year and is one of just three returning quarterbacks in the FBS to pass for 20 touchdowns with five or fewer interceptions last year.
For more information on Arkansas Football, follow @RazorbackFB on Twitter.