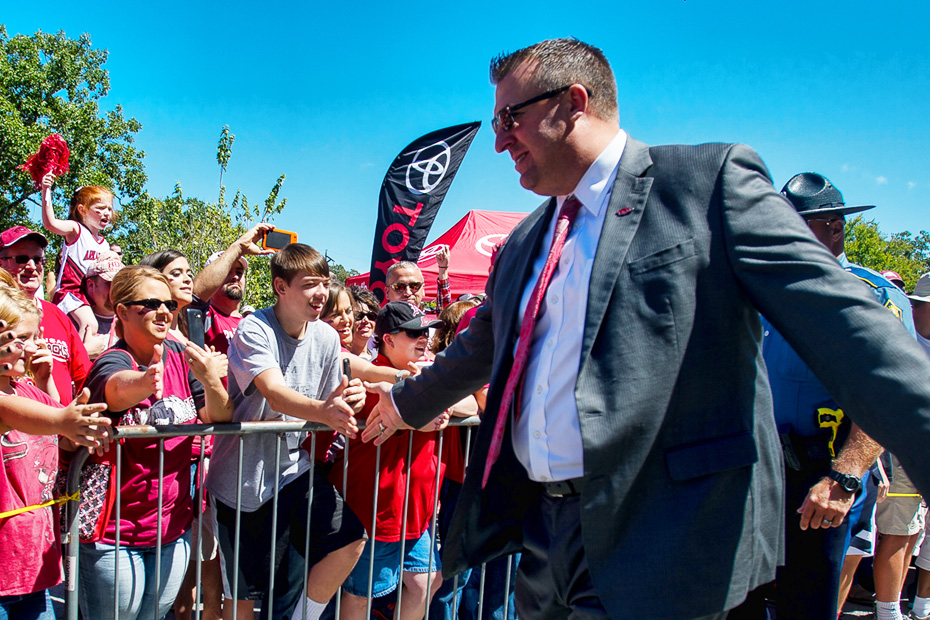 DataHog: Flying 20,000 Miles To Recruit The Best
FAYETTEVILLE, Ark. – Recruiting on the road for a top-flight college football program is a given for head coaches. As student-athletes graduate, or declare for the NFL Draft, you have to constantly search for and attract new players every year that support a particular style of play or philosophy — and sometimes — both.
Arkansas head football coach Bret Bielema isn't immune to this universal college football constant, and in order to haul in one of the best signing classes in program history, Bielema had to travel.
The interactive Google My Maps widget below illustrates Bielema's recruiting travels from Nov. 29, 2015 to Jan. 29, 2016. Click on the flight lines to see how far he traveled from one city to another, and also view his entire six-week-long itinerary.
How much traveling did he do? Not including driving to-and-from airfields along various recruiting stops, Bielema logged an incredible 19,714 miles of air travel. That figure comes close to circumnavigating, or flying around, the entire planet.
Fédération Aéronautique Internationale, the Switzerland-based world governing body for air sports, aeronautics and astronautics world records, states that one would have to travel 22,858.729 miles from the same start and end point, in addition to crossing all meridians, to have flown around the world.
Bielema's travel log for the 2016 recruiting class is only 86 percent of that mark, but that's still an amazing feat. It's also the equivalent of flying across the U.S. from John F. Kennedy International Airport in New York City to Los Angeles International Airport about eight times!
Here's his week-by-week log of air miles traveled:
• Week 1 (Nov. 29-Dec. 3, 2015): 5,153 miles
• Week 2 (Dec. 6-9, 2015): 3,017 miles
• Week 3 (Dec. 13, 2015): 1,166 miles
• Week 4 (Jan. 13): 2,889 miles
• Week 5 (Jan. 17-22): 4,144 miles
• Week 6 (Jan. 25-29): 3,345 miles
Bielema's furthest and shortest distance traveled between two cities in one flight:
• 1,342 miles from Texarkana, Ark. to Riverside, Calif.
• 49 miles from Conroe, Texas to Sugar Land, Texas
With these statistics, it's clear that Bielema has and will travel anywhere to find and recruit the best student-athletes in the country to become the latest Razorback on campus.
Stay tuned throughout National Signing Day on ArkansasRazorbacks.com and follow @RazorbackFB on Twitter for more information on all Arkansas football signing class news.