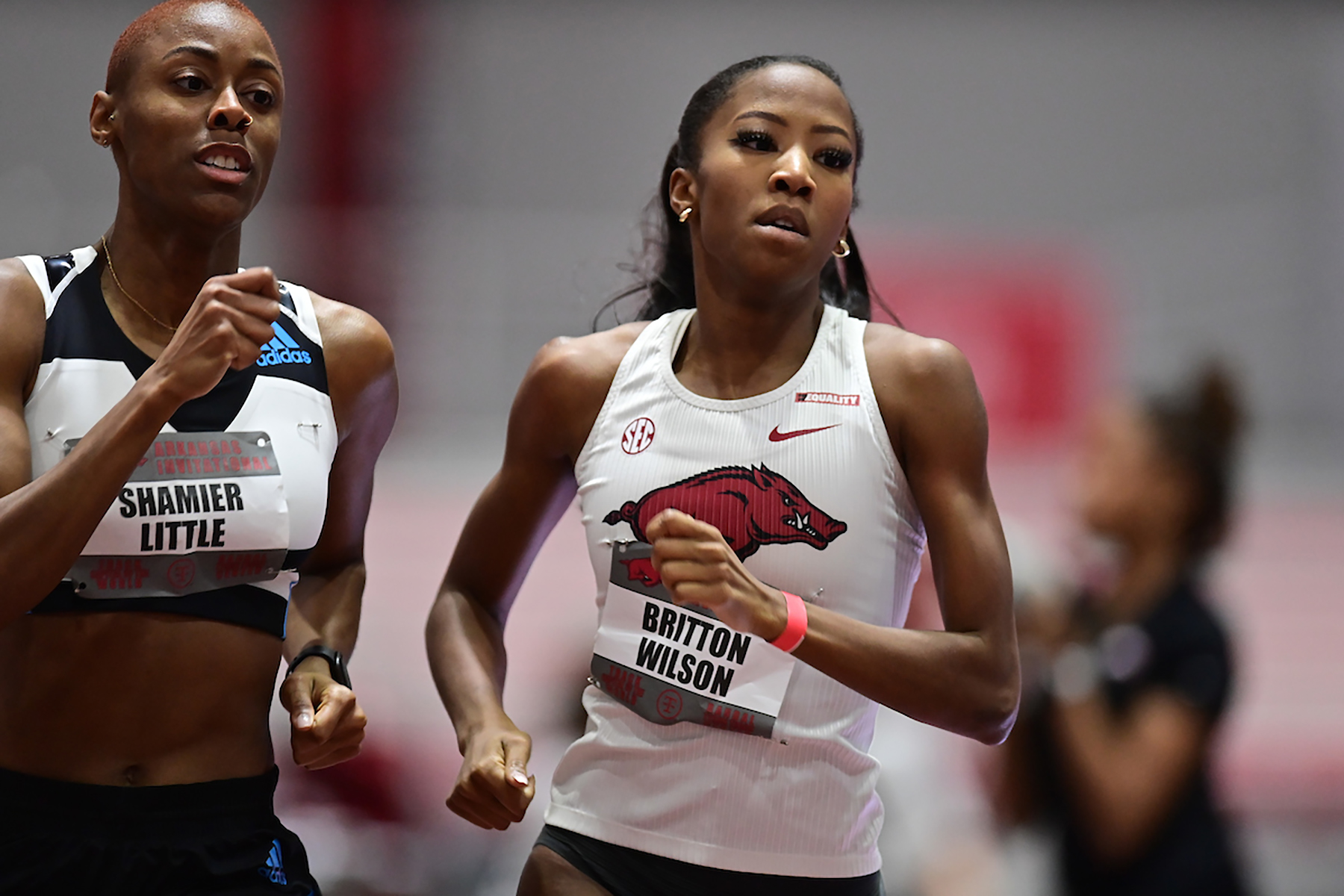 Britton Wilson breaks 600m collegiate record at Arkansas Invite
FAYETTEVILLE – Razorback Britton Wilson opened the indoor track season with a collegiate record as runner-up in the 600m on Friday evening during the Arkansas Invitational held at the Randal Tyson Track Center.
Wilson posted a time of 1:25.16 over the distance, breaking the previous collegiate record of 1:25.80 set by Texas A&M's Athing Mu in 2021.
Razorback volunteer Shamier Little won the race in 1:24.65, which ranks No. 5 on the U.S. all-time list and No. 7 on the world all-time list. Third in the race was Arkansas alum Shafiqua Maloney in 1:27.45.
For Wilson, her mark ranks No. 7 U.S. and No. 10 world all-time. The previous UA record of 1:27.29 was set in December of 2021 by Morgan Burks-Magee. Wilson had a time of 1:30.34 in her debut at the distance last year.
Victories for the Razorbacks included Ackera Nugent with a world-leading 8.00 in the 60m hurdles, moving to No. 5 on the UA all-time list. Arkansas alum Taliyah Brooks finished second in 8.13 as both hurdlers bettered the meet record of 8.13 held by Payton Chadwick since 2018.
Paris Peoples also registered a world-leading effort of 53.10 in the 400m in leading a 1-2-3 sweep with teammates Ashanti Denton runner-up in a career best 53.68 while Aaliyah Pyatt finished third in 53.79.
Racing at the mile distance for the first time indoors, freshman Mary Ellen Eudaly clocked a 4:43.01 to lead a 1-2-3 Arkansas finish. Eudaly bettered her outdoor mile time of 4:51.99. Finishing behind her with a pair of career best times were Heidi Nielson (4:44.79) and Laura Taborda (4:45.77).
A sweep of the top four places in the 200m had Rosey Effiong leading the way in 23.45 as Amber Anning finished second in 23.47 while Nickisha Pryce set a PR of 23.76.
Alum Jada Baylark won the 60m in 7.25 while Ariane Linton was the top Razorback at 7.46 for fifth. Linton ran 23.93 for fourth in the 200m. Gracie Hyde won the 800m in 2:13.50.
Racing a pair of relay teams in the final section of the 4 x 400, the Razorbacks registered world-leading times of 3:30:38 and 3:30.79.
The winning squad included Anning (52.64), Wilson (51.60), Pryce (52.59) and Denton (53.55). The runner-up crew had Peoples (54.09), Effiong (51.51), Joann Reid (52.15) and Pyatt (53.04).
The women's opening event produced a career best for Sydney Billington as she cleared 5-10.75 (1.80) in placing second in the competition. Billington, who had a previous best of 5-10, cleared five consecutive bars on first attempts before missing three attempts at 6-0 (1.83).
Texas A&M's Bara Sajdokova, who needed two attempts at 5-10.75, cleared the 6-0 height on a third try for the win.
Kaitlyn Banas led a 4-5-6 finish for the Arkansas vaulters with a clearance of 13-6.5 (4.13). Grace Ridgeway matched that height to set a career best in fifth place. Bailey McCorkle and Marin Chamberlin each cleared 13-0.75 (3.98) to place sixth and eighth.