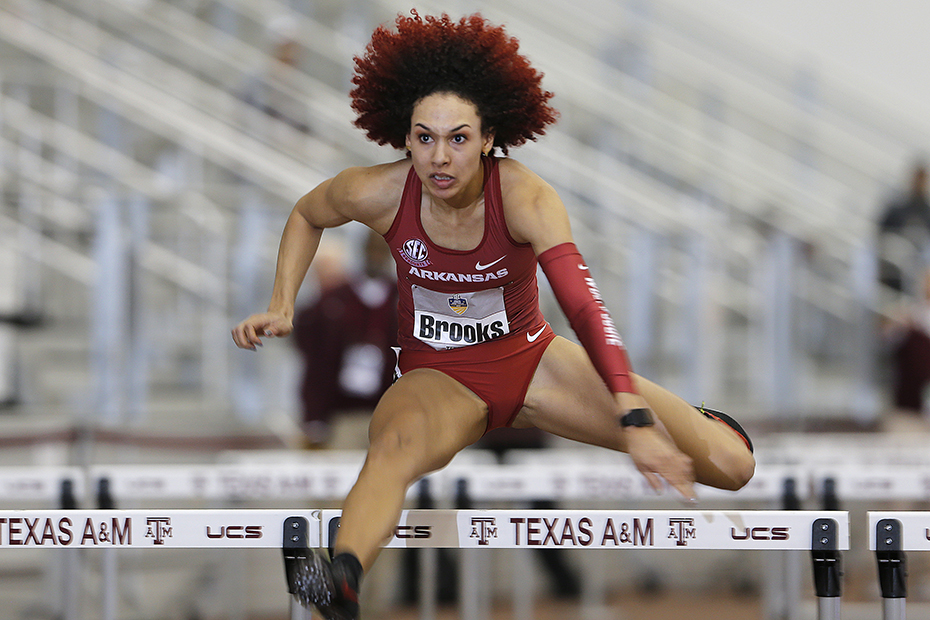 Brooks, Hiltz Close Out Razorback Careers At USAs
DES MOINES, Iowa – A pair of Razorback All-Americans closed out their Arkansas careers Saturday afternoon at the USATF Outdoor Track & Field Championships Saturday afternoon at Drake Field.
Nikki Hiltz closed out her career at Arkansas with a ninth-place finish in the 1,500-meters running 4:15.03. A consummate All-American, Hiltz concludes her career with Arkansas after three years, following a freshman season at Oregon, and is the second-fastest 1,500-meter athlete to come through the Razorback program, holding a personal-best time of 4:09.14, trailing only school record holder Dominique Scott who ran 4:08.65 in 2015.
"It's been an amazing three years," said Hiltz. "Not the way I wanted to end it, but I got second at NCAAs and made it to the final at my second USA Championships, so I can't be too mad. It's an honor to wear the Razorback uniform and I'm happy I got to do it on the biggest stage in the U.S."
Taliyah Brooks finished ninth in the 100-meter hurdles running 13.07 (13.063) barely missing out on advancing to the final by two one-thousands of a second (.002) to Jasmin Stowers who grabbed the final spot at 13.061. Brooks caps her career as a Razorback as the No. 3 performer in the 100-meter hurdles with her mark of 12.84 she set at the SEC Outdoor Track & Field Championships earlier this year. Brooks also competed in the long jump, finishing 12th with a best of 6.05m (19′-10.25″). Brooks leaves Arkansas as the No. 1 long jumper in program history having set the school record mark of 6.78m (22′-3″).
Arkansas will return to action tomorrow at 1:55 p.m. where current Hogs Lexi Jacobus and Tori Hoggard will join alum Sandi Morris in the women's pole vault.
For more information on Arkansas track and field including in-meet updates, follow @RazorbackTF on Twitter.