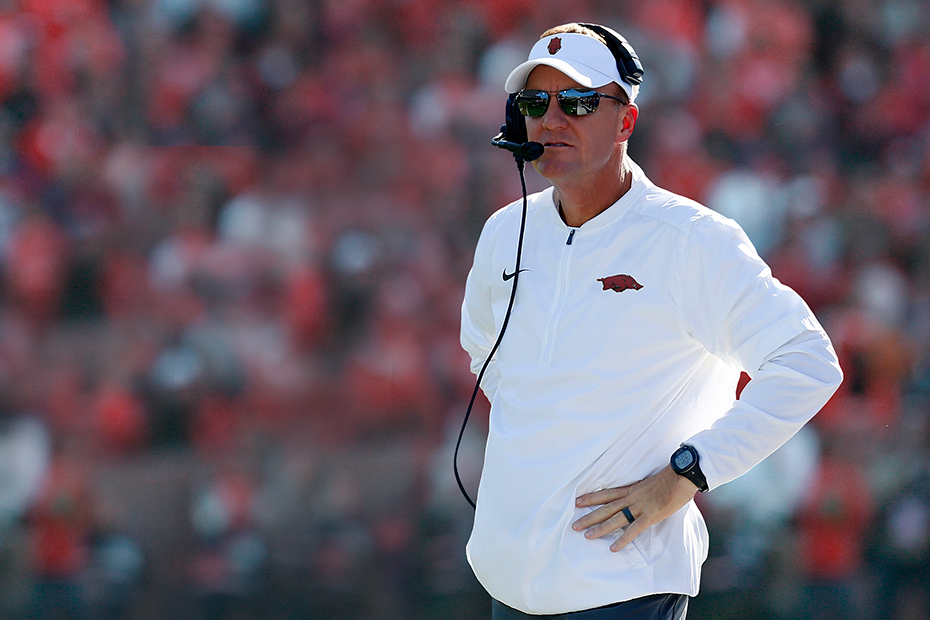 Chad Morris Named Head Football Coach
FAYETTEVILLE, Ark. – Chad Morris has been named the 33rd head coach in Arkansas football history, announced by the University of Arkansas Department of Athletics Wednesday. Morris agreed to a six-year contract and will make $3.5 million annually. Per his employment agreement, he will also be eligible for additional compensation through retention payments and incentives.
The head coach at SMU the last three seasons after a four-year stint as the offensive coordinator at Clemson, Morris will be formally introduced on Thursday morning at 10 a.m. in Fayetteville.
QUOTABLES
University of Arkansas Vice Chancellor for Athletics Hunter Yurachek
"The future is tremendously bright at the University of Arkansas with the addition of Chad Morris. I am confident that Chad will bring an exciting brand of football, phenomenal student-athletes and championships to Fayetteville, and do it all with high integrity. We all owe a debt of gratitude to the incredible work of Julie Cromer Peoples in leading a comprehensive search and helping to bring a high caliber coach to Arkansas."
University of Arkansas Chancellor Dr. Joseph E. Steinmetz
"We are thrilled to welcome Chad, Paula and their children to the Arkansas family. I enjoyed getting to know him and I am confident that he is the right coach to lead us back to competing for SEC and national titles. Julie Cromer Peoples did an outstanding job conducting the search in her interim role and on behalf of the Razorbacks everywhere, I say, 'thank you' to Julie. I am pleased that Hunter Yurachek had the opportunity to be involved in the final decision and offer and we cannot wait to have Chad leading our program."
University of Arkansas Associate Vice Chancellor & Senior Associate Athletics Director Julie Cromer Peoples
"As we began our search for the next head football coach of the Arkansas Razorbacks, Chad Morris was a name that quickly emerged as someone that would be an excellent choice for our program. Coach Morris aligns with the priorities we sought to find in our next head football coach including relentless work ethic and the ability to maintain good relationships within our state and beyond to attract the nation's top talent. Chad is demanding but still relatable to the student-athletes of this generation. He was identified by several closely connected with our program as someone that our state would embrace and would fit the fabric of our university and our program."
SMU TURNAROUND
During his three seasons at SMU (2015-17), Morris used his Texas recruiting roots and offensive prowess to take the Mustangs from a 1-11 campaign in 2013 before he took over to the program's first bowl bid since 2012 with a 7-5 mark this season.
Morris' offensive scheme was exactly what SMU needed, as it increased the team's scoring output by 16.7 points per game in his first season – the second-largest increase in the nation in 2015. Even more impressive, Morris inherited an offense that ranked last (128th) in the FBS in scoring in 2014 (11.8) and turned it into the nation's eighth-highest scoring offense (40.1) in 2017.
The 2017 SMU offense marked the fourth time and third different program that Morris has either been the head coach or offensive coordinator of that has finished in the top 10 in the FBS in scoring average at more than 40 points per game. The Mustangs are one just two FBS teams that featured a 3,000-yard passer, 1000-yard rusher and multiple 1,000-yard receivers in 2017.
CLEMSON OFFENSIVE EXPLOSION
Morris' impact during his four years at Clemson as offensive coordinator helped result in a 41-11 record, the 2011 ACC Championship and four bowl berths, including two BCS Orange Bowl appearances. Under Morris' scheme, the Tigers established 127 offensive records (89 individual/38 team) and posted the top three scoring seasons in school history, as well as four of the top five passing seasons at Clemson.
The Clemson offense in its second season under Morris with ACC Player of the Year Tajh Boyd at quarterback set school records for total yards per game (512.7) and points per game (41.0), ranking sixth in the nation in scoring and ninth in the nation in total offense. The 2013 squad backed up those numbers with 508.5 yards and 40.2 points per game, figures that ranked ninth and eighth nationally.
Morris' record-setting offense in 2012 and 2013 marked the first time in ACC history that an active member of the conference had averaged more than 40 points per game in back-to-back seasons. Clemson was also one of just two FBS schools with a 3,000-yard passer, 1,000-yard rusher and 1,000-yard receiver every year from 2011-13.
For his work, Morris was named AFCA National Assistant Coach of the Year and one of five finalists for National Offensive Coordinator of the Year by 247Sports.com in 2013, and the National Offensive Coordinator of the Year by Rivals.com in 2011.
Morris' offensive brilliance also helped attract and develop some of the best offensive players in Clemson history into current NFL stars. From the 2012 NFL Draft to 2015 NFL Draft, Morris saw seven of his offensive players drafted, including four wide receivers, tied for the most from any school over that span. Included in the quartet of wide receivers drafted were first round picks DeAndre Hopkins (Houston Texans) and Sammy Watkins (Los Angeles Rams).  Morris also recruited 2015 All-Americans Deshaun Watson and Shaq Lawson, who both went on to be first round NFL draft picks.
INSTANT IMPACT
After a legendary 16 years as a head coach on the Texas prep level, Morris' collegiate debut came as the associate head coach/offensive coordinator at Tulsa in 2010. In his one season as offensive coordinator working specifically with the quarterbacks, Morris helped the Golden Hurricane average 41.4 points per game, good for sixth nationally, and finish with seven straight wins for a 10-3 record following a 5-7 mark in 2009. Tulsa scored 40 or more points seven times, including 50+ in four games, and finished as one of five FBS teams with over 30 rushing and 30 passing touchdowns.
TEXAS LEGEND
A native of Dallas, Morris became a legend in the state of Texas during his 16 years as a head coach at the high school level, posting a 169-38 record overall and winning back-to-back undefeated state championships in his final two seasons at Lake Travis High School. Over his 16 seasons, Morris led six of his teams to the Texas State Championship game, highlighted by three titles, and he earned Coach of the Year honors 11 times.
Morris earned his bachelor's degree in mathematics with a minor in statistics from Texas A&M University in 1992. He and his wife, Paula, have two children, daughter Mackenzie and son Chandler.
COLLEGE COACHING EXPERIENCE

| Year | School | Position | Record | Bowl |
| --- | --- | --- | --- | --- |
| 2010 | Tulsa | Associate Head Coach/OC/QBs | 10-3 | Hawaii Bowl |
| 2011 | Clemson | Offensive Coordinator/QBs | 10-4 | Orange Bowl |
| 2012 | Clemson | Offensive Coordinator/QBs | 11-2 | Chick-fil-A Bowl |
| 2013 | Clemson | Offensive Coordinator/QBs | 11-2 | Orange Bowl |
| 2014 | Clemson | Offensive Coordinator/QBs | 10-3 | Russell Athletic Bowl |
| 2015 | SMU | Head Coach | 2-10 | -- |
| 2016 | SMU | Head Coach | 5-7 | -- |
| 2017 | SMU | Head Coach | 7-5 | Frisco Bowl |