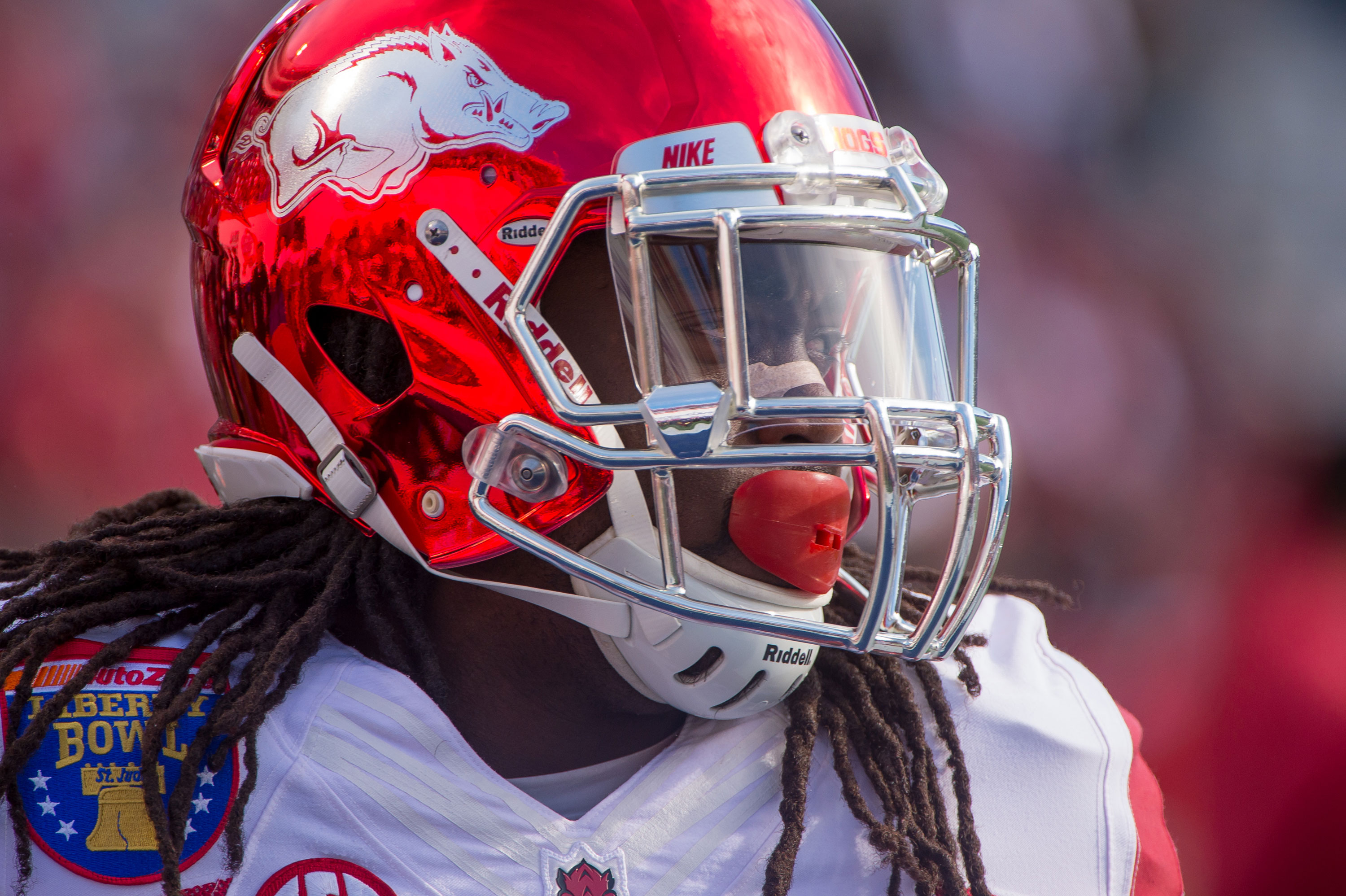 Collins Declares For NFL Draft
FAYETTEVILLE, Ark. – Following a record-setting season that was capped by arguably his most memorable performance and individual run at the AutoZone Liberty Bowl, Arkansas junior running back Alex Collins announced on Sunday that he will forego his senior season and enter the 2016 NFL Draft.
"After much prayer and discussion with the people who love me, I have made the decision to enter the NFL draft," Collins wrote in a letter on ArkansasRazorbacks.com. "Coach Bielema has been a guiding mentor in my life for several years and I want to personally thank him for believing in me and giving me the opportunity to play at Arkansas. I want to thank the coaching staff, academic staff, and my teammates for helping make my time at the University of Arkansas successful.
There is no way to truly express how thankful I am for the love and support the Arkansas fans have given me over the past three years," continued Collins. "Without a doubt there are no better college fans then the Hog fans.  I hope I make you proud at the next level."
Arkansas head coach Bret Bielema's relationship with Collins began when the Fort Lauderdale, Fla. native was 15 years old. Bielema recruited Collins while he was the head coach at Wisconsin and was able to sign the heavily-decorated South Florida product shortly after he arrived in Arkansas.
"Alex and I have had a very long and uncommon story that has been something I will never forget," said Bielema, who has had a 1,000-yard rusher in each of his 10 seasons as a head coach. "We wish Alex nothing but success in the NFL and will assist him to finish his degree here at the University of Arkansas."
Collins has more than lived up to his five-star billing as a Razorback, as he ranks second all-time in program history in career rushing yards (3,703), 100-yard games (16) and is fourth rushing touchdowns (36) while becoming just the third player in SEC history to open his career with three consecutive 1,000-yard seasons on ground. One of those other three running backs is Arkansas legend and current Dallas Cowboys 1,000-yard rusher Darren McFadden, who owns the top spot in the aforementioned records.
Faced with taking on the role of being Arkansas' No. 1 running back when teammate Jonathan Williams was lost for the season during preseason camp, Collins thrived while shouldering the larger workload, putting together one of the best individual seasons in program history at any position. Collins entered the season with six career 100-yard rushing games and equaled that mark prior to the start of the last month of the regular season before tying McFadden's single-season record of 10 to lead the SEC along with Heisman Trophy winner Derrick Henry.
Collins' record-tying 10 100-yard games also included five 150-yard performances to equal McFadden's mark set in 2007 and ultimately added up to 1,577 yards on the ground to rank 12th in the NCAA. The Athlon All-America second team selection may have saved his most impressive game for last, as he turned 23 carries into 185 yards and three scores in Arkansas' dominating 45-23 win over Kansas State in the AutoZone Liberty Bowl. Collins' third touchdown in the game will be a lasting memory for Razorback fans as he broke five tackles with a series of spin moves before lowering his shoulder to get into the endzone on the 14-yard run. The game-sealing TD was his 20th of the season, breaking Arkansas' single-season record that was set in 1969. He also added a 68-yard kick-off return in the first quarter that led to a touchdown and gave Arkansas the lead for good.
Collins is third Arkansas underclassman to declare for the NFL Draft, joining tight end Hunter Henry and offensive lineman Denver Kirkland.
Coach Bielema has had more players (34) taken in the NFL Draft than any other head coach with 10 or less years of experience. Arkansas has had a combined nine players taken in the NFL Draft the last two years.
AC3 IN THE ARKANSAS RECORD BOOKS
SINGLE-GAME
Rushing Yards
9. 212 at Texas Tech (September 13, 2014)
Touchdowns
2. 5 vs. UT Martin (Oct. 31, 2015)
SINGLE-SEASON
Carries
4. 271 – 2015
Rushing Yards
3. 1,577 – 2015
Touchdowns
1. 20 – 2015
100-Yard Games
T1. 10 – 2015
100-Yard SEC Games
1. 6 – 2015
CAREER
Carries
2. 665
Rushing Yards
3. 3,703
Touchdowns
4. 36
100-Yard Games
2. 16
1,000-Yard Seasons
T1. 3