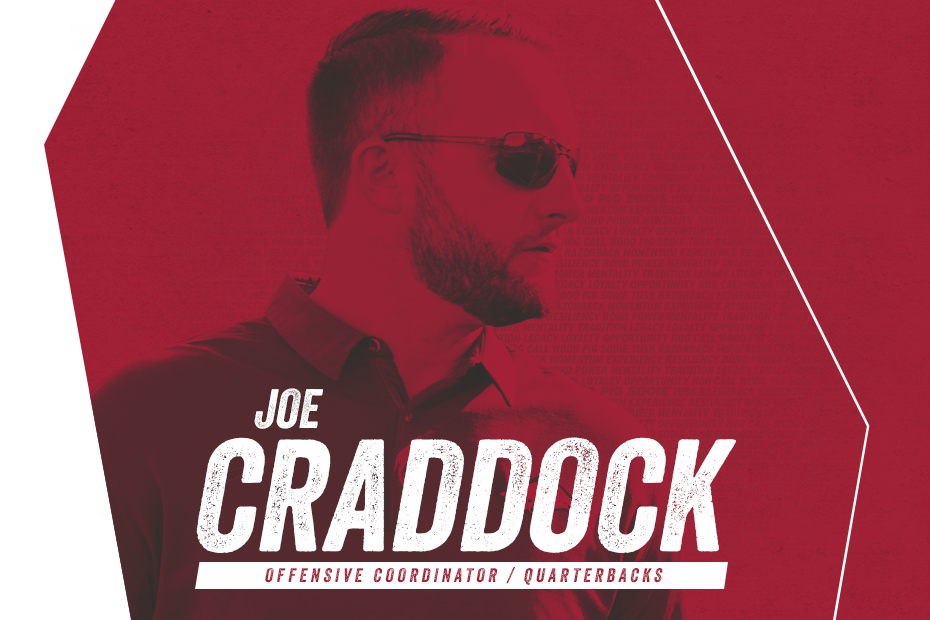 Craddock Named Offensive Coordinator And QBs Coach
FAYETTEVILLE, Ark. – Arkansas head football coach Chad Morris announced Tuesday the hiring of Joe Craddock as the program's offensive coordinator and quarterbacks coach.
"Joe is one of the bright, young minds in all of college football," Morris said. "He worked underneath us at Clemson and was very instrumental in our success there. I took him with me to SMU and saw him grow both as a person and as a coordinator during the last three years. He has a great mind and feel for the game, and I'm excited to have him on our staff and what we bring to the table in our high-powered offense."
Craddock comes to Fayetteville after spending the past three seasons (2015-17) as offensive coordinator and quarterbacks coach at SMU. Prior to SMU, he coached at Clemson for three seasons as an offensive graduate assistant (2013-14) and a player development coach (2012).
"I am extremely excited to be a Razorback," Craddock said. "This is a great opportunity for me and my family. I'm honored to continue to serve alongside Coach Morris and work with an incredible offensive staff. I can't wait to develop relationships with our players and get to work on the field this spring. I look forward to recruiting elite talent to Fayetteville, developing our players, putting together an explosive offense, and competing in a league as competitive and strong as the SEC."
Over his three seasons with the Mustangs, Craddock's offense produced a 3,000-yard passer (Ben Hicks, 2017), two 1,000-yard rushers (Xavier Jones, 2017; Braeden West, 2016), and two 1,000-yard receivers (Courtland Sutton, 2017 and 2016; Trey Quinn, 2017).
Sutton, a projected first-round pick in the 2018 NFL Draft, posted career receiving totals of 3,152 yards and 31 touchdowns on 189 receptions in four seasons at SMU. He averaged 16.4 yards per catch in each of his last two seasons, and finished third on the Mustangs' all-time receiving list.
During the 2017 regular season, Craddock's unit ranked No. 8 in the FBS in scoring offense (40.2 points), No. 13 in total offense (493.8 yards) and No. 16 in passing yards (308 yards) and was one of just two in the country that featured a 3,000-yard passer, 1000-yard rusher and multiple 1,000-yard receivers in All-Americans Sutton and Quinn.
Two of the most dynamic receivers in college football, Sutton and Quinn were the only pair of teammates to rank in the top 10 in touchdown receptions. Quinn finished the year with 13 TD catches, while Sutton had 12. The duo also combined for 12 100-yard receiving games with six apiece.
A Biletnikoff Award and Earl Campbell Tyler Rose semifinalist, Quinn led the nation in receptions with 114 and ranked inside the top 15 nationally in receiving touchdowns (No. 4, 13), receiving yards per game (No. 10, 95.1) and receiving yards (No. 11, 1,236). He turned in two of the three top reception performances in the FBS during the regular season with 17 catches twice and became the only player this century to register 15-plus catches in three straight games.
Hicks finished his sophomore season with 3,569 passing yards (No. 18 in FBS) and 33 touchdown passes (No.9 in FBS).
In 2016, SMU had a 1,000-yard rusher (West, 1,036) and 1,000-yard receiver (Sutton, 1,246) for the first time since 2011 and three players with at least 1,000 all-purpose yards for the first time since 2011 (Sutton, West, James Proche). As a freshman, Hicks threw for 2,930 yards, third-best among all freshmen and eighth-best in a season at SMU.
In Craddock's first year at SMU, the Mustangs increased their scoring output by 16.7 points per game – the second-largest increase in the nation in 2015. He also helped develop two of the nation's top freshmen in Sutton and Jones. Sutton was named a Freshman All-American in 2015 after ranking No. 1 among freshmen with nine touchdown catches.
During his time at Clemson, Craddock, alongside Morris who was offensive coordinator, aided in the development of quarterback Deshaun Watson. In 2014, the Tigers' offense averaged 448.2 yards of total offense per game, ranked No. 21 in scoring offense (35.4) and was one of just 14 teams in the FBS to average both 200 yards rushing and passing per game.
Prior to his collegiate coaching career, Craddock was the offensive coordinator at Briarwood Christian School in Birmingham, Alabama, during the 2010 and 2011 seasons. Briarwood Christian went 25-4 during Craddock's tenure and finished as the state runner-up in 2010.
Following the 2011 season, he was hired as an offensive player development coach at Clemson by coach Dabo Swinney. After the 2012 season, Craddock was given on-field graduate assistant duties working with the quarterbacks, a role he held until December 2014.
Craddock played at Middle Tennessee from 2004-08 and was a team captain his senior year. He also played baseball for the Blue Raiders in 2008.
A native of Chelsea, Alabama, Craddock earned a bachelor's degree in liberal arts at Middle Tennessee in 2008. He and his wife, Abby, have one daughter, Charlie.