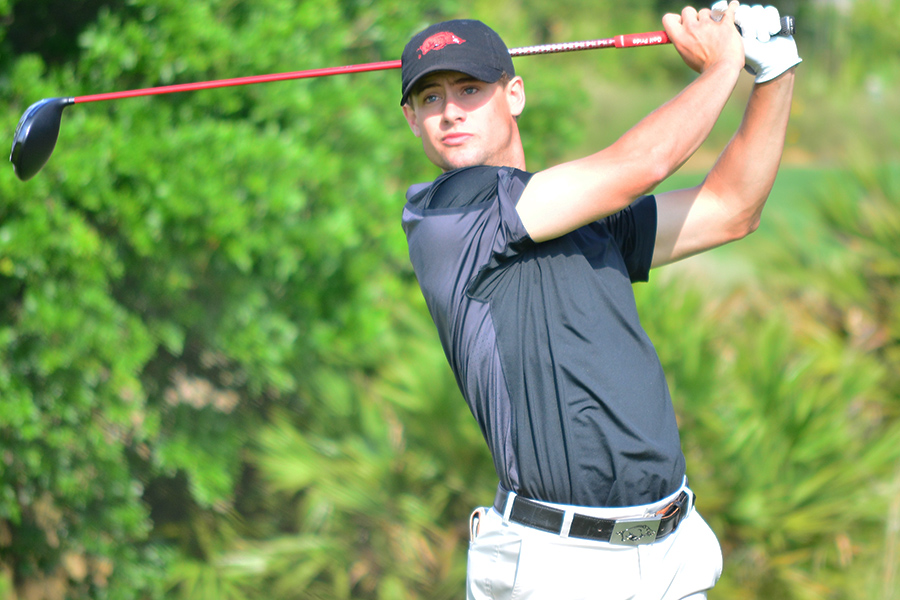 Crawford, Moore Help Arkansas Hold Strong
ST. SIMONS ISLAND, Ga. – The junior duo of Kolton Crawford and Taylor Moore each carded four-under 66s to help the No. 28 Arkansas men's golf team equal a program SEC Championships single-round record of 275 to hold onto sole possession of sixth place Saturday afternoon on the Seaside Course at Sea Island Golf Club.
The Razorbacks' five-under 275 was the fourth-best round of the day and equaled the program record set last year in the final round. Arkansas' score of 279-275/554 (-6) is a new program SEC Championships 36-hole record, as it sits just four strokes out of third place heading into the final round.
Crawford, who entered the day part of a three-way tie for first place, backed up his first round bogey-free 65 with a four-under 66 to break teammate Nicolas Echavarria's program 36-hole SEC Championships record set last year by three strokes. With a 36-hole scorecard that features 26 pars, 8 birdies, one eagle and just one bogey, Crawford is just two strokes off the lead in third place at nine-under par.
Arkansas will take the tee box for Sunday's final round from 7:20-8:00 a.m. CT playing alongside No. 8 South Carolina (550) and No. 6 Auburn (551). The final group of the threesome will feature three of the top four players in the individual standings, as Crawford will play with South Carolina's Matthew NeSmith for the second straight round.
Live scoring of the final round can be found at www.Golfstat.com or by downloading the Golfstat Live app.
Making his third straight appearance at the SEC Championships, Moore brought his birdie total to 11 on the weekend with six on Saturday during his round of 66 that moved him up 28 spots on the individual leaderboard into a tie for 19th place. Moore carded four birdies on the front nine to shoot a three-under 32, a six-stroke improvement from the first round.
Freshman Alvaro Ortiz turned in his second straight solid round with a one-over 71 following Friday's even-par 70. Ortiz opened the day with 15 straight holes without a bogey and has played the front nine at a combined two-under the first two rounds. Echavarria made the turn at one-under before closing out the four-man score with a 72. Redshirt sophomore Zach Coats followed his 71 on Friday with a solid 73 on Saturday. Coats has carded four of his six birdies on the weekend on the front nine where he's even-par.
All five Razorbacks shot even-par or lower on the front nine and combined to go seven-under. Arkansas is second amongst the field of 14 teams in par 3 scoring (-2) and third in birdies (33). Crawford and Moore have been the catalysts to both of those stats at a combined five-under on the par 3s with 19 birdies.
Coach McMakin Post-Round Sound
"We had another solid day as a team and are in good position heading into the final round. Kolton and Taylor played exception today and the other guys were solid. We know we need to put together a great round tomorrow and if we do that anything can happen."
@RazorbackMGolf Lineup
3. Kolton Crawford – 65-66/131 (-9)
T19. Taylor Moore – 73-66/139 (-1)
T31. Alvaro Ortiz – 70-71/141
T45. Zach Coats – 71-73/144
T52. Nicolas Echavarria – 74-72/146
SEC Golf Championships Standings (Golfweek Ranking)
1. Alabama (21) – 269-274/543 (-17)
2. LSU (9) – 274-272/546 (-14)
T3. Vanderbilt (4) – 276-274/550 (-10)
T3. South Carolina (8) – 275-275/550 (-1)
5. Auburn (6) – 275-276/551 (-9)
6. Arkansas (28) – 279-274/554 (-6)
7. Florida (37) – 282-276/558 (-2)
8. Georgia (29) – 282-277/559 (-1)
9. Ole Miss (52) – 288-278/566
T10. Kentucky (62) – 284-284/568
T10. Texas A&M (39) – 286-282/568
12. Missouri (69) – 287-283/570
13. Tennessee (56) – 284-292/576
14. Mississippi State (127) – 289-297/586