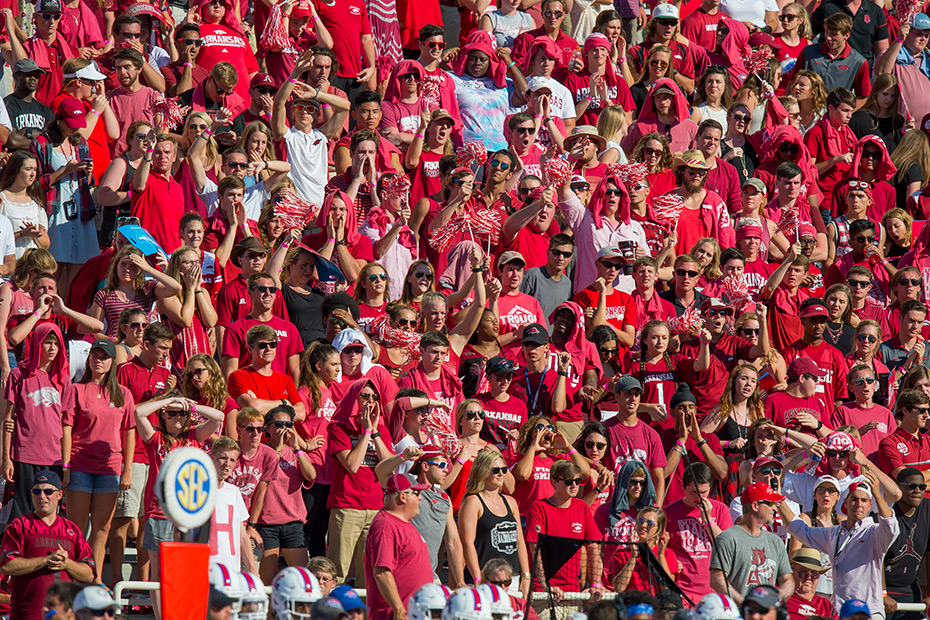 DataHog: DWRRS Louder Than Jet Takeoff
FAYETTEVILLE, Ark. – Crowd noise is an important component of home field advantage in sports, most notably in football. Fans projecting a deafening roar toward the field of play during critical moments can potentially cause communication miscues with the visiting team that lead to penalties, blown plays, missed field goals, or even turnovers.
On Saturday, Arkansas kicked off its 2016 season at DWRRS as the Razorbacks faced Louisiana Tech. We were on-hand to measure the stadium's sound levels in decibels from warmups all the way to the final handshake between head coaches Bret Bielema and Skip Holtz.
Taking care to only measure sound organically generated by fans without any added background music from the speakers or the public announcer, here's what we found out:
1. On average, Razorback fans at DWRRS generated 92.4 decibels of sound on Saturday
First, before we can quantify that statement, here are some points of reference from several sources:
0 dB: The softest sound a person can hear with normal hearing
10 dB: Normal breathing
20 dB: Whispering at five feet
30 dB: Soft whisper
40 dB: Bird calls, lowest limit of urban ambient sound
50 dB: Rainfall
60 dB: Normal conversation
70 dB: Vacuum cleaner/passenger car at 65 mph at 25 feet
80 dB: Garbage disposal, food blender, freight train at 50 feet
90 dB: Newspaper press, motorcycle at 25 feet, Boeing 737 at one nautical mile
100 dB: Jet take off, outboard motor
105 dB: Spray painter
110 dB: Shouting into someone's ear, steel mill, car horn from 3 feet
120 dB: Thunderclap, chain saw
130 dB: Military jet take off from aircraft carrier with afterburners at 50 feet
140 dB: Aircraft carrier deck
On average, Razorback fans at DWRRS generated 92.4 decibels of sound throughout the game. How loud is 92.4 dB?
According to the U.S. Department of Health & Human Services, that amount of sound is equivalent to a motorcycle passing by or riding inside a subway car.
2. Top five loudest moments during the Louisiana Tech-Arkansas game were:
The loudest recorded sound at DWRRS during Saturday's game was when senior defensive linemen Deatrich Wise Jr. and Jeremiah Ledbetter sacked Louisiana Tech quarterback J'Mar Smith for a 10-yard loss on third-and-10. Fans generated a booming 110.5 dB of sound during that critical play, equivalent to a symphony orchestra concert or power chainsaw.
Other equally ear-shattering moments included:
Arkansas defense steps on the field for the first time during 2016 regular season at 3:12 p.m.: 110 dB
Jeremy Sprinkle's touchdown reception on fourth-and-goal during fourth quarter at 5:44 p.m.: 109.5 dB
Dre Greenlaw intercepts J'Mar Smith during second quarter at 4:03 p.m.: 105.8 dB
Keon Hatcher's 18-yard reception on second-and-13 during fourth quarter at 5:34 p.m.: 104.4 dB
3. Fans turned up the noise in the fourth quarter:
With Arkansas down 20-14 entering the fourth quarter, Razorback fans turned up the volume and generated the most crowd noise than at any other point during the entire game. DWRRS breached the 100 db mark seven times during this period while also accounting for three of the loudest moments of the game.
4. Crowd support during third down was key
When it came time to make DWRRS an uncomfortable place for the Louisiana Tech offense during third down possessions, Razorback fans answered the call. As mentioned before, the average crowd noise level at the stadium was 92.4 dB. This mark was exceeded during each Bulldog third down possession with fans being the most riotous during the fourth quarter. The amount of noise generated by fans inside DWRRS during third downs in the fourth quarter was equivalent to a helicopter flying overhead at 100 feet.
5. How Saturday's game ranked in all-time loudest college football stadiums
The 110.5 dB recorded during Wise Jr. and Ledbetter's key fourth quarter sack last Saturday ranked DWRRS pretty high among the top 10 loudest college football stadiums in the country. A couple of factors made that sound level extraordinary:
DWRRS isn't optimized to trap sound within the venue unlike other stadiums. The North End Zone addition and stadium renovation project set to be completed in 2018 will further enclose the stadium except for the iconic look-in facing Maple Street. Once the renovated DWRRS opens, expect Razorback home games to be more hostile to visiting teams in terms of crowd noise.
No. 1 Alabama, No. 19 Ole Miss, Florida and No. 21 LSU are still on the home schedule. If DWRRS was rocking during Louisiana Tech, imagine what third-and-long will sound like in the fourth quarter during a close game against the defending national champions.
We didn't ask you to get that loud. Sure, we had the "Get Loud!" graphic pulsing on the scoreboard during third downs, but those Hog Calls during kickoffs and that primal roar we recorded during the fourth quarter sack was all you, Razorback fans.
How much louder can you get during this season? Let's see if we can make DWRRS the most intimidating place to play in the SEC and Power 5. Go Hogs!