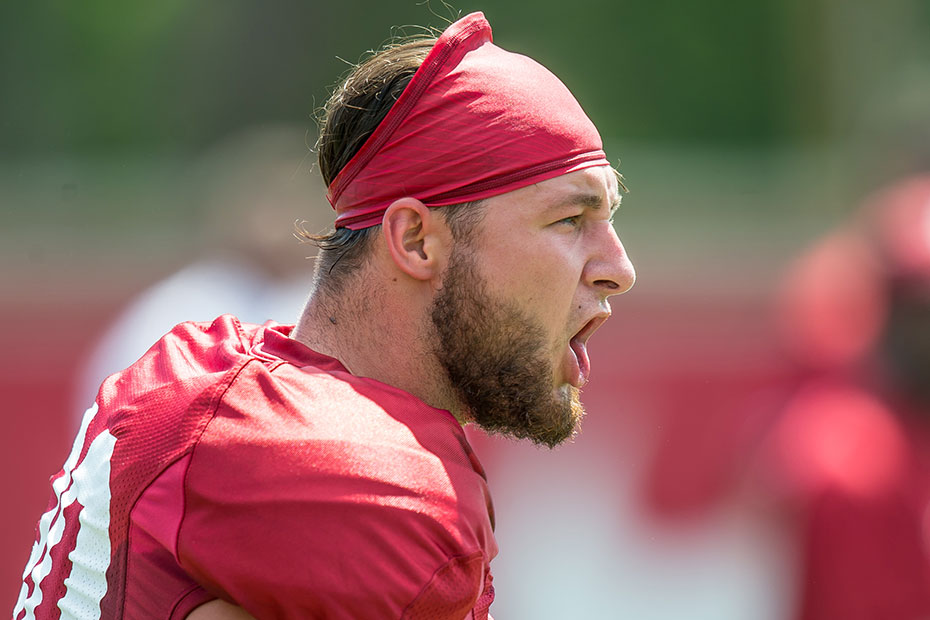 Day 3 Quick Hits
FAYETTEVILLE, Ark. – Week 1 is in the books. Arkansas donned a half pack – shoulder pads and helmet – for its third practice of the preseason Saturday at the Fred W. Smith Football Center. Unlike Friday, Saturday's weather allowed the Razorbacks to practice outdoors for all 24 periods.
Practice Quick Hits
• Defensive back Santos Ramirez recorded an interception during the first 7-on-7 session.
• Freshman wide receiver Jordan Jones reeled in a 40-yard pass from quarterback Ricky Town.
• A few plays later, defensive back Kevin Richardson pulled down his second interception in as many days.
• Wide receiver Dominique Reed showed his athleticism when he made a nice adjustment to grab a 35-yard toss from quarterback Rafe Peavey during the second 7-on-7 period.
• During the same period, Town had his second big play of the day when he completed a back-shoulder throw to wide receiver Deon Stewart for a nice 18-yard gain.
• With quarterback Austin Allen under center, wide receiver Drew Morgan made a smooth catch over the middle for a first down.
QB1 Meets The Media


Well-Conditioned
On Thursday, head coach Bret Bielema praised the Razorbacks' offseason workout program, led by head strength and conditioning coach Ben Herbert. Coach Bielema said several players made impressive transformations to their bodies during summer workouts and that many players look like different human beings. That hard work was apparent during the first three practices.
Up Next
With three practices under their belt, the Razorbacks will take tomorrow off for its annual media day at the Fred W. Smith Football Center before returning to the practice field Monday.