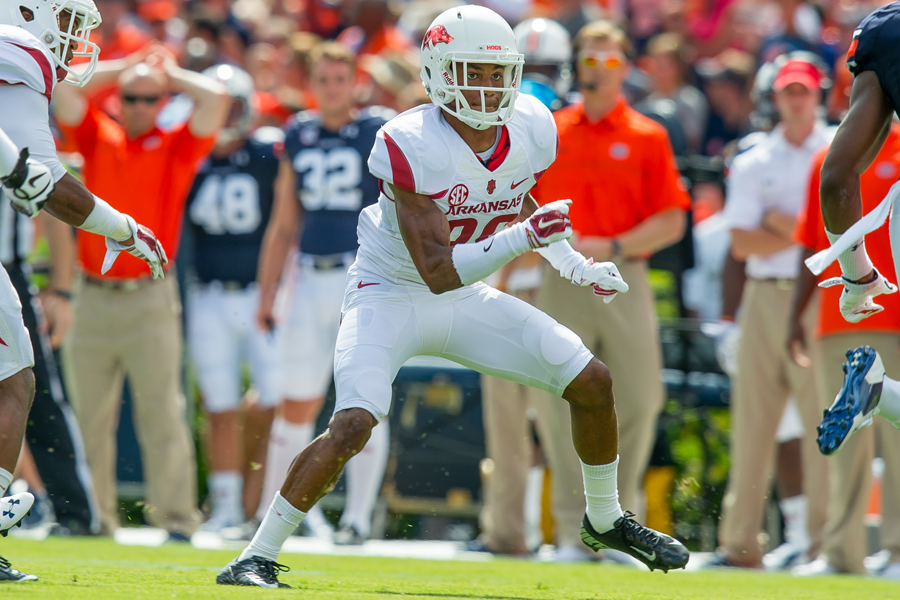 Disruptive Defense Ranked No. 7 In Havoc Rate
The Arkansas defense finished the 2014 season ranked nationally in the top 10 in both total defense and scoring defense. It was the first top 10 finish for the Razorbacks in either statistic since joining the SEC in 1992. A key factor in the defense's success was the havoc they caused opposing offenses, and SB Nation's Bill Connelly measured that metric in this article.
Arkansas ranked No. 7 nationally in the advanced metric, which is measured by the percentage of plays that end in a tackle for loss (including sacks), forced fumble, or tipped/intercepted pass. Arkansas totaled 167 havoc plays in 821 snaps, grading out at 20.3 percent, well above the 15.8 pecent national average in 2014.
Several players return in 2015 who created a lot of havoc last year. On the back end, junior defensive back Jared Collins was responsible for 13 pass breakups, which tied for the SEC lead and 12th-most nationally. Collins was also stout against the run, posting four tackles for loss from the cornerback position.
At linebacker, junior Brooks Ellis disrupted opposing offenses at the Mike position tot he tune of five pass breakups and 5.5 tackles for loss. His two forced fumbles tied for the team lead. This year he moves to the Will position, a spot that breeds havoc in Robb Smith's defense. The proof lies in the development of Martrell Spaight, who played Will for the Razorbacks last season and was selected by the Washington Redskins in the fifth round of the 2015 NFL Draft.
Taiwan Johnson is the primary disruptor up front, posting eight tackles for loss and 4.5 sacks last season, good for second on the team. He lined up at nose guard in 2014 but will move to defensive tackle in 2015. His quick burst should suit him well at the new position.