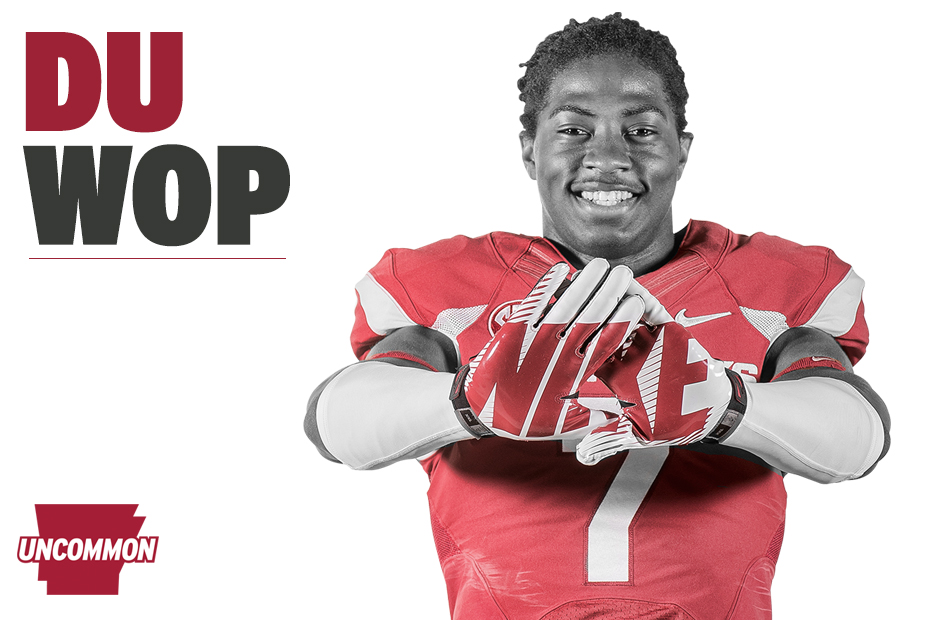 Du-Du The Duwop
As he looks back to the past eight months of his life, many things run through Damon "Duwop" Mitchell's mind. He recollects the blessings he has received, the relentless work he has put in and his progress toward becoming the best teammate, father and man he could possibly be while playing the game of football at the University of Arkansas.
But there's much more to Mitchell's story and journey to becoming one of the faces and bright futures of the Razorback receiving corp.
Anyone that has ever been around Mitchell, knows what he brings to the table – energy, enthusiasm and a personality that is full of life. It's a personality that he said he developed from his mother at a young age and ultimately got him the nickname "Duwop."
Mitchell earned his nickname at two years old. His mother would sit him in a high chair in the kitchen while she cooked and listened to music from the radio. He may not remember it, but his mother tells him he would never dance to the music she played. One day, a "Doo-Wop" song came on and Mitchell finally showed off his dance moves.
"My mom already called me 'Du' because she thought it was a cute name for her son," Mitchell said. "Then, that happened and she said, 'Aw look at Du-Du the Duwop.'"
What started out as a family name in the kitchen grew even more when his mother showed up to one of his first high school games.
"My teammates called me 'Hit Man,'" Mitchell said. "Then, they heard mom yelling, 'Go Duwop Go!' It was game over after that. Now, here I am at 21 years of age and the name has stuck since then."
The Egg Harbor City, New Jersey native was ranked the No. 11 dual threat quarterback in the nation in 2013 and chose to take his talents to Arkansas rather than Georgia Tech or Rutgers. Ready to don the Cardinal and White, Mitchell brought that positive, upbeat personality to Fayetteville.
It wasn't the brand new facilities under construction at the time or the glamour of the SEC that drew him to The Hill. For Mitchell, it was more than that.
"The southern hospitality, the way people care for you and the opportunity to show people who I really am, not just as an athlete. That's what I loved the most." Mitchell said.
Mitchell stepped foot on campus with the expectations of playing quarterback. He worked with the scout team while redshirting at quarterback in his freshman campaign in 2013. But then the script flipped. That offseason, he was moved to wide receiver.
Logistically, the position switch wouldn't be difficult for Mitchell. He knew the playbook. He knew the system. And he knew that much like quarterback, when you break the huddle, the first thing you do is identify the coverage.
But it took Mitchell some time and willingness to accept change and his new role, and it was evident last fall. As a redshirt freshman, he appeared in four contests, recording six rushes for 58 yards. Unsatisfied, he knew something had to change.
As the regular season came to a close and the Razorbacks prepared for their bowl appearance versus Texas in the Advocare V100 Texas Bowl on Dec. 29. Mitchell was blessed with the birth of his son on Dec. 7, a moment that would change his life forever.
He didn't participate in the bowl game. But he did take something away from that night at NRG Stadium while watching the Razorbacks celebrate their 31-7 routing of the Texas Longhorns.
"My former teammate Alex Brignoni came up to me and said, 'You should be on this field next year. No excuses. You're one of the most athletic guys we have in this program. Why are you standing next to me like this?' I told him, 'You know what? You're right.' I told myself I needed to fix this," Mitchell said. "I needed to contribute. I needed to be a team player. With team success comes individual success."
He thought back to his favorite quote by one of the greatest athletes in boxing history Muhammed Ali: "It's the repetition of affirmations that leads to belief. And once that belief becomes a deep conviction, things begin to happen."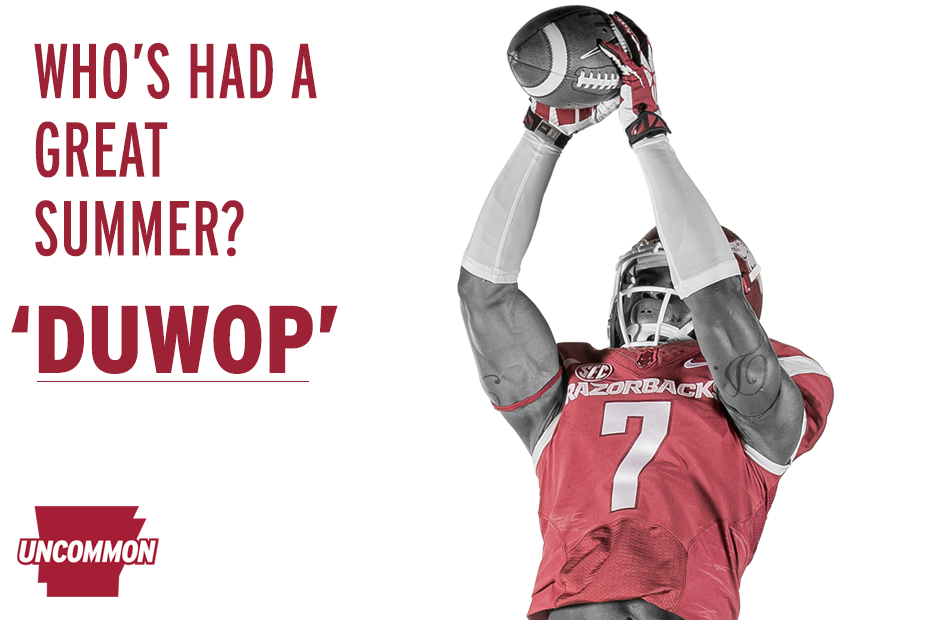 Things did begin to happen, and Mitchell vowed that would be the last time he walked on to a football field the way in which he did that night in Houston, Texas. It all clicked. With his newborn son on his mind, he knew what he needed to do.
"Not having my father there and him being in and out of my life is something I didn't really enjoy while growing up," Mitchell said. "Seeing the relationships some of my friends had with their fathers made me wish I had had that. But now, I have that opportunity to make that happen for me and my son."
As Mitchell entered this past spring, he was ready to achieve what he originally set out to get. He went to head coach Bret Bielema and the staff and told them he was ready to be a difference maker while contributing in any way possible. He was all in.
He carried that momentum and mentality into the summer, after performing at a high level during spring ball. Mitchell was ready to etch his place at wide receiver. But first, he had to build trust. He took it upon himself to meet with graduate assistant John Roberts, learning the playbook and his responsibilities in the run and pass game when he wasn't in classes or grinding in the weight room with head strength and conditioning coach Ben Herbert.
Now, through the first 11 practices of fall camp, every time you look up, Mitchell is making a play, developing as a leader on the receiving corp and playing with a purpose.
"It's been easier for me now that I have adapted to change and know I can't be mad at the world," Mitchell said. "It's a better feeling, being able to interact with the guys. When I look at my son's face, I tell myself, 'It's go time!' It makes everything so worthwhile. I can honestly say my reason and purpose has grown much larger than when I signed my national letter of intent."
And Coach Bielema has had nothing but praise so far for the 6-2 207 pound target who wide receivers coach Michael Smith said has developed the body of a Greek God.
"He's just a totally different, engaging personality," Bielema said. "Kids talk highly of him all the time now. He was kind of maybe a guy at the edge of the bench in years past. But now, it's 'who's had a great summer?' 'Duwop.'"
The sophomore wide receiver is heading into arguably the biggest season of his career, looking to be a difference maker. He'll have the opportunity to storm through the tunnel with his son and mother, who hasn't seen him play since his first spring game, looking on among 72,000 Razorback fans at Donald W. Reynolds Razorback Stadium.
"It's like finally," Mitchell said. "For me, finally. I've come out of that tunnel numerous times. But I came out to be a sideline guy. To exit the tunnel, knowing I'll be able to contribute, is going to be incredible. All of that hard work and dedication, all of the work I have put in."
Now, everyone will get to see the reason Mitchell left New Jersey to come to Arkansas. They'll get to see what he's done to get to where he's at and that he won't be letting anyone down.
"I'm here so we can make special things happen at the University of Arkansas," Mitchell said.