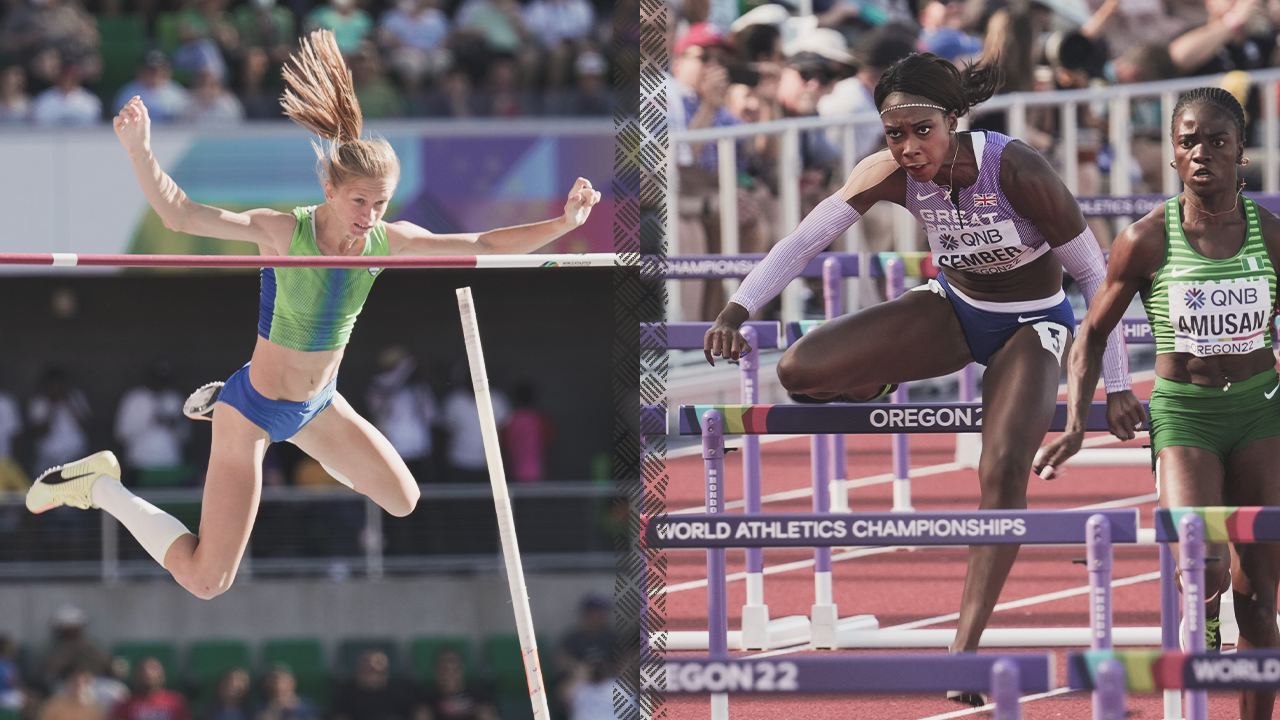 European Championships next adventure for Šutej, Sember
MUNICH, Germany – The next international track and field event this summer involving athletes with ties to Arkansas will be the 25th European Championships, with Olympiastadion serving as the venue in the 50th anniversary of it being the host for the 1972 Olympic Games.
Razorback alum Tina Šutej of Slovenia competes in the pole vault, which has a qualifying round on Monday, August 15, and the final on Wednesday, August 17.
Great Britain's Cindy Sember, who trains with Arkansas women's associate head coach Chris Johnson, competes in the 100m hurdles with the first round scheduled for Saturday, August 20, while the semifinal and final occur on Sunday, August 21, the final day of the event.
The 25th edition of this meet was originally scheduled for Paris in 2020 but was cancelled due to the pandemic. The most recent version of the meet was held in Berlin during 2018. Now Germany becomes the first country in the history of the European Championships to host consecutive events.
In addition to hosting the Olympic Games 50 years ago, Munich previously served as host of the European Championships in 2002. The Olympiastadion venue has also hosted the 1974 FIFA World Cup and 1988 UEFA Euro in soccer.
Šutej leads the field of 25 pole vaulters with a season outdoor best of 15-6 (4.72) and her indoor best of 15-9 (4.80). This will be Sutej's fifth European Outdoor Championships and she has also competed in five European Indoor Championships.
A silver medalist at the 2021 European Indoor, Šutej's best finish at European outdoors has been 10th place on two occasions (2010 and 2014). In World Championship competitions this season, she collected a bronze medal indoors and placed fourth outdoors with heights of 15-7 (4.75) and 15-5 (4.70), respectively.
A group of four vaulters follow with a best of 15-5.5 (4.71) for Italy's Roberta Bruni and at 15-5 (4.70) for Lene Retzius (Norway), Margot Chevrier (France), and Katerini Stefanidi (Greece).
Stefanidi is the two-time defending European champion with titles in 2016 and 2018, while starting with a silver medal in 2014. She holds the meet record with a height of 15-11 (4.85) from 2018, when the European Championships were held in Berlin.
Competing at an age of 33, Šutej has improved her Slovenia national record 10 times, indoor and outdoor, over the past four years. If a medal is in the cards for Šutej in Munich, she would become the oldest medalist in the women's pole vault at this competition, surpassing Nikoleta Kyriakopoulou of Greece, who was 32 years old when she medaled in 2018.
With a field of 25 entrants from 15 countries, Šutej will be among 12 vaulters in group B. The automatic qualifying height to reach the final is 14-11.25 (4.55) while the top 12 overall will advance. The progression in the qualifying round starts at 13-5.5 (4.10) and will move up to 13-11.25 (4.25), and then progress with heights of 14-5.5 (4.40), 14-9.25 (4.50) and 14-11.25 (4.55).
Sember, who earned a silver medal at the 2021 European Indoor Championships over 60m hurdles, makes her debut at the outdoor version.
With a British national record of 12.50 established during the World Championships semifinal earlier this summer, Sember sports the season-leading time among the 36 entrants representing 24 countries in the 100m hurdles.
In the World Championship final, Sember posted a wind-aided 12.38 to finish fifth and then claimed a bronze medal at the Commonwealth Games with a 12.59 clocking.
Poland's Pia Skryzszowska, the European U21 champion last year, follows with a 12.51 while Netherland's Nadine Visser, fourth in the 2018 European final, has a best of 12.66 this season.
The championship record in the 100m hurdles is 12.38 set by Bulgaria's Yordanka Donkova in 1986.
EUROPEAN CHAMPIONSHIPS | Munich, Germany
Day 1 Monday, August 15
| | | | |
| --- | --- | --- | --- |
| 10:25 am | 3:35 am CT | W Pole Vault qualification | Tina Sutej |
Day 3 Wednesday, August 17
| | | | |
| --- | --- | --- | --- |
| 8:00 pm | 1:00 pm CT | W Pole Vault FINAL | (Tina Sutej) |
Day 6 Saturday, August 20
| | | | |
| --- | --- | --- | --- |
| 8:43 pm | 1:43 pm CT | W 100m Hurdles Round 1 | Cindy Sember |
Day 7 Sunday, August 21
| | | | |
| --- | --- | --- | --- |
| 7:10 pm | 12:10 pm CT | W 100m Hurdles Semifinal | (Cindy Sember) |
| 8:45 pm | 1:45 pm CT | W 100m Hurdles FINAL | (Cindy Sember) |