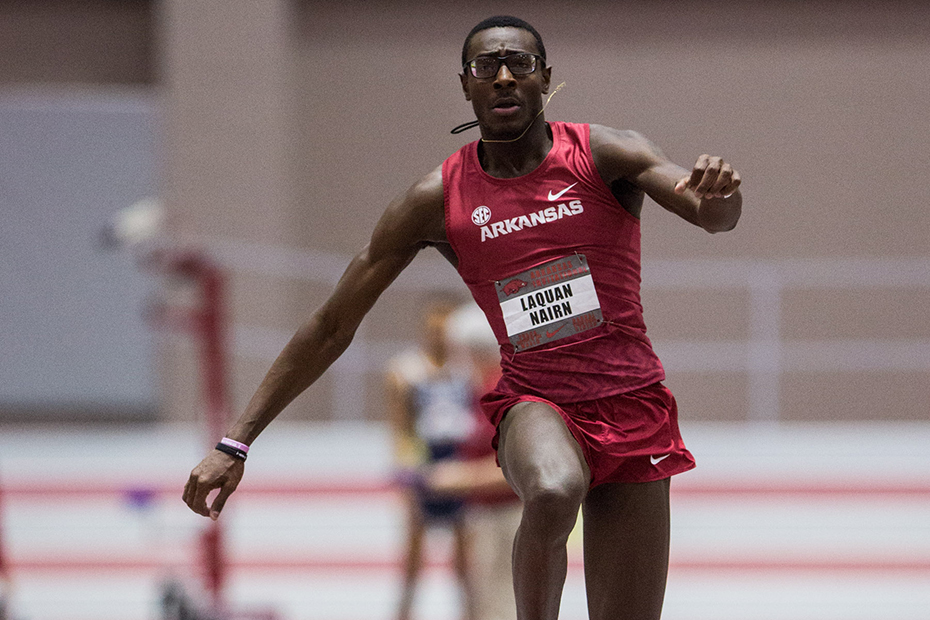 Field Events Shine On Day One Of Razorback Invitational
FAYETTEVILLE, Ark. – The No. 7 Arkansas men's track and field team opened its weekend strong at the Razorback Invitational in Fayetteville off outstanding performances in the long jump and heptathlon.
South Plains college transfer Laquan Nairn continued his streak of horizontal jumps success, placing in the top-three in for the third-consecutive week as the bronze medalist in the long jump. Nairn jumped a to a lifetime best mark of 7.87m/25-10 on his first trip down the runway, which moved him up the NCAA leader boards to No. 4. After fouling his second attempt he elected to pass his remaining attempts with his first jump holding strong through the competition for third place.
Another former South Plains college student-athlete Gabe Moore also had a great day for the Hogs, closing out the day ranked No. 2 in the Razorback Invitational heptathlon competition behind 2017 NCAA indoor medalist Karl Saluri of Georgia. Moore began his day matching his PR in the 60-meter hurdles with a 7.02 performance. The two-time All-American went on to see success on the long jump runway and in the shot put, capping his evening as top heptathlon high jumper with a PR of 2.02m/6-7 in the event.
Moore will return to the heptathlon tomorrow morning at 11:35 a.m. with the 60-meter hurdles.
Events to Watch (Saturday):
• 1:02 p.m. | 400 Meters Invitational
Featured Razorbacks: No. 1 Obi Igbokwe (PR: 45.73*) and Rhayko Schwartz (PR: 47.36*)
• 4:03 p.m. | 4-x-400 Meter Relay Invitational
Saturday's live television window on the SEC network will begin at 1:02 p.m. CT with the men's 400-meter invitational.
Razorback Invitational
January 26, 2018
Randal Tyson Track Center (Fayetteville, Ark.)
200 Meters
9. Kevin Harris – 21.41
10. Kris Hari – 21.64
High Jump
10. Rubin Owens – 2.06m/6-9
12. Brendon Rivera – 2.06m/6-9
Long Jump
2. Laquan Nairn – 7.87m/25-10
10. Harrison Schrage – 7.31m/23-11 3/4
Weight Throw
7. Erich Sullins – 18.37m/60-3 1/4
Heptathlon
Gabe Moore – 3,263 points (Day one)
2. 60 Meters – 7.02 (875 pts.)
3. Long Jump – 7.17m/23-6 1/4 (854 pts.)
3. Shot Put – 13.73m/45-0 1/2 (712 pts.)
1. High Jump – 2.02m/6-7 1/2 (822 pts.)
60-Meter Hurdles
Pole Vault
1,000 Meters
For more information on Arkansas track and field including in-meet updates, follow @RazorbackTF on Twitter.