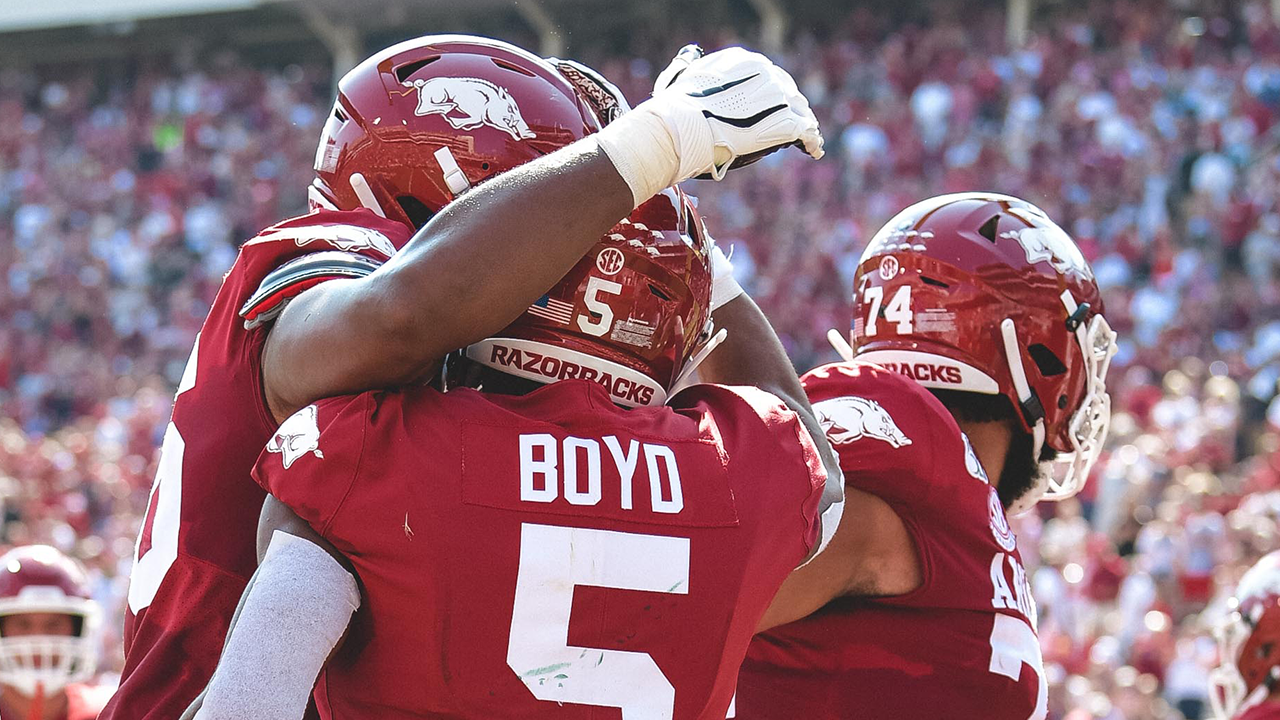 Razorbacks Pile On 55 Points In Win
(1st – 13:00| Arkansas 7 – Colorado State 7) QB Nick Starkel caps a five-play, 75-yard drive with a 24-yard pass to Trey Knox to tie it up, 7-7
(1st – 7:54 | Arkansas 14 – Colorado 7) Chase Harrell finds the end zone after hauling in a Starkel pass to put the Hogs up seven.
(1st – 5:59 | Arkansas 21 – Colorado State 7) Rakeem Boyd breaks open a big run for the 59-yard house call.
(1st – 1:02 | Arkansas 24 – Colorado State 14) Connor Limpert put a 54-yarder through the uprights to give the Razorbacks a 10-point (24-14) lead heading into the second quarter. His kick matches the ninth-longest in program history.
(3rd – 13:07 | Razorbacks 34 – Colorado State 24) After a 27-yard grab by Treylon Burks put the Razorbacks inside the 10, Boyd punches it in from three-yards out for his second score of the afternoon.
(4th – 11:35 | Arkansas 34 – Colorado State 34) The Razorback defense stiffens for a third down stop before the Rams miss a 50-yard field goal wide left.
(4th – 8:52 | Arkansas 41 – Colorado State 34) Devwah Whaley bounces off a couple of tackles, finishing off a nine-play, 68-yard drive to put the Razorbacks back in front.
(4th – 5:32 | Arkansas 48 – Colorado State 34) Cheyenne O'Grady breaks free from five Ram defenders and takes it to the house for a 62-yard touchdown reception. It's Starkel's third touchdown in the air this game.
(4th – 3:31 | Arkansas 55 – Colorado State 34) Hayden Henry forces a Colorado State fumble and LaDarrius Bishop scoops the ball up to return it for the final score of the game.