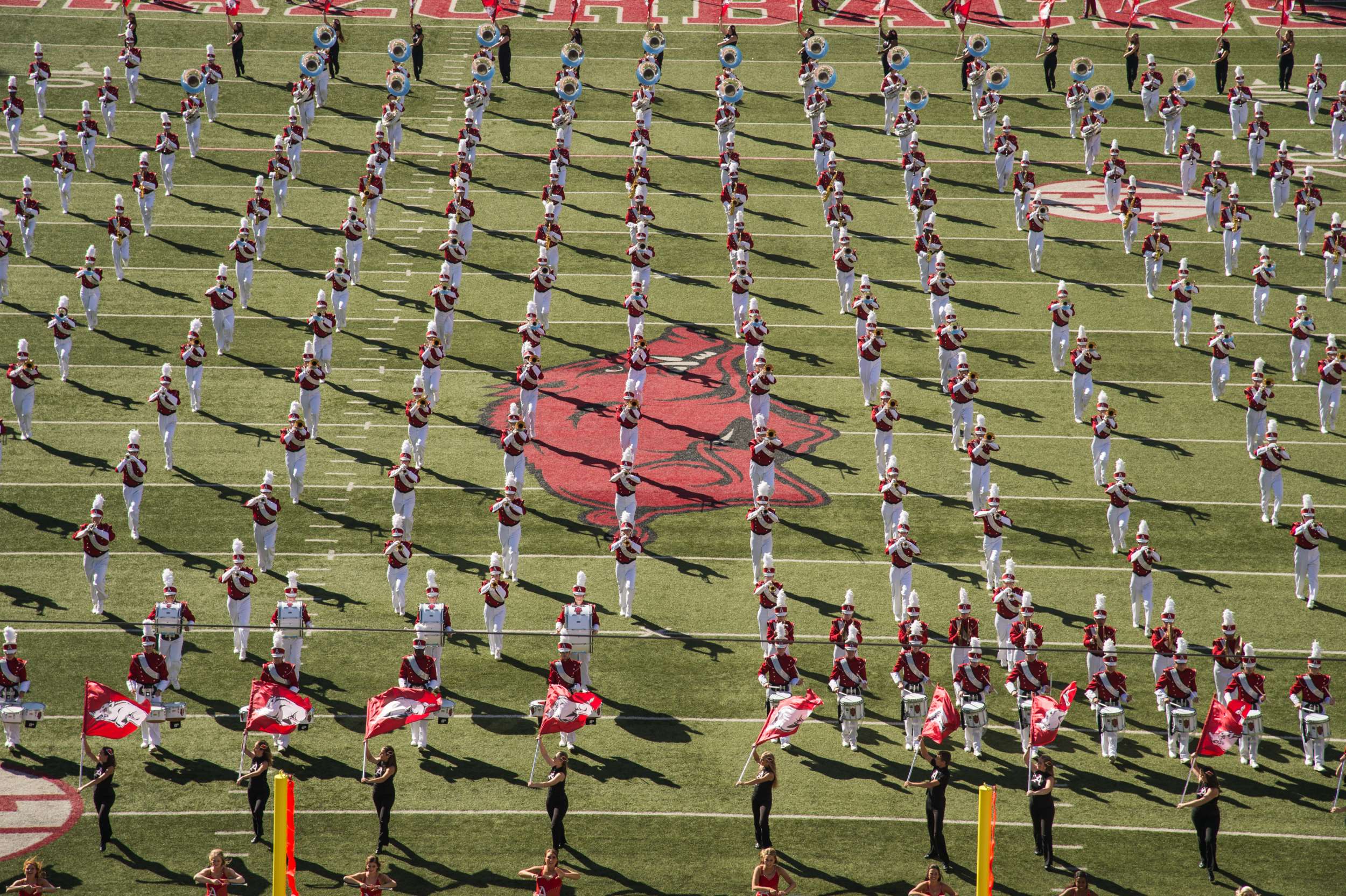 Five Razorbacks Selected for the Arkansas Sports Hall of Fame
FAYETTEVILLE, Ark. – Five former Razorbacks are among the eight members of the 2020 Arkansas Sports Hall of Fame Class announced on Sunday. Razorback football greats Ike Forte and Anthony Lucas, women's track and field star Veronica Campbell-Brown, men's basketball standout Jim Counce and Auburn head football coach, also a former Arkansas football assistant coach, Gus Malzahn have been selected and will be formally inducted on Friday, March 13, 2020, at the organization's 62nd annual induction banquet at the Statehouse Convention Center in Little Rock.
The 2020 Hall of Fame Class consisted of five inductees from the regular category and four inductees from the senior category. The Hall of Fame inducted its first class in 1959.
Veronica Campbell-Brown – Track and Field, 2002-06
One of the fastest sprinters to ever compete in the NCAA Veronica Campbell-Brown's legacy remains forever present in Arkansas Razorback track and field history. A four-time All-American during her tenure as a Razorback, Campbell-Brown was most known for her 200-meter performance, an event in which she captured the 2004 NCAA indoor title in 22.43 seconds (No. 2 all-time best in NCAA history). In addition to her success on the national circuit, Campbell-Brown was a three-time SEC Champion. Following her time at Arkansas, she went on to find continued success on the professional circuit, racing to eight Olympic medals (including two 200 golds) and 11 World Championship titles while representing Jamaica. She scored big in the 2005 and 2007 World Championships, with silver and gold medals in the 100-meter, 200 meter and 4-by-100-meter relays. She went on to compete in the 2000 Olympic Games, winning a silver medal in the 4-by-100-meter relay. She then won back-to-back gold medal titles in the 200-meter at the 2004 and 2008 Olympic Games, as well as a gold in the 4-by-100-meter relay and a bronze in the 100-meter in 2004. At the 2012 Olympic Games in London, Campbell-Brown won her sixth Olympic medal, a bronze, in the 100 meters. She also attended the 2015 World Championships in the 4x100m relay in Beijing, China.
Jim Counce – Basketball, 1975-78
A member of Eddie Sutton's first recruiting class, Counce was a four-year letterman from 1975-78.  He was a starter in 1977 and 1978 and was usually designated to guard the opposing team's best offensive player. Counce played in one of the most successful eras in Razorback basketball. The 1977 team went 26-2, including 16-0 in the SWC, winning the SWC regular season title and the SWC Tournament.  In 1978, the Razorbacks posted a 32-4 record, repeating as SWC champions on the way to the NCAA Final Four. Counce later returned to the Arkansas bench as an assistant coach under Sutton in 1981 and 1982. During his coaching tenure, the Razorbacks won two SWC crowns and earned consecutive berths to the NCAA Tournament. Counce earned his BA degree in chemistry from Arkansas in 1979 and earned his MD degree from the University of Arkansas Medical Sciences in 1986.
Ike Forte, Football, 1974-76
Born in 1954, Ike led both his high school team and Tyler Junior College at the running back spot.  He was named All-Conference in 1972 & 1973 and All-American in 1973, when he rushed for 1,175 yards.  Ike transferred to the University of Arkansas his junior year and was named 1st Team All-SWC for 1974.  The following fall, he was named to the Playboy All-America Team just ahead of the 1975 season.  At the 1976 Cotton Bowl, Ike led the Hogs to an upset win over GA, running for 119 yards & 2 TD's.  For his career, he had eight 100-yard games for the Razorbacks.  He was drafted in the 2nd round by the Patriots, played 2 seasons with them (1976-77), 3 seasons with the Redskins (1978-80), and 1 season with the Giants (1981).  His pro career totals are 7 TD's, 511 yards rushing, and 387 yards receiving.
Anthony Lucas, Football, 1995-99
A Louisiana native, Anthony was a 1994 All-American football recruit.  At Arkansas, he had a Razorback-best 137 career receptions for 2,897 yards and 23 touchdowns.  He was All-SEC as a freshman (1995), a 2nd team All-SEC selection (1998), was a 3rd team AP All-American, and made the Razorbacks All-Decade Team for the 1990's.  In the SEC, he is tied for 1st in touchdown receptions in a game (3), 1st in 100-yard receiving games in a season (5), 2nd in receiving yards (2,897), 2nd in receiving yards in a single game (172), and 3rd in touchdown receptions in a season (10).  He led the SEC in average yards per catch in 1995, 1998, and 1999, and led the nation in average yards per catch in 1998 with 23.3 yards.  His career average of 21.0 yards per catch remains 1st in the SEC and 5th in the nation.  He played in the Senior Bowl and for Green Bay and Dallas.
Gus Malzahn, Football – Coaching (Arkansas – Assistant Coach, 2006)
Malzahn played football at Henderson State University, where he earned All-AIC Honorable Mention in 1989. Malzahn became the head coach at Shiloh Christian in 1996 and led the Saints to back-to-back state championships in 1998 and 1999. In 2001, he took over at Springdale High School and led that program to 2 state 5A championships, winning the title in 2005. Joining the Razorback staff in 2005, he helped the Razorbacks win the 2006 SEC West Division title. He went to Tulsa where he spent two seasons as offensive coordinator before taking over as offensive coordinator at Auburn 2009-2011.  Here he helped lead the Tigers to a 2010 National Championship. Malzahn spent one season as the head football coach at Arkansas State University where he led the team to a 9-3 record and a Conference Championship. He returned to Auburn as their head coach to begin the 2013 season, inheriting a team that did not win a single SEC game in the 2012 season. He led Auburn to an SEC Championship and an appearance in the 2014 BCS Championship game. Malzahn received several "Coach of the Year" awards including the 2013 SEC Coach of the Year, Home Depot Coach of the Year, Sporting News Coach of the Year, Eddie Robinson Coach of the Year, Bobby Bowden Coach of the Year, Paul "Bear" Bryant Award, and the AP College Football Coach of the Year. In 2017, Malzahn led the Tigers to the SEC Championship game by defeating No. 2 Georgia and No. 1 Alabama, but lost the national championship game to Georgia.
Other 2020 inductees into the Arkansas Sports Hall of Fame include one of the nation's first professional women's basketball teams, the All-American Red Heads, longtime University of the Ozarks and University of Central Arkansas women's basketball coach Ron Marvel and Arkansas State basketball star John Tate.