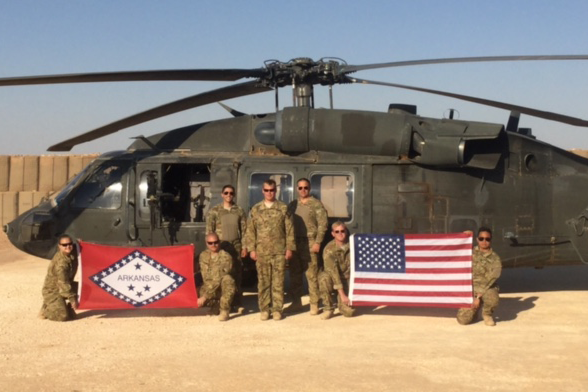 Flags, Football And Freedom
By simple definition, a flag is a piece of fabric, cloth or a similar material, used as an emblem of a country or institution as a decoration during public festivities. Embellished by stars, stripes, bars and other adornments, a flag is more than just a collection of artistic elements, it takes on meaning as the most visible symbol of a particular state or nation and those who are represented.
Each time the Razorbacks take the field, they carry that same type of symbolic significance for Arkansans. The University of Arkansas is the flagship institution of the state and for many Arkansans, the Razorback is far more than just a mascot, it embodies the spirit of the state.
So what happens when these two recognized symbols combine in a way that honors those who are serving and have served to protect our freedoms at home and abroad? It is a moment that means much more than simply the excitement of the home team's entry onto the field before a college football game.
In 2016, Razorback Athletics initiated a program that welcomed United States and Arkansas State flags that had been flown by military personnel around the world to be donated for use in pre-game at Razorback Football games. As the Razorback football team runs 'Through the A' before each game, selected football student-athletes carry the Stars and Stripes of Old Glory and the Diamond and Stars of the Arkansas flag. The program is part of Razorback Athletics' ongoing commitment to recognize the tremendous contributions of those who have served our nation.
Earlier this season, flags were supplied by active military personnel serving in the Middle East. The U.S. Army's Alpha Company 2-149th Aviation Task Force Rough Riders provided both a United States and Arkansas State Flag to be carried by Razorbacks onto the field at Donald W. Reynolds Razorback Stadium as part of Military Appreciation Day in Arkansas' 42-24 win over New Mexico State.
"It's a pretty cool feeling to know the American and Arkansas flags we have been flying on our base and even on a few combat missions are going to be used by team when they take the field," U.S. Army Captain Patrick Gunn said. "All of us have been Razorback fans our entire life so this is will be something special for us to remember."
The flags were flown daily over a small base on the southern Syria and Jordan border. Once the unit was moved, the unit would include them in their aircraft when flying night combat missions over Iraq.
"The soldiers here are very proud of Arkansas and we even have Hogs stenciled on the aircraft," Gunn says. "Our higher headquarters is out of Austin, Texas so we have some friendly rivalries. Being deployed with multiple SEC states, we take pride in flying our Arkansas and Hog flags high!"
Even amidst the demanding schedule of active military service, Gunn and his unit still manage to keep up with their beloved Razorbacks. While time zones can present an inconvenience for stateside fans from time to time, accommodating kickoff overseas is much more of a challenge.
"We watch the games by either finding it on live TV or streaming it," Gunn says. "We are eight hours ahead, so we get creative with our schedules to accommodate the games. None of us mind waking up early to catch a Hogs game though!"
So maybe the 11 a.m. kickoff for New Mexico State game was a fitting way to pay tribute to the men and women serving abroad. After all, the game was primetime viewing for Hog fans in Iraq and in that region of the world.
Another chapter will be written into Arkansas' military tribute tradition when the Razorbacks take the field against Auburn this Saturday. An Arkansas State flag flown over Camp Bondesteel, Kosovo from July 19-September 19, 2017 will make its way to the field as part of the team's pre-game runout.
The flag was flown in Kosovo to honor the contributions of the men and women of the Arkansas National Guard's 39th Infantry Brigade Combat team (aka Bowie Team). This weekend, it will honor all those who have served our state and country with their military service.
The Razorbacks are often referred to as the tie the binds the state together. In these cases, it is the tie that binds Razorbacks together all over the world.
"We have appreciated all the support we have received from the state, family and friends during this deployment and a special thanks to the University for allowing us to participate in this program," Gunn says. "Go Hogs!"