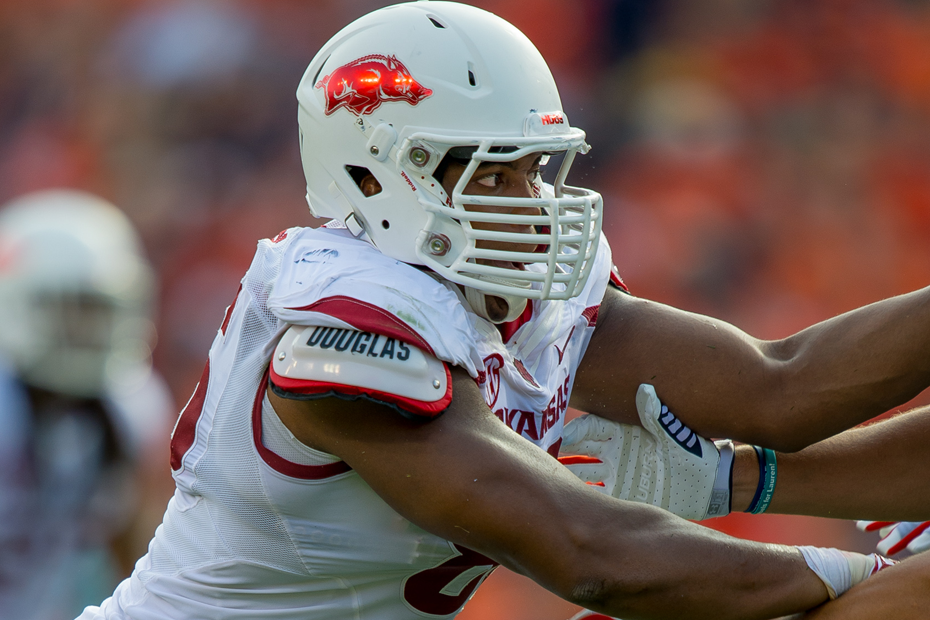 Flowers, Spaight Capitalize on Senior Bowl Prep
As the collegiate football chapters of defensive end Trey Flowers and linebacker Martrell Spaight come to a close, a new phase of their careers comes into focus. While the duo were an essential cog in the Razorbacks' defensive scheme this past fall, Flowers and Spaight now set their sights on the National Football League and the 2015 Draft.
The duo's journey to the NFL runs through Mobile, Alabama, where the duo checked in at the Reese's Senior Bowl on Sunday, Jan. 18 in preparation for the historic event on Saturday in Ladd-Peebles Stadium. The contest is set for 3 p.m. and will be televised on the NFL Network. Flowers and Spaight will both don orange as members of the South squad.
Both Flowers and Spaight leave a legacy behind in Arkansas program history. Flowers finished the season as a selection to the Coaches All-SEC second team and an AP All-SEC honorable mention after posting 68 tackles, 15.5 tackles for loss and 6.0 sacks on the year. His 15.5 tackles for loss ranked fourth in the conference and moved him into second place on the program's all-time tackles for loss chart (47.5). Flowers completed his career as the active SEC leader and tied for second nationally in total tackles for loss (47.5), and moved into tied for ninth place on the team's all-time sacks ranking with 18.
Spaight emerged as a defensive leader in his final season as a Razorback. The North Little Rock, Arkansas, native earned consensus first team All-SEC selections after tallying a conference-leading 128 tackles on the season, the most tackles for Arkansas since 2003 and good for 13th on the program's single season chart. Spaight was first Razorback to lead the SEC in tackles. He also recorded 10.5 tackles for loss, two forced fumbles, one recovered, and an interception returned for 30 yards.
Draft-Worthy
» Both Flowers and Spaight have caught the eye of local and national media members during the Senior Bowl practice week. According to SportingNews.com, Flowers ranks No. 13 in the 'NFL Draft Players to Watch' in the 2015 Senior Bowl. "Both his length and hand usage grade out as impressive traits," wrote SportingNews' Eric Galko. "And he consistently sets a hard edge versus the run."
Spaight checks in not far behind his fellow Razorback at No. 17. "As a weakside linebacker prospect, Spaight shows the athleticism and quick twitch movements to beat the ball carrier to the hole," writes Galko.
Read the whole article here.
» Yahoo! Sports has selected Flowers as one of the top 20 prospects to watch in the 2015 Senior Bowl. "Here's another edge rusher to keep an eye on," wrote Yahoo! Sports' Eric Edholm. "Flowers has a chance to move up into the first-round discussion.
Read the whole article here.
» Television TV analyst Todd McShay also released his Senior Bowl Top-15 prospects, pegging Flowers No. 4 on the chart.
Read the whole article here.
Always Humble
You don't have to look very hard to find the source of Flowers' motivation and humility. The Huntsville, Alabama native grew up in a tight-knit family with nine siblings, who to this day push him improve every day. Joe Wedra of FanSided.com sat down with Flowers to discuss his motivation and his future as he embarks on the next chapter of his life. "I asked myself 'what makes me work hard?' and I really just came to the conclusion that I kind of just want my family to be proud of me," said Flowers Wedra. "As far as working and my motivation, it's just a matter of wanting them to be proud of me."
Read the whole article here.
Weigh-In
» With an 84-inch wingspan, Flowers attracted a lot of attention at the Senior Bowl's weigh-in. The 6-4 prospect's wingspan was identified as easily one of the best in defensive corps at the Senior Bowl by CBS Sports' Dane Brugler. "Flowers' ability to cast a wide net with his length is a big reason he's so effective as a run defender," wrote Brugler.
Read the whole article here.
» While the weigh-in shed a light on Flowers' dynamic build, the process was also a different experience for the former Razorback, whose weight and height was announced to a 1,000 people in the Mobile Convention Center on Tuesday.
But for Flowers, the weigh-in was all just part of the process. "It's kind of what it is," Flowers said to AL.com's Tommy Hicks.  "But just being in this position though, it's mind-blowing. It's a blessing just to be here and to have those scouts really that interested in you that they sit out there with their notepads, taking down your measurements. Just to be in this position is a blessing."
Read the whole article here.
One-on-One
Flowers stepped-up to the plate in one of the Bowl's most heavily appreciated aspects of prep week: one-on-ones. Flowers and his fellow defensive linemen took their turns squaring off against their offensive counterparts in round one of drills on Jan. 20.
Read the whole article and watch Flowers' in a video here.
Prepped and Ready
Flowers discusses the importance of practice and preparation before his debut on the South squad. "A lot of scouts leave prior to the game so they might not even see you play the game," Flowers tells Arkansas News' Robbie Neiswanger. "But they like to see your practice habits, if you give effort, how durable you are. Everybody starts off at a good pace and all the excitement, but as the practice goes on do you remain focused throughout the practice? Or do you fatigue and fall off? So I think the practices are going to be very valuable."
Read the whole article here.
Arkansas finished the 2014 campaign with the 10th ranked defense in both total and scoring measures. It was the first time a Razorback defense finished in the top 10 in either category since joining the Southeastern Conference in 1992. Arkansas will return six starters from that defense and several more letterwinners.
Fans can place a deposit and get guaranteed access to available seats for the 2015 season. The Razorbacks will host six games in Fayetteville, including four against teams that played in bowl games in 2014 – UTEP, Auburn, Mississippi State and Missouri.