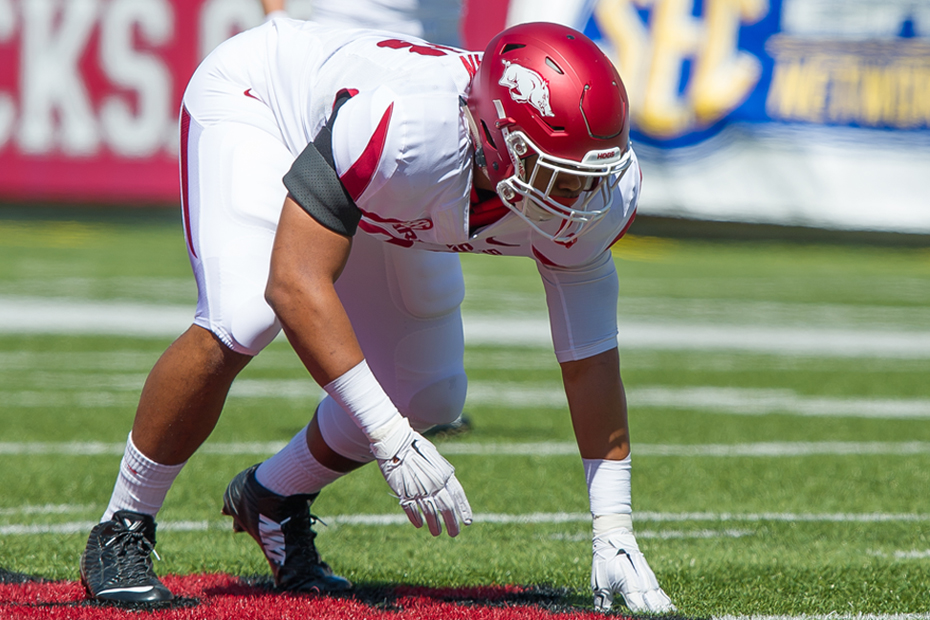 Freshman Focus: DL Daytrieon Dean
True freshman Daytrieon Dean made a promise to his mother in ninth grade. He was going to earn a scholarship and play college football in an Arkansas Razorback uniform.
What seemed merely an improbable dream at the time is now Dean's reality, one he did not accomplish without hardships. While football came easy, education was not always his strongest suit.
"I wasn't always the best student," said Dean. "When I was younger, I really struggled reading. My mother started taking me to the library and my reading began improving. As my reading improved, so did my grades. I realized there was a direct correlation between reading and success in the classroom."
As Dean's grades turned around, he developed an overall passion for learning. Along with the help of his mother, Valerie, Dean had a great supporting cast back home in Fort Smith, Arkansas. Former players, teachers, family and friends were all key contributors to Dean's growth both on and off the field.
"It really started when I was in fifth grade," said Dean. "One of my middle school teachers told me I had a lot of potential. The following year I became president of a club, and after that my grades started improving."
Dean obtained a perfect 4.0 grade point average in high school while playing football, and graduated a semester early. When it came time to make his college decision, he had his choices, but there was only one option. Dean had one plan in mind: fulfilling his promise to his mother and dream of playing for his home state.
"When the opportunity came for me to play here, it was everything I wanted," Dean said. "Being born and raised in Arkansas, all you know is the Hogs. There was only one option, and that was the place I was going."
Inspired by a passion for mathematics, Dean plans to major in industrial engineering. He says that while he has chosen a difficult major, he is adapting to life as a "grown up" exceptionally well.
"I am only 17, so I've been forced to grow up quick," Dean said. "When I was at home, I had people telling me what to do. Now that I am here, I have to be a grown man. The transition has been a growing pain, but it has been great. "
Dean's ability to transition so well is due to his mindset on the value of education, a strength he credits to his mother.
"Growing up, my mother always made sure I knew education was the most important," Dean said.  "I knew that if I wanted to play at the next level, education was the first thing for me to take care of. If I took care of things in the classroom, then the rest would follow. I became a better person once I started academics seriously."
Like many other collegiate football players, Dean aspires to one day take his game to the next level, playing in the National Football League. With Dean's track record, it would not be shocking to see him suit up on Sundays. While he presses on towards the next goal, he also understands the importance of a backup plan.
"I feel one day I could play at the next level," Dean said. "At the same time, football isn't a promise. You can get injured any day, but no one can take your education away from you. If you take your education seriously, you are set for life and can have anything you want. Everyone wants to go to the next level, but not everyone gets to go, and for those who can't, there has to be a backup plan. You have to have an actual job when you leave college, and I want a degree to back me."
Dean's backup plan showcases a career far from tackles and touchdowns. While he does not have a specific career in mind, he found interest in life as a businessman while on his first plane ride to the Little Rock Touchdown Club's awards banquet in February.
Dean was recognized that evening for winning the 2014 Dan Hampton Award given to the Arkansas High School defensive lineman of the year.
"That is when I realized if I work hard that anything is possible," Dean said. "I could see the sunset, and it was a beautiful scene. I thought if I were ever a businessman, I wouldn't mind this view on a daily basis. It made me open my eyes to the opportunities I could have if I take my college experiences both on and off the field seriously."
Written by Hannah Henderson, Razorbacks Communications