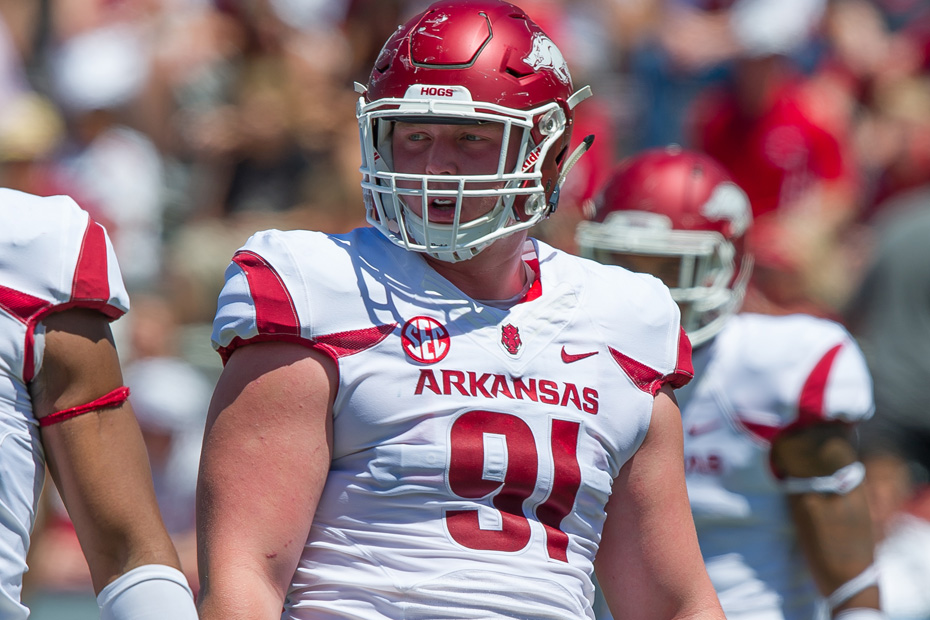 Freshman Focus: DL Hjalte Froholdt
In Denmark, football rules all sports with over 320,000 players in more than 1,600 clubs. So when Hjalte Froholdt decided to play football in high school, it all sounded normal.
Except the football Froholdt fell in love with happened to be the American kind. Not the kind that included goalies and corner kicks, but quarterbacks and spiral passes.
It may have seemed odd that Froholdt had decided to bypass Denmark's sport of choice, but the Svendborg, Denmark native was thinking strategically. He already knew that for his sophomore year of high school he would study abroad in the United States as a foreign exchange student.
"I thought I might as well play a sport where I can make quick friends over there," said Froholdt (whose name is pronounced Yell-duh Fro-Holdt).
So Froholdt got together with some local kids in his hometown, building a roster of four players.
"We started playing and really started enjoying it," said Froholdt. "Eventually I went on to the national team, U17 – I was 15 at the time – and we played against Sweden and Finland. I was in the starting lineup and I really thought, OK, I'm decent, and I was really enjoying playing. But I was still hoping to get junior varsity reps when I played in the U.S."
When the time came for his sophomore year of high school and his trip to America, Froholdt traveled to Warren, Ohio where he lived with a host family. After months of preparing for American football, Froholdt had no idea what to expect of his first football experience on U.S. soil at Warren G. Harding High School.
"The game was much faster and it took a lot of time to really get into it," said Froholdt. "The first day of practice I got put on my butt 20 times. I thought I did really badly, but I thought that I might as well get back up and do it again to the best of my ability. And then I just kept going, and going. Eventually, I got better."
Growing up, Froholdt tested the waters in many different sports including soccer, basketball, tennis, ping pong – a sport he says he quickly lost interest in – and badminton. With such an extensive athletic history, the 6-5 sophomore was an athletic hybrid.
Luckily for Froholdt, the Raiders were in need of an athletic big man to step into the role of tight end and defensive end. Halfway through two-a-days, Froholdt was placed in the starting spot in both positions.
Just in his first season, Froholdt started garnering attention from large football programs interested in his talents, something that surprised him, he says. So when Froholdt's father came for a visit, the duo decided to take a road trip to different universities to see for themselves.
"The fun part was my dad and I didn't know anything about recruiting," said Froholdt. "I've never seen anyone go through it. It's not like my older brother or sister did it. It's nothing like Denmark where university is free and only a few people play, do it professionally or at a high level. So my dad and I didn't quite know how to do it."
Froholdt and his father, Lars, drove 16 hours to Fayetteville, Arkansas where the pair explored the campus and met newly-appointed head coach Bret Bielema. After driving and exploring other universities for a week, Froholdt felt confident that Arkansas was at the top of his list.
At the end of his sophomore year, Froholdt traveled back to Denmark where he continued contact with the Razorback staff and brought his newly-found skills to the Danish football fields.
"It helped me a lot, mentality wise," said Froholdt. "The high school mentality is it doesn't matter how big you are, if you're tough enough, you can win. In high school, when you don't have the size, mentality goes a long way. I think that helped me a lot in Denmark, because even when you're really tired you can still do it."
After months of messaging over Twitter and making calls every three weeks, Froholdt made the decision to commit to Arkansas. Before Froholdt could come to Arkansas and don the Cardinal and White, he had to complete one more semester of high school. So Froholdt traveled back to the U.S. where he attended IMG Academy in Bradenton, Florida for his senior season.
At IMG Academy, Froholdt was coached by Heisman Trophy winner and current St. Louis Rams quarterbacks coach, Chris Weinke. During his senior campaign, Froholdt posted 55 tackles, including 12.0 for loss, and 10 sacks during his senior season while helping IMG Academy finish 10-1 in just its second season of varsity football.
Following his single semester at the IMG Academy, Froholdt was ready for The Hill, and enrolled in classes for the spring in anticipation for practice in March.
Froholdt said transition to life in Arkansas has been easy with the help of his Razorback teammates. But, after living in Ohio and Florida, Froholdt says he has been able to pick up on some cultural differences in the Natural State.
Froholdt on an ATV during his spring break trip to Carrollton, Texas.
"The accents are different," Froholdt said with a smile. "The southern culture thing, I really like it. With my roommates, one being from Arkansas and the other being from Texas, it's pretty much the same culture. It's been easy, everyone here has helped me a lot. If I ever need help, they offer. That's been really great and really easy."
This past spring break, Froholdt got to explore a new frontier: Texas. Froholdt and his fellow-freshman roommate Zach Rogers road-tripped to Rogers' hometown of Carrollton, Texas.
"It was perfect," said Froholdt. "I felt like a Texan! With these big cars, guns, bows, ATVs, mud and everything. It was really nice."
The vacation in Texas was an exciting break for Froholdt, but the end of spring break marked the continuation of spring practice and anticipation for the 2015 season.
This season, Froholdt will look to step into big shoes on the Razorbacks defensive line that was led by former All-SEC defensive linemen and current NFL prospects, Trey Flowers and Darius Philon.
With Arkansas' annual Red-White Spring game rapidly approaching, Froholdt is excited to become a part of the tradition he fell in love with when he visited Fayetteville in high school.
"It's going to be great," said Froholdt. "Especially with the gates they have for the hog pen. That's amazing. I can't believe it. I can't wait."
Written by Allie Raymond, Razorbacks Communications