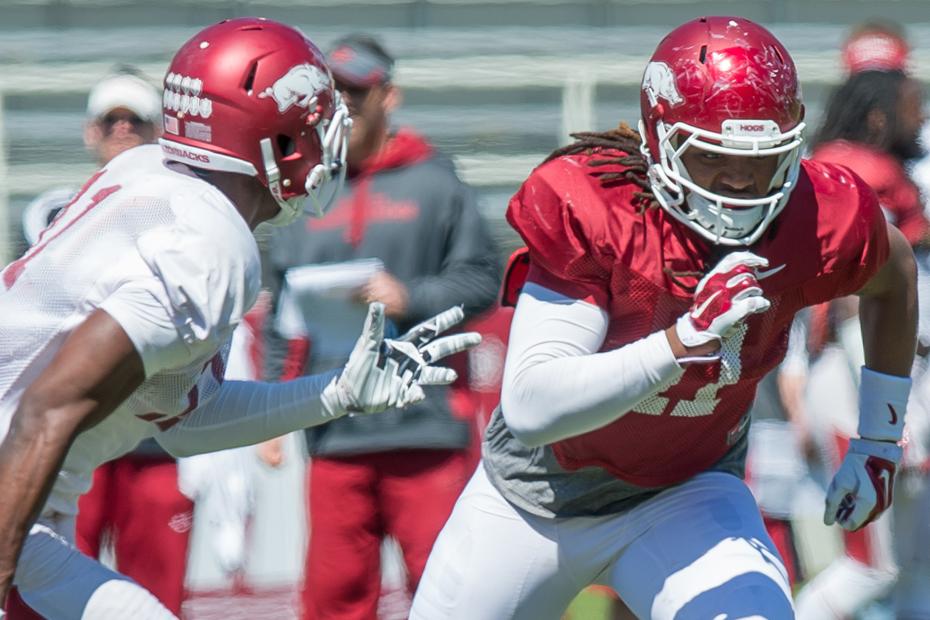 Freshman Focus: TE Will Gragg
On November 29, 2002, six-year old Will Gragg, sat beside his older brother, Chris, in a packed War Memorial Stadium. On that afternoon, the brothers witnessed the Arkansas Razorbacks defeat the LSU Tigers in what would go down in Razorback history as "The Miracle on Markham."
Crazier than what transpired that cold November day was that both Gragg and Chris would one day get their own opportunity in Arkansas Razorback uniforms.
Even before witnessing Arkansas' miracle, Gragg has always known he wanted to play for the Cardinal and White. His passion for Arkansas only grew stronger over the four-year span in which he watched his big brother, who, much like Gragg, assumed his role at the tight end position. Chris showcased his talents in arguably the toughest conference in college football from 2008-2012, before being drafted to the National Football League.
"Growing up having my big brother on the team was huge in my own development both on and off the field," Gragg said. "I had tremendous respect for those guys because they were exactly where I wanted to be."
Gragg's brother Chris wasn't his only family member that was a Razorback – his cousin Jarius Wright, a Razorback great and current NFL wide receiver, also wore the Cardinal and White.
With a yearning to improve and a pair of Arkansas greats a drive away, Gragg used his resources.  When he wasn't active in his own high school season, he was in Fayetteville, taking in everything his brother and cousin had to give him.
"They were always teaching me things," Gragg said. "I would come to Fayetteville in the summer and stay two or three nights with them, and they would work me out. Those days are the days I look back and know that I was developing love for the game. They took time aside from their own workouts to help me get to that goal I wanted to reach."
After years of being a spectator to his brother's collegiate career, Gragg had to make the tough decision where he would play football at the next level.  As a four-star recruit at Dumas High School in Arkansas, Gragg had plenty of options and was recruited heavily by other schools in the conference.
Unlike other recruits, Gragg was able to turn to his big brother, much like he had his entire life. Chris had gone through much of the same experiences Gragg was enduring and was able to lend an unbiased helping hand.
"My brother never pushed me one way or the other," said Gragg. "I looked up to him and listened to his advice because he had been through the recruiting experience before, and even with his success here, he made sure I knew this was ultimately my decision. I took official visits, but my heart was always pulling towards home. Chris told me to go where I felt the most comfortable, and for me, that was right here in Arkansas."
Gragg's commitment to the University of Arkansas was one of relief for his family, who he says was his backbone during his decision.
"My family always wanted what was best for me," said Gragg. "They never steered my to one place or another, but I always dreamed of getting to play in big games like the 'Miracle on Markham'. The dream I had when I was six was being given to me. I wouldn't have had it any other way."
As Gragg prepares for his first season in a Razorback uniform this fall, he is looking forward to participating in traditions he's admired his entire life.
"Every young football player growing up in Arkansas dreams of running through the A," said Gragg. "My brother did it. My cousin did it. And this season I will get to do it for the first time in my life. I can't wait."
Aside from the traditions and family legacy, Gragg is most looking forward to representing the name on the front of the jersey. With many Arkansas greats that have come before him, he knows the bar is set high.
"All I want to do in my time wearing this uniform is live up to everyone's expectations," said Gragg. "Not for me, not because of what my brother or my cousin has done here, but the expectations the fans have of this team. People all over the country are talking about how good the Razorbacks are expected to be this season, how we are finally coming up. I just want to make everyone's expectations, as well as my own, come true."
Written by Hannah Henderson, Razorbacks Communications