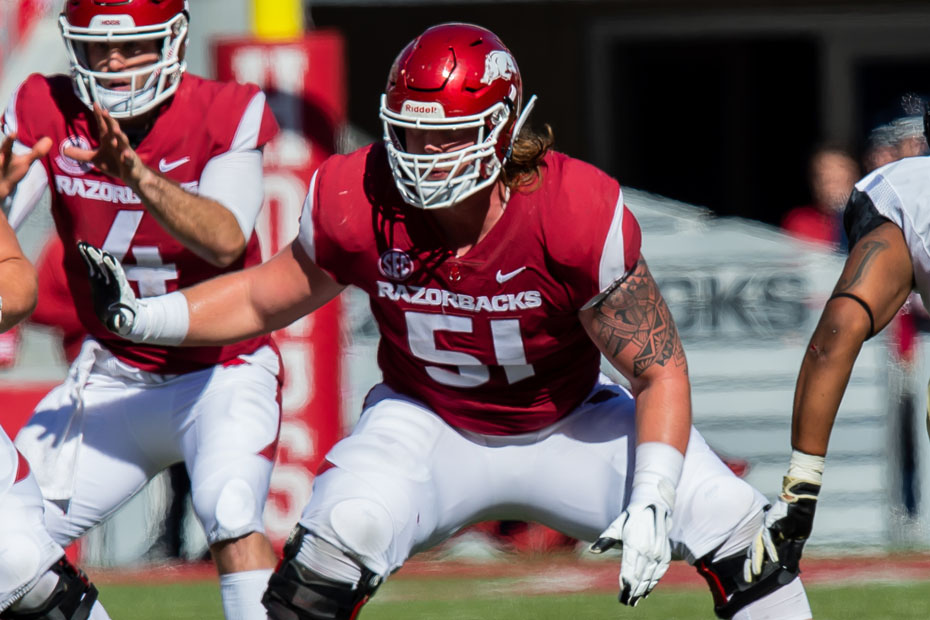 Froholdt Earns Google Cloud Academic All-District
FAYETTEVILLE, Ark. – Arkansas football's Hjalte Froholdt has been named to the 2018 Google Cloud Academic All-District First Team in district six, which is selected by College Sports Information Directors of America.
It marks back-to-back years the offensive lineman from Svendborg, Denmark, has picked up the all-district accolade, which recognizes the nation's top student-athletes for their combined performances on the field and in the classroom. Froholdt's district includes players from Arkansas, Iowa, Louisiana, Minnesota, Missouri, Mississippi, North Dakota, South Dakota & Wisconsin.
Froholdt, a senior studying applied exercise science, has started every game this season and each of the last 35 games dating back to the start of 2016. He was also named a team captain during week five of the 2018 campaign after a team vote.
As the anchor of the offensive line, Froholdt has played a total of 674 snaps this year, leading the team in every contest. He's helped the Razorback offense to 3,622 yards of total offense, including 1,600 rushing yards, to go with 28 touchdowns in 2018. He has allowed just three snaps in over 1,200 pass protection snaps, according to Pro Football Focus.
It's the fifth academic award Froholdt has accumulated over his collegiate career, earning SEC Academic Honor Roll honors in 2015-17. First-team Academic All-District winners advance to the Google Cloud Academic All-America ballot, with first- and second-team members announced in early December.