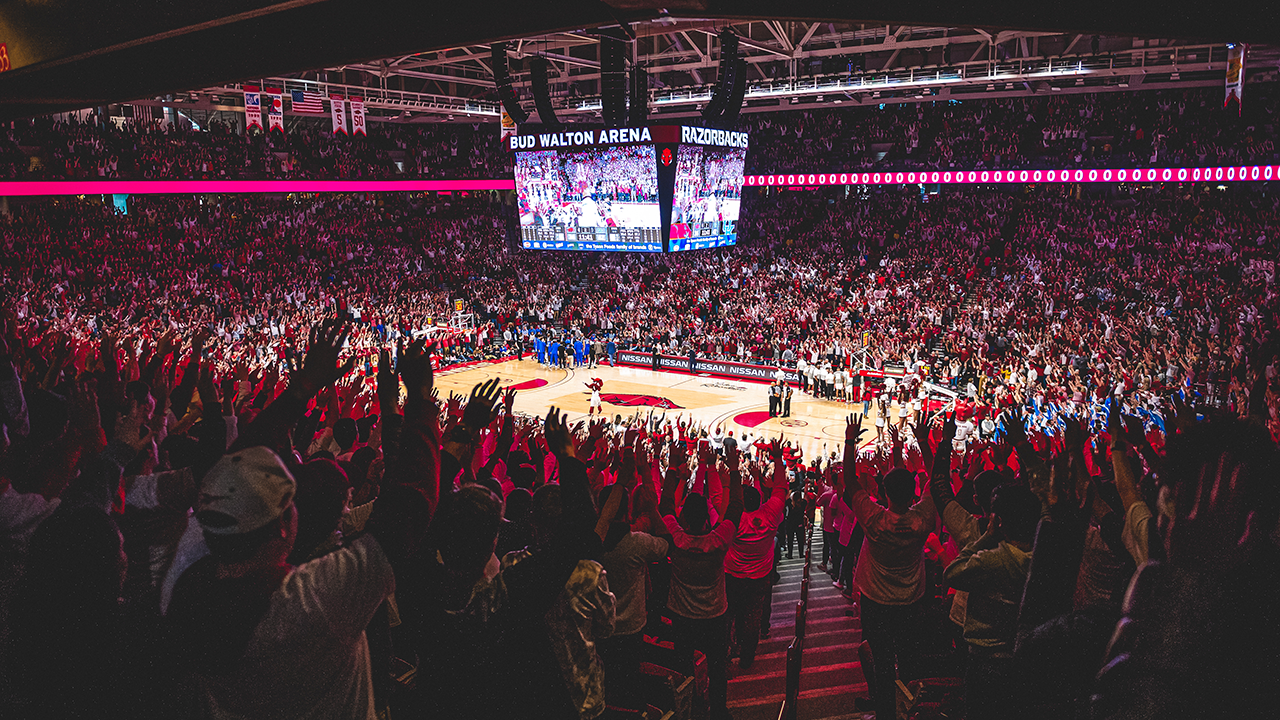 From the Desk of Hunter Yurachek: Dec. 1
Greetings from the Hill!
As we enter the first week of December, there are still plenty of upcoming events for Razorback Athletics before the end of the calendar year. The football regular season is coming down the stretch and men's and women's basketball is off and running. We are grateful that our student-athletes are getting an opportunity to compete.
As you may already know, we have had a few adjustments with our football schedule to accommodate our remaining regular season games. This weekend, Coach Sam Pittman and the Razorbacks will head to Columbia, Missouri for the Battle Line Rivalry set to kickoff at 11 a.m. on the SEC Network. An announcement regarding the date for our home finale vs. Alabama is expected on Friday.
We certainly appreciate your understanding of these necessary adjustments as we work to ensure that our student-athletes are afforded as many opportunities to compete as possible. Thanks to the diligent efforts of our student-athletes, coaches, staff and medical team, we are currently on schedule to complete all of our scheduled events without a cancelation.
Fall Sports Success
Other than the recent postponement of our football game vs Missouri, our student-athletes and coaches have competed in 50 consecutive events during the Fall season. And not only did they compete, but they also experienced a high level of success. Here is a snapshot of some of their success.
Fall Sports Success By the Numbers
1: W. Golf Standout Brooke Matthew is currently the #1 Women's Golfer in the Country
3: SEC Championships (Women's Cross Country, Men's Cross Country, Women's Soccer – (Regular Season) )
3: SEC Coaches of the Year (Lance Harter (WXC), Chris Buckman (MXC), Colby Hale (W. Soccer) )
5: Advanced to our 5th consecutive SEC Women's Soccer Tournament Championship
6: Teams Nationally Ranked (#1 WXC, #1 MXC, #7 W. Soccer, #15 Volleyball, #5 W. Golf, #6 M. Golf)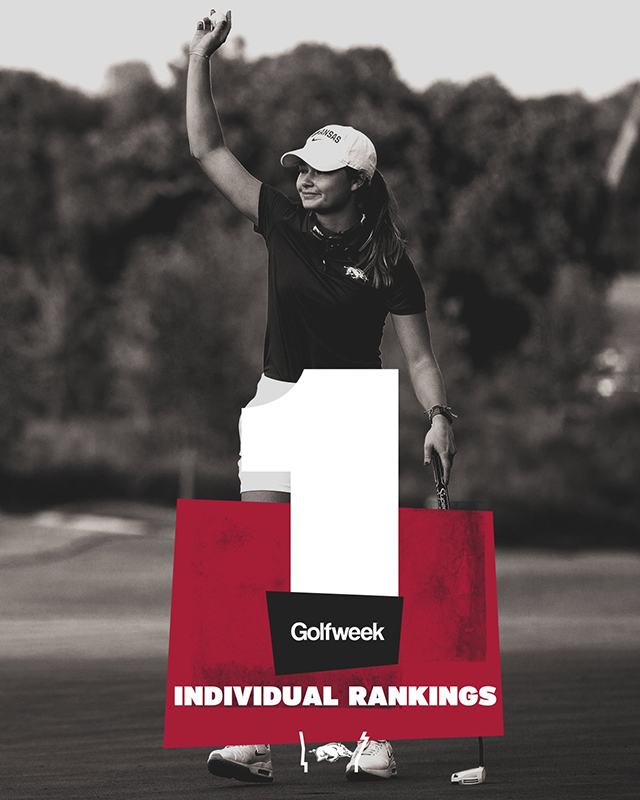 Heading to the Bud?
For those who may be heading to Bud Walton Arena this season, make sure you check out changes to the Basketball Gameday Experience and watch this Know Before You Go video. Just as with the fall sports, many COVID-19 related protocols will be in effect. Capacity for both men's and women's games will be limited to approximately 4,000 based on Arkansas Department of Health Guidelines.
Speaking of Basketball Hogs' Hoops teams Hot Start
Coach Eric Musselman's squad wasted little time in getting heated up for the 2020-21 season. The Razorback men's basketball team is off to a 2-0 start with wins over Mississippi Valley State and North Texas last week.
The Hogs will hit the court on Wednesday night against UT-Arlington in a game televised by the SEC Network at 8 pm followed by hosting Lipscomb on Saturday at 5 p.m. in a game televised by SEC Network+.
Coach Mike Neighbors and the No. 16 Razorback women's basketball team opened its season with a flurry and are off to a 4-1 start after playing four games in five days. Arkansas tipped off its season with a 96-49 victory over Oral Roberts at Bud Walton Arena and then traveled to the Sunshine State for the Gulf Coast Showcase, defeating Wake Forest and Florida Gulf Coast and before falling to No. 12 Maryland.
Arkansas (3-1) returns to action on Thursday at 5:30 p.m. at Bud Walton Arena when the Razorbacks host Louisiana-Monroe in a game televised by the SEC Network. The Razorbacks will then host No. 4 Baylor at Bud Walton Arena on Sunday at 5 p.m. in a game televised by ESPN2.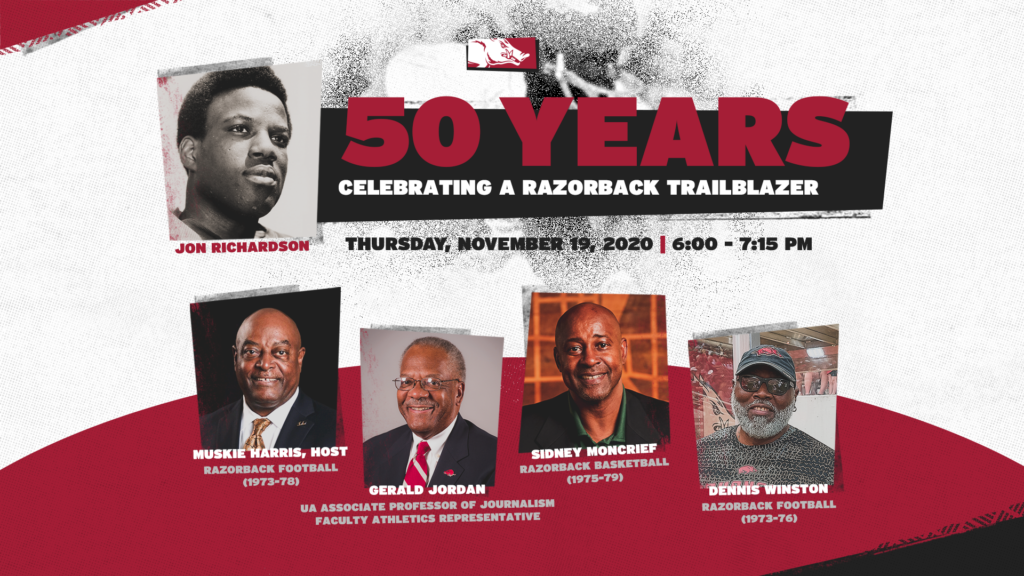 Celebrating Jon Richardson: A Razorback Trailblazer
Thanks to those of you who joined us for a special Zoom webinar celebrating the legacy of Jon Richardson on the 50th anniversary of his first season playing for the football Razorbacks. Richardson was the first African-American scholarship football player in Razorback history. It was a great discussion, including some stories from Beverly Richardson, Jon's sister. If you were not able to join us, we encourage you to watch the archived version.
We continue to build on the framework established by Richardson and the many other trailblazers who helped pave the way for those who have followed. Hogs UNITED is a collaborative effort between the student-athletes, coaches and staff in Razorback Athletics, aimed at promoting education, advocacy and action in the areas of diversity and inclusive excellence.
Student-athletes leaders developed a uniform patch and a special video as part of that commitment to help ensure that every individual, regardless of race, gender, religious beliefs or sexual orientation has an equal opportunity to make the most of their lives and talents.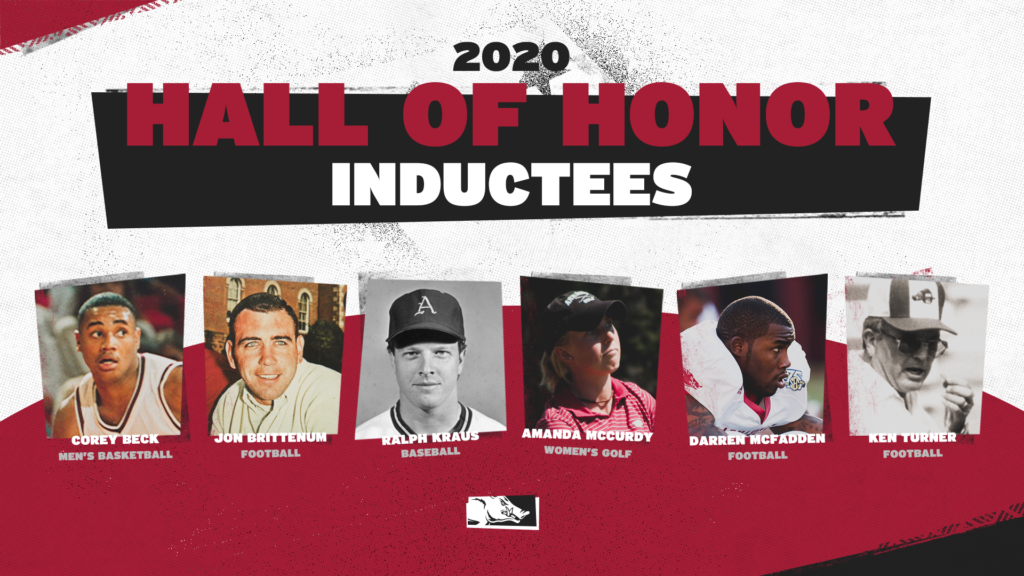 Razorbacks Headed into the Arkansas Sports Hall of Fame
Congratulations to the five Razorbacks selected for the 2021 class of the Arkansas Sports Hall of Fame. Current Arkansas women's track and field coach Lance Harter was joined by former Hogs Lisa Cornwell (women's golf), Tim Horton (football), Joe Johnson (men's basketball) and Johnny Ray (baseball) in this year's class. Induction is scheduled for April 16, 2021, at the Statehouse Convention Center in Little Rock.
Razorbacks Coming Soon
MBK December 2 UTA, 8 p.m., SEC Network
WBK December 3 ULM, 5:30 p.m., SEC Network+
FB December 5 at Missouri, 11 a.m. SEC Network
MBK December 5 Lipscomb, 5 p.m., SEC Network+
WBK December 6 Baylor, 5 p.m., ESPN2
MBK December 8 at Tulsa, TBA
WBK December 9 at SMU, 7 p.m.
MBK December 12 UCA, 5 p.m., SEC Network+
WBK December 13 UCA, 2 p.m.
SW/D December 15 U.S. World Cup Diving Trials (Greensboro, N.C.)
WBK December 19 at Little Rock, 2 p.m.
MBK December 20 Oral Roberts, 1 p.m., SEC Network
WBK December 21 UAPB, TBA
MBK December 22 Abilene Christian, 7 p.m., SEC Network+
MBK December 30 Auburn, TBA
WBK December 31 at Kentucky, 7:30 p.m.
We look forward to seeing you On the Hill again soon!
Go Hogs!
Hunter